At Generosity Xchange 2022, monthly giving expert Erica Waasdorp took the stage to share her valuable expertise in a session titled "How To Make Small Donors Start Recurring." Erica's session was chock full of actionable insights that apply to all nonprofits. Whether you have no monthly donors or thousands-–there's plenty you can do to provide a better experience for your recurring donors.
Here's Why Monthly Donors are Important
Let's begin with why your nonprofit should prioritize building a loyal base of monthly donors. Even if you'll be starting your program from scratch, Erica emphasized that it's "better too late than never" when starting a monthly giving program.
For starters, monthly donors typically give more and have a larger lifetime value than other types of donors in your database. Did you know that your recurring donors are six times more likely to leave your organization money in their will? The revenue benefits of having a base of monthly donors speaks for itself.
You may, however, believe that donors are uninterested, unable to, or are generally bothered by being asked to be a part of a monthly giving program. This is not the truth! Erica shared the insight that monthly giving is, in fact, preferred by younger donors and allows those who want to give a larger sum to do so in a more affordable manner.
If you're looking to provide your organization with reliable monthly revenue and improve your donor retention rates, creating a monthly giving program is a no-brainer!
Learn how to start, grow, and maintain a monthly giving program with these best practices recommended by Erica Waasdorp below.
Start A Monthly Giving Program
If your nonprofit has no recurring donors, building a base of loyal monthly donors may seem like an impossible task. Here are some best practices that will help guide your journey:
Give your program a name! Doing so will help potential donors feel a deeper connection to the program they are about to join. They are more than a person with a recurring credit card transaction, they are a part of a community.
Create a unique monthly donation page. You can link to this page when crafting appeals to join your monthly giving program. You can also fill this page with monthly giving program FAQs and share information about what your new recurring donors can expect.
Adjust your suggested giving amounts. Suggested giving amounts are best practice on any donation form. Your suggested amounts on your monthly giving form should be about ¼ of the one-time gift suggestions. You don't want to price potential monthly donors out of giving!
Review your systems. Be sure to check that your thank-you pages, donation records, processors, and email system are working properly. Improperly marked records or a faulty email system can prevent you from properly stewarding your monthly donors. Staying on top of your monthly donor data will also help you avoid losing donors due to an upcoming credit card expiration.
For more insight on how to start a recurring giving program from scratch, check out the resource below:
Grow Your Monthly Giving Program
If you have a small number of monthly donors or would like to generate more revenue from monthly donors, try some of Erica's ideas:
Promote your monthly giving program on social media.
Add a "give monthly" button in direct mail appeals (for donors of $250 or less). Nonprofits tend not to ask people to join their monthly giving program very often. But by explicitly asking your donors to give monthly, you may have a more successful campaign in terms of expected revenue than if you had just asked for single gifts.
Send your new one-time givers and appeal to give monthly two to three weeks after they've received their initial donation thank-you.
Ask your monthly donors for upgrades every so often. 12% of monthly donors will upgrade when asked, it's worth trying! Ask your monthly donors to upgrade at least once a year. Be sure not to ask new members to upgrade within the first six months.
Include a monthly giving call-to-action in your email signature. This is a small touch that can help keep your program in the minds of your constituents.
Steward and Maintain Your Monthly Donors
Now that you have a sizable amount of donors giving to your organization on a monthly basis, it's important to put in the work to retain them with these tips.
Use special messaging for appeals sent to your monthly donor base. When asking for additional one-off donations outside of their monthly gift, be sure to acknowledge and thank these donors for that monthly gift before getting into the appeal.
In January, be sure to send tax receipts. You can also use this tax letter template from Erica to plant the seeds for legacy gifts via a "connection survey" that helps you determine how your monthly donors feel about legacy giving.
Monthly donor retention day: Erica recommends setting aside time once a month to check and see which payments didn't go through, who to follow up with, whose card is close to expiration, and more.
Negotiate with cancellers. When someone requests to cancel their monthly gift, consider asking if they are willing to pause or lower their contribution instead. The donor may not realize this is an option, and it may help you retain a donor even if their financial situation has changed.
Keep stewardship simple and doable to start. Be sure to at least send a thank-you letter to new monthly donors as well as monthly donation receipts. You can always take a more advanced approach at a later date by scheduling get-to-know-you calls with each monthly donor or thanking your monthly donors with exclusive events or gifts.
Learn more donor stewardship tips:
Even More Monthly Giving Resources
Now that you have some ideas on how to start, grow, and retain your monthly giving program participants, you can get to work on crafting your appeals. In fact, effective communication is one of the biggest tools you have at your disposal to make your monthly giving program possible.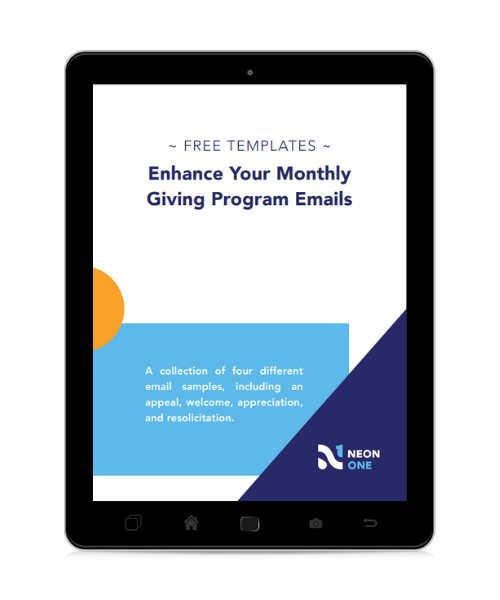 Enhance Your Monthly Giving Program Emails
Learn how to communicate with monthly donors via email with this resource.
Join the discussion in our Slack channel on connected fundraising