Innovative, modern web design is key for nonprofits to make their online presence powerful and helps raise awareness. That's why today we're talking about advocacy websites done well.
There are many women's advocacy organizations that are doing this very well, including three examples from clients that have used Neon Websites to further their mission and objectives.
In this blog, we will walk through steps you can take to create an effective website, the key features you should include on your nonprofit website, and three website examples from women's advocacy websites and organizations.
Why Do Websites Matter For Nonprofits?
Within a few seconds, a potential donor has decided whether or not they are going to donate to your nonprofit. There are a lot of factors that play into that decision based on the first impression. Let's dig into the three reasons why optimizing your nonprofit's website makes a big impact.
1. Online Giving is Growing
Online giving is growing faster than you might think. In 2020, our Neon CRM users saw a 6.2% increase in credit card donations compared to 2019.
And as online giving increases, the standards for the online giving experience also increases. According to the latest M&R Benchmarks, the average nonprofit's main donation page gets a 17% conversion rate. That means 17% of people coming to the donation page actually complete a donation.
2. Websites Build Credibility
Better websites help nonprofits build credibility with donors and prospects. Today's donors care about your aesthetic. A website stuck in 1998 will come across as outdated and even unreliable.
Your site could communicate to people that your organization isn't ready to grow in the future. After all, websites are more than a donation portal. They're a chance to show off your creativity and set yourself apart from the pack.
Further reading: 4 Essential Lessons in Nonprofit Donation Page Optimization.
3. Great Websites Keep People Engaged for Longer
Improved usability keeps people on your site longer. Traffic to your website is only beneficial if they take the next steps on your site, like signing up for your newsletter or donating. The longer people stay on your site, the more time they're taking to understand your nonprofit, and the more opportunities you have to cultivate and engage those users.
What Does It Take to Create an Effective Website, Especially Advocacy Websites?
You want your website to drive a big impact. Some key features you should include to improve your website include:
Responsive design
So much Internet browsing is increasingly concentrated on mobile devices—many of which have varying sizes.
Responsive design makes sure websites maintain thematic consistency no matter the device while adapting appropriately to varying sizes. This casts a wider net of making sure users have a solid experience of visiting your website.
Bold, eye-catching graphics
People have higher definition screens and higher speed internet access. They now expect videos, photos, images on a platform constantly in competition for users' attention.
So much online communication relies on visuals, especially to entice clicks to your donation page. But don't forget to also be clear on your mission.
Communicate mission clearly
Visuals may be more important than ever, but so is clear copy. Styled well, the text becomes a part of the visual experience and message as well.
Beyond grabbing users' attention, websites need to communicate value. This way users are compelled to stay and maybe be convinced to support your cause.
Strong brand identity
Logos, color schemes, layout styles, font choices. These elements all become a part of forming a persona to a brand. Brand identity is essentially the image we have of a company, product, or individual. Those associations help users characterize and thereby remember and distinguish themselves from others.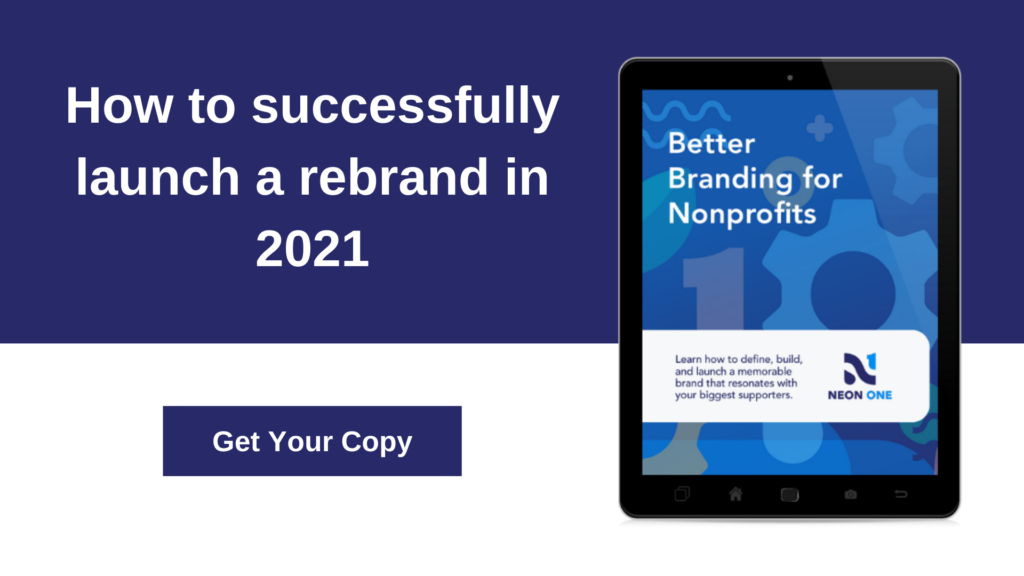 Easy to use member and donation portals
Once you've got your constituents committed, make sure to make it a pleasant experience. It costs more to find new donors than it does to keep the ones you have. Treat those who support you well, including providing easy ways to continue to engage with you.
For even more tips, check our on-demand video about elevating your website's digital presence.
Women's Advocacy Websites That Rock!
Now that we've walked through the reasons why you should be investing time and money into your website, let's take a look at a few women's advocacy websites and the organizations that are cutting through the noise to make an impact.
Example 1: Inforum Michigan's
The Mission: Inforum combines strategic connections, proven professional development programs, a respected forum for new ideas, and original research to accelerate careers for women and boost talent initiatives for companies.
Inforum's homepage layout makes a powerful statement. Visitors are greeted with a slideshow of professional women working together with bold text that speaks to their mission. You're immediately drawn in.
Inforum keeps their branding consistent throughout the subgroups. Whether you're looking to connect to opportunities in automotive, healthcare, or technology industries, you know you're still a part of the Inforum mission thanks to their branding.
Inforum's site is mobile responsive. You can easily access all of the same content on the go from mobile devices and tablets. This makes sure that all members, donors, and prospects can always stay up to date no matter the device they're using. These are things you can easily do with other advocacy websites.
Example 2: New England Women in Energy and the Environment
The Mission: New England Women in Energy and the Environment (NEWIEE) aims to harness women's passion, intelligence, and leadership experience to promote and encourage public interest in the energy and environmental sectors.
NEWIEE does a great job using quality images throughout their site and overlaying them with mission-related text. They are consistent with their colors and style throughout, creating a strong, unifying design. The blues and greens also echo their environmental focus.
NEWIEE has a super user-friendly events page with a modern design and great usability features like allowing users to do keyword searches for events. Visitors can easily browse through several view options: by month, by day, or listed out. We love the form and function of this page.
NEWIEE's member registration form is easy to use and also filled with great custom fields. It allows users to really customize how they choose to give, while also helping NEWIEE retain long-term donors by including a recurring donation field.
Example 3: Women in Toys
The Mission: Women in Toys (WIT) seeks to support, inspire, and promote women working in the play industry and help them achieve greater professional and personal success.
WIT's bold colors and style sets them apart from other nonprofits. There's nothing dull about the WIT aesthetic. By going with a playful design, they're communicating a vibrant and empowering vibe for women in their industry.
WIT has a great membership page. They walk the user through each level of membership and the perks with stylish images and interactive scrolling. They keep you engaged with a long page structure that keeps the user scrolling for more visually exciting information.
Further reading: You can learn more about enhancing your membership program with Neon CRM and Neon Websites with a real case study from California Teacher Development Collaborative.
WIT allows users to contact and subscribe with one click from every page. This button follows you throughout the site but fits in perfectly with their aesthetic and style. It's a constant reminder that you can always reach out and start a dialogue.
Neon Websites works with nonprofits of all types to help them create the best nonprofit websites. Whether you're looking for custom web design or want to get started with an out-of-the-box template, we're here to help you make the biggest impact.
Schedule a Consultation with the Neon Websites Team
---