Innovative, modern web design is key for nonprofits who want to make their online presence powerful and raise awareness about their cause. In this article, we'll cover why having a great website is so important, and we'll show you three examples from clients that have used Neon Websites to build outstanding websites.
Read on to discover steps you can take to create an effective website and the key features you should include on your nonprofit's site, plus three examples from women's advocacy organizations.
Why Do Websites Matter For Nonprofits?
Within a few seconds of landing on your homepage, a potential donor will decide whether or not they are going to donate to your nonprofit. There are a lot of factors that play into that decision, but most of it is based on their first impressions of your organization. A well-designed website will make them feel good about supporting your cause, reassure them that they're donating to a respectable organization, and give them a sense of security when they donate.
Let's dig into the three reasons why optimizing your nonprofit's website makes a big impact.
1. Online Giving is Growing
Online giving is growing faster than you might think. In 2020, our Neon CRM users saw a 6.2% increase in credit card donations compared to 2019. Those numbers continue to increase!
And as online giving becomes the norm, the donors' expectations around online giving experiences also increase. When someone browses your site and decides to make a gift, that decision can be derailed if your donation process is clunky or frustrating. According to the latest M&R Benchmarks, the average nonprofit's main donation page gets a 17% conversion rate. That means fewer than one in five people who visit your donation page will finish a gift.
While conversion rates will never be 100%, you can improve the likelihood that someone finishes making a donation by creating an easy, enjoyable giving experience. A compelling homepage, thoughtfully written content, clear calls to action, and a well-designed donation page will help.
2. Websites Build Credibility
Well-designed websites help nonprofits build credibility with donors and prospects. Today's donors care about your aesthetic. A website stuck in 1998 will come across as outdated and even unreliable.
An outdated website communicates to people that your organization isn't diligent, active, and ready to grow in the future. After all, websites are more than a donation portal: They're a chance to reach new audiences, educate them about your work, inspire them to get involved, and communicate their impact. When a website hasn't been updated for a long time, it can't effectively do any of those things.
Out-of-date websites can also impact visitors' willingness to give. People want to donate to causes and nonprofits that are actively working to make the world a better place. If your site is inactive, potential donors may believe that your organization is inactive, too. Outdated sites are also frequently prone to security breaches and malware attacks, which can make people think twice about entering their personal and financial information on donation forms.
3. Great Websites Keep People Engaged for Longer
Have you ever heard the joke that someone's got the attention span of a goldfish? It's a funny quip, but it's inaccurate—human attention spans are actually shorter than that of a goldfish. Goldfish pay attention for about 9 seconds. Humans clock in at a whopping 8.25. When someone lands on your website, you have mere seconds to catch and keep their attention.
Improved usability will help keep those people on your site longer. Traffic to your website is only beneficial if visitors actually read, absorb, and act upon what they read there. When people spend more time on your site, they'll spend more time understanding your nonprofit, the problems you solve, and the community you serve. That means you'll have more opportunities to cultivate and engage those users.
What Does It Take to Create an Effective Website, Especially Advocacy Websites?
You want your website to drive a big impact. Some key features you should include to improve your website include:
Responsive Design
More than half of all Internet traffic is mobile traffic. If you're like most nonprofits, over 59% of all people who land on your site will do so using mobile devices, including smartphones and tablets. Having a website that looks, feels, and functions well on desktop computers, laptops, phones, tablets, and other devices is a critical part of reaching audiences regardless of where and how they reach you.
Responsive design makes sure websites maintain thematic consistency no matter the device while adapting appropriately to varying sizes. This ensures users can easily find, access, and interact with your site wherever they are.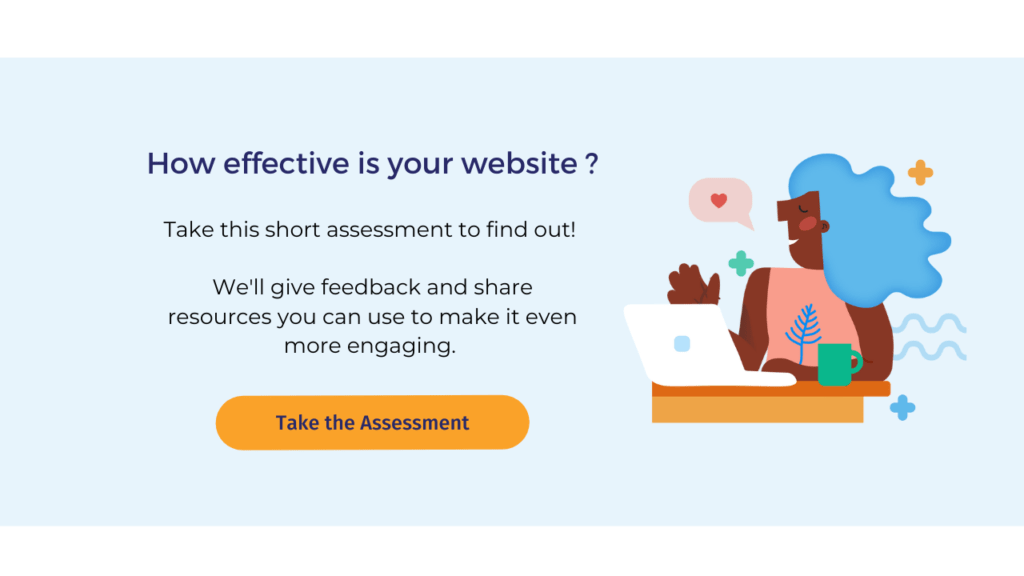 Bold, Eye-Catching Graphics
Gone are the days when a simple website with a few blocks of text was the norm. Now, people expect to see videos, photos, and graphics on websites—long blocks of text aren't as effective as video or other eye-catching ways of presenting information. People also have higher definition screens and faster internet access than they did even a year ago, which means a growing demand for quality, high-definition graphics.
So much online communication relies on visuals, especially to entice clicks to your donation page. As you plan your website, make sure you're using the highest quality images possible. Even the most informative website won't be compelling if it's not visually appealing.
Clearly Written Content
Visuals may be more important than ever, but so is clear copy. Styled well, the text you include on your website becomes a part of the visual experience in addition to educating people about your work and sharing inspiring stories.
Beyond grabbing users' attention, your website needs to communicate value. Think about what information people will want to see on your site and how you can present it in a clear, compelling way. You might want to include:
Educational content about your mission and work
Inspiring stories from clients, volunteers, donors, and other supporters
Important program information
Event details
Volunteer opportunities
Information about your organization's story, history, mission, and values
Any time you add new content to your website, ask yourself if it will be valuable to a person browsing that page. Content for content's sake isn't enough: Well-written content will engage your audience and inspire them to get involved.
A Strong Visual Brand
When people land on your website, do they know it's your website? Does it include the look and feel people think of when they think of your organization?
Your logo, color scheme, site layout, images, and font choices all work together to form your visual brand. This is an important part of your overall site design! Brand identity is the image we have of a company, product, or individual. Those associations help users connect with their favorite companies and organizations, remember them, and distinguish those organizations from others.
Applying your organization's visual brand identity to your website will help visitors connect more easily with your nonprofit. It will also make you more memorable, which increases the likelihood that a visitor will return to your website in the future.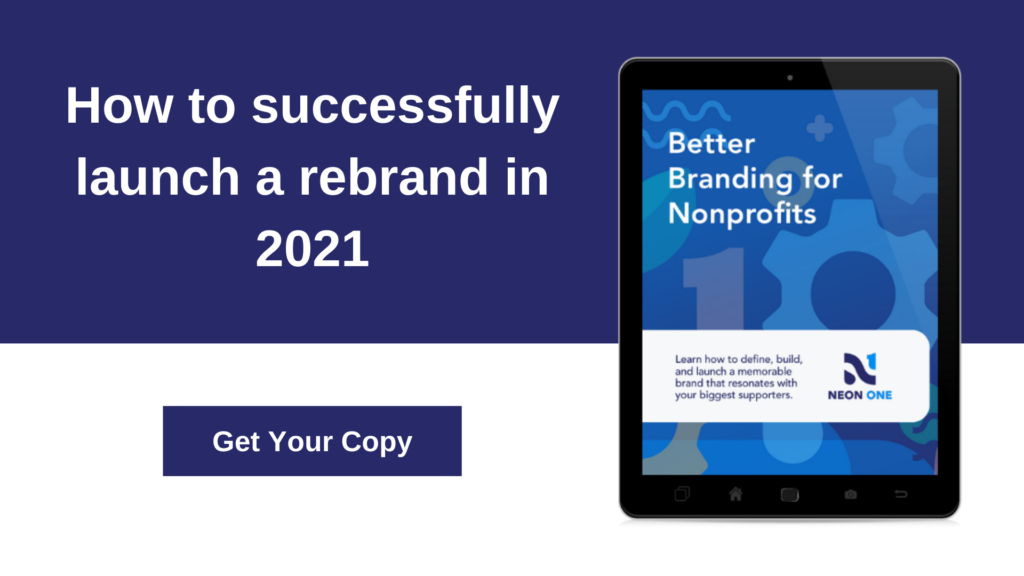 Impact Statements, Inspiring Stories, and Updates
As people become familiar with your website, understand your content, and connect with your mission, they'll be more likely to support you by donating, becoming a member, or offering their support in other ways. Once you've got those constituents engaged with your work, make sure to give them a pleasant experience.
It costs more to find new supporters than it does to keep the ones you have, so helping those people understand their impact is an important undertaking. Make sure you regularly update your site with content that inspires donors, shows them how they've made a difference, and updates them about how their support makes a difference. They'll keep coming back to your site, and they'll be more likely to continue to support you in the future. For even more tips, check out our on-demand video about elevating your website's digital presence.
Advocacy Websites That Rock!
Now that we've walked through the reasons you should be investing time and money into your website, let's take a look at a few advocacy websites. We'll explore three different sites and how their design choices are cutting through the noise to reach more people and make an impact.
Example 1: Inforum Michigan
The Mission: Inforum combines strategic connections, proven professional development programs, a respected forum for new ideas, and original research to accelerate careers for women and boost talent initiatives for companies.
Inforum's homepage layout makes a powerful statement. Visitors are greeted with a slideshow of professional women working together with bold text that speaks to their mission. You're immediately drawn in even as you get a general understanding of the organization's mission and work.
Inforum keeps their branding consistent throughout the various subgroups listed on their site. Whether you're looking to find opportunities in the automotive, healthcare, or technology industries, that consistency reassures you that you're still browsing content on the Inforum site.
Inforum's site is mobile responsive. You can easily access all of the same content on mobile devices and computers. This ensures that all members, donors, and prospects can always stay up to date no matter what device they're using.
Example 2: New England Women in Energy and the Environment
The Mission: New England Women in Energy and the Environment (NEWIEE) aims to harness women's passion, intelligence, and leadership experience to promote and encourage public interest in the energy and environmental sectors.
NEWIEE does a great job using quality images throughout their site and overlaying them with mission-related text. They are consistent with their colors and style throughout, creating a strong, unifying design. The blues and greens also echo their environmental focus.
NEWIEE's user-friendly events page includes a modern design and great usability features, like allowing users to do keyword searches for events. Visitors can easily browse through several view options: By month, by day, or in a list. We love the form and function of this page.
NEWIEE's member registration form is easy to use and also filled with great custom fields. It allows users to really customize how they choose to give, and it helps NEWIEE retain long-term donors by including a recurring donation field.
Example 3: Women in Toys
The Mission: Women in Toys (WIT) seeks to support, inspire, and promote women working in the play industry and help them achieve greater professional and personal success.
WIT's bold colors and style sets them apart from other nonprofits. There's nothing dull about the WIT aesthetic! By going with a playful design, they're communicating a vibrant and empowering vibe for women in their industry.
WIT has a great membership page. They walk the user through each level of membership and associated perks by using stylish images and interactive scrolling. The long page structure keeps users scrolling for more visually exciting information.
Further reading: You can learn more about enhancing your membership program with Neon CRM and Neon Websites with a real case study from California Teacher Development Collaborative.
WIT allows users to contact and subscribe with one click from every page. This button follows you throughout the site but fits in perfectly with their aesthetic and style. It's a constant reminder that you can always reach out and start a dialogue.
Want to Build Your Own Advocacy Website?
Neon Websites works with nonprofits of all types to help them create the best nonprofit websites. Whether you're looking for custom web design or want to get started with an out-of-the-box template, we're here to help you make the biggest impact.
Join the discussion in our Slack channel on connected fundraising