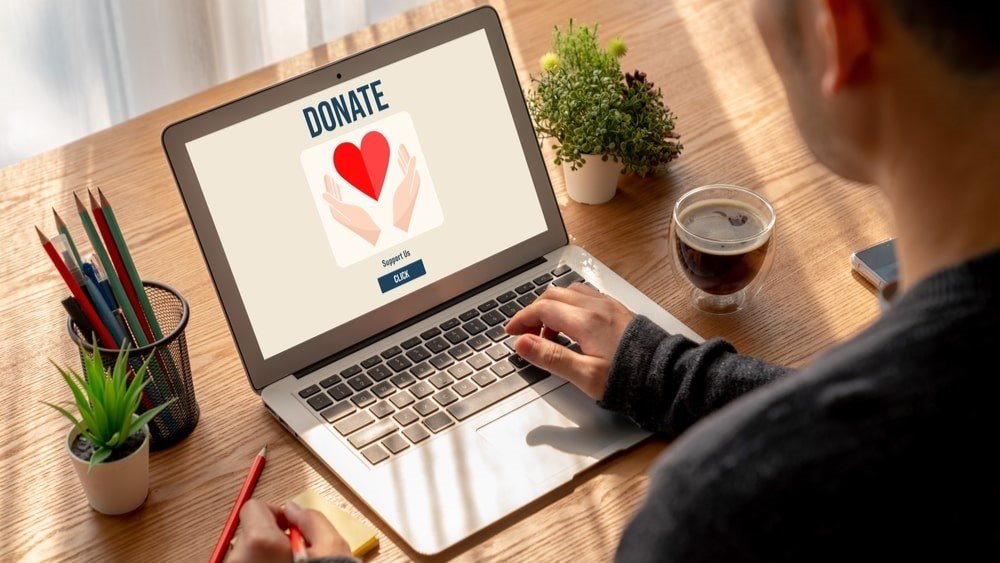 Online donations reached $3.2 billion in 2020, accounting for 13% of all fundraising. And there's a good reason for that growth. After all, it's a convenient, easy, and fast way to give. But, despite the prevalence of online fundraising, it's still important to spend some time optimizing your donation form. Even donors with a long history of giving online can be discouraged from donating if your form is hard to find or difficult to use.
To optimize donation forms for nonprofits, you need to follow those criteria. Make giving easy for your donors, and they'll give more!
Donation Forms for Nonprofits: 6 Best Practices
It can be easy to assume that anyone who's landed on your donation form has already decided to give. Unfortunately, only about 17% of your visitors will give. While your appeal, storytelling, and campaign will play a role in inspiring your donors to give, your donation form can make or break their decision. It may even be the most important part of their experience!
Many supporters choose online giving because it's an easy and convenient way to support a cause they care about. If the process is too complicated or difficult to use, they won't use it. You have to build a page that is streamlined, intuitive, and secure, and it should be set up in a way that guides them through donating. These best practices will help you optimize your nonprofit's donation forms.
1. Brand and Simplify Your Donation Form
Your nonprofit's brand is important: Your supporters know and recognize your organization's logo, colors, and even typefaces. Any platform you use for your donation forms should allow you to brand your content. Including your branding and logo on your donation form builds trust with your donors by signaling that your form is part of your site, not an outside third-party website. It can also help create a sense of continuity for your donors; adding storytelling elements or information about your organization on your form helps remind donors of the impact they can make when they support your work.
Your donation form should have your organization's look and feel, but it should also be fairly simple. As you set up your donation form, make sure you retire one old best practice. It used to be recommended that your forms' fields all appear on one page. The idea was that donors only had to make a single click to make their gift. While one-step forms required fewer clicks to make a donation, this best practice often resulted in very long forms that were visually overwhelming.
The new donation form best practice is to break donation forms into smaller, more digestible screens. It's easier for the user to see all the information they need, without overwhelming them with it. It also improves conversion rates by solidifying a donor's decision to give. In the first step, they select a donation amount and frequency before clicking away to the next step. At that point, the donor feels that they've already committed to donating; additional steps are just a formality.
Of course, those additional steps should still be quick and easy to complete. To keep your conversion rates as high as possible, you should keep the information collected to a minimum to process the donation. Focus on collecting the information you need to process a gift, like personal and billing information. Some other transaction-specific fields—like dedication messages, opt-in boxes for future communications, and others—are also appropriate.
2. Minimize Clicks
The average computer user makes more than 1,000 mouse clicks per day. They shouldn't have to use them all on your site! Requiring multiple clicks for users to find and complete donation forms can be frustrating and cause donation abandonment. To minimize frustration, minimize clicks.
Cut down on form fields, especially required ones. A multi-screen strategy may work as well, so the user doesn't have to scroll up and down to review all the info as they submit it. This also makes it easier to use on mobile, where an estimated 30% of all online donations are made. If you want to collect additional information about your donors, try sending them a survey to learn about things like their motivations, communications preferences, and backgrounds.
3. Maximize Visibility
Donors change their minds quickly. If they have to click around on your site trying to find a place to make a donation, they'll probably leave your site. A good rule of thumb is that visitors to your nonprofit's website should be able to get to your form in one or two clicks. Try adding a "Donate Now" button to your website's main navigation. Be sure it's easy for your donors to find; make your button prominent by using a contrasting but complementary color to your site's background.
4. Include Suggested Donation Amounts
Preset donation amounts can often result in better conversion rates and larger gifts. This is for two reasons. The first is that adding suggested amounts reduces what's called "decision fatigue." When a donor lands on your form with no set idea of how much they'll give, choosing an amount can be difficult. Is their gift too small? Is it too much? How much do others give? Adding a range of suggested amounts takes the guesswork out of choosing a gift size: Instead of choosing from an infinite number of possible amounts, they only have to choose from a handful. This can also result in bigger donations! If a donor lands on a form intending to give $20 and sees a suggested gift amount of $25, they'll often choose to give the slightly higher amount..
However, if you choose suggested donation amounts that don't suit your donor base, they can discourage or reduce giving. If a donor who has only given $10 before sees a donation form with tiers of $50, $100, or $150, they'll be intimidated and less likely to give. Meanwhile, if you sent that suggested tier to someone who had a history of giving $500, you could lose out on a much higher donation.
You can create effective suggested donation amounts by:
Basing the suggestions on your primary form on the average gift sizes your donors tend to make. If your average donation range is $20-$200, create a range of suggested gift amounts within those limits.
Creating different forms for appeals sent to different groups of donors based on past gift amounts. You could send your primary form to donors who have given $20-$200 in the past, then send donors who give gifts above $200 a link to a form with a higher range.
Always ensuring you include an "Other" field where donors can enter their own gift amount. If your suggested gift amounts start at $25 and a donor truly does not want to donate more than $20, they should still have a way to make a gift.
5. Protect Payment Info
70% of people are concerned about sharing their financial information online, and with good reason. Digital payments may be convenient, but they're also responsible for a massive increase in cybercrime, which grew by 49% in 2020. Organizations that don't want to become part of those statistics should make donation form security a priority. Here are some tips for keeping that information secure:
Encrypt your communication: Behind the scenes, your form sends and receives sensitive information between your donor's computer and your payment processor. It needs to be encrypted to protect it in transit! Many payment processors will build these protections into their platform, but it's also a good idea to ensure your donation form is hosted on a secure page. Look for the prefix "https" in your URL. If you don't see it, talk to your webmaster or online fundraising platform about how you can keep your page secure.
Update your site and software regularly: An update to your website's platform or other services may seem unimportant. But, often, these include security patches for fixing vulnerabilities in a software program. Update your website regularly and stay on top of new threats.
Use PCI DSS-compliant tools: The Payment Card Industry Data Security Standard sets the standard for how you treat your debit, credit, and cash card payments. Using tools that are PCI DSS compliant allows you to take advantage of the highest security standards, protect your donors, and build trust.
Protecting your donors' payment and personal information keeps them safe, and it keeps your organization safe, too. You can learn more about how to keep sensitive information secure in this article about Neon One's PCI compliance program.
6. Send Donation Receipts
While donation receipts don't come until after the donation, they're important to show your appreciation. You can use this as an opportunity to reinforce your impact and encourage future giving. Learn more about improving your donation receipts below.
Creating Unlimited Donation Forms With Neon CRM
One thing that always helps improve donation forms for nonprofits is testing. Not sure if your suggested donation amounts are right for your donors? Test it. Want to know if your branding is better on one form is better than the other? Test it! Trying out various designs or formats and comparing your results can help you see what works with your donor base. Using a CRM with unlimited forms, brandable options, and customizable content can help you create more impactful donation pages that make it easy to give.
Neon CRM offers a wide range of templates in line with the best practices that nonprofits can utilize to grow their donations. To learn more, reach out to us for a demo today!
Join the discussion in our Slack channel on connected fundraising