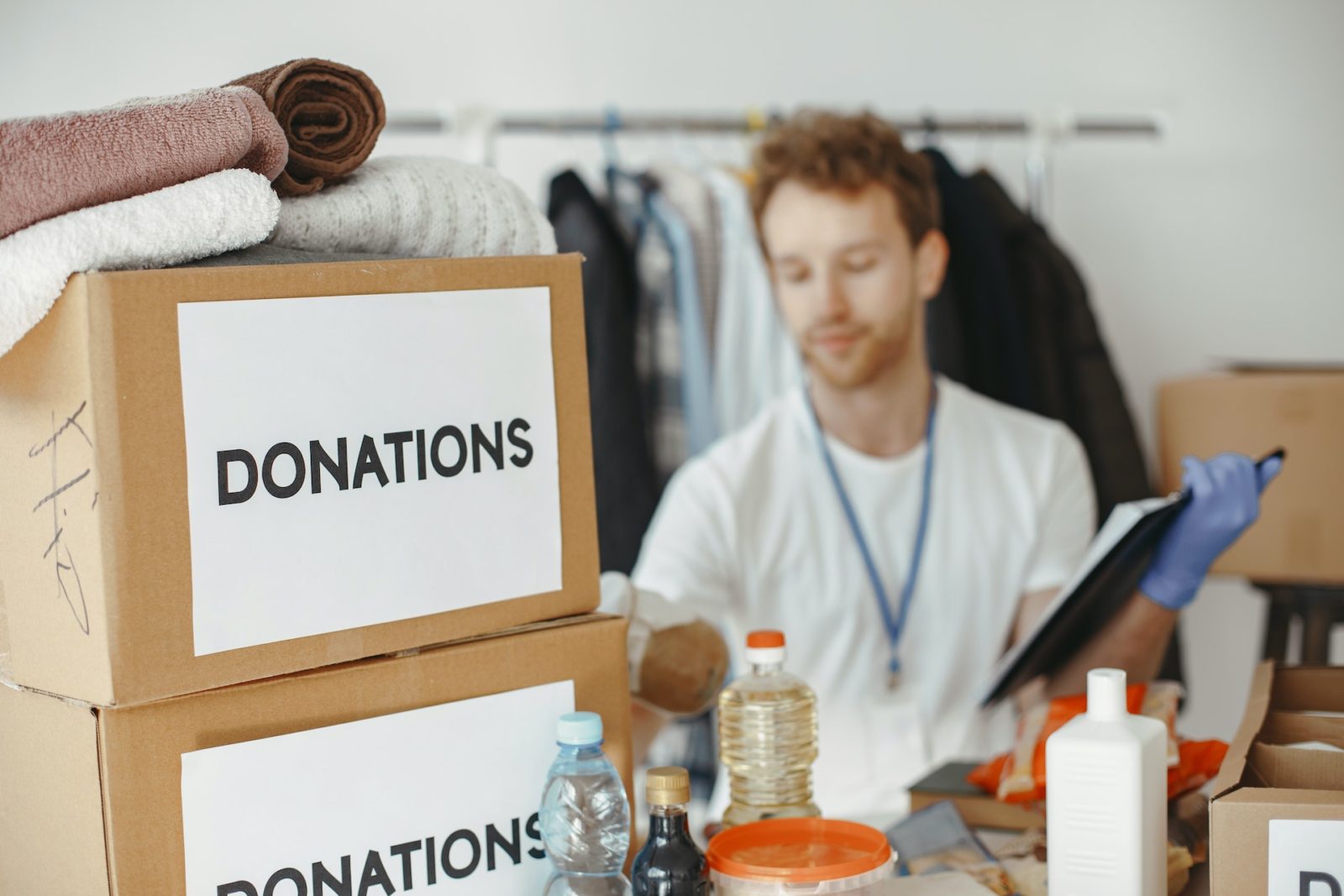 Any organization can benefit from in-kind donations, no matter your size or mission type. Whether it be items your beneficiaries need or items that help your team fulfill your mission, your nonprofit will get some value out of this type of support if you take proper measures to get what you need.
Your donors may also prefer to make in-kind donations instead of (or alongside) financial support. They're an effective way for donors to get involved at a low cost to them. Keep reading to learn the who, what, when, where, and why of accepting in-kind donations.
What Kinds of In-Kind Donations Are There?
You may struggle to see how in-kind donations benefit your organization. There are a few types of in-kind donations, some of which your nonprofit may find more valuable than others.
Goods. These are tangible donations—they can be items for your constituents, such as clothing and toys, or goods for your nonprofit's use, such as office equipment. Goods that are donated to be auctioned off at your next fundraising event are another example of this kind of gift.
Expertise. This would include volunteer and pro-bono work. Legal advice, volunteer writers, and other experts donating their time and expertise to your organization. This is especially helpful to understaffed nonprofits who are missing a critical role or skill set in their staff.
Cash Equivalents. Stocks, bonds, cryptocurrencies, and more! These financial gifts benefit your nonprofit over a long period of time and ensure your nonprofit stays financially stable for years to come.
What Gifts Should I Accept? How Do I Accept Them?
If you've decided to expand your donation options, it may be necessary to create a "ways to give" page. Although we still recommend a prominently-displayed "donate now" button that takes visitors straight to your donation form, having a link to a "ways to give" page nearby is a great way to clarify all the ways donors can support your organization.
This "ways to give" page created by International Neighbors of Charlottesville is an excellent example of what to do. On this page, they give detailed instructions on how you can further your contribution to International Neighbors of Charlottesville's mission.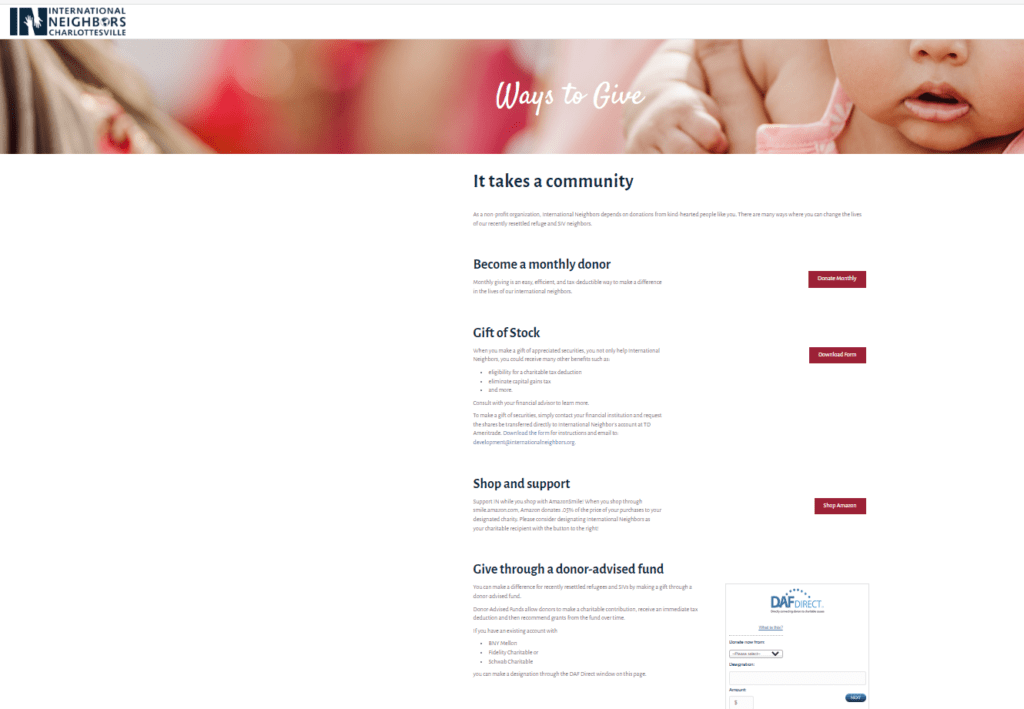 When it comes to donated goods, don't be afraid to get specific with what you want and do not want. Get everyone in your nonprofit on the same page by creating a detailed gift acceptance policy. Note what items you will take, what you will not take, what condition they need to be in (new, gently used, etc.), and when and where they can drop off the items.
One way to prevent getting unwanted goods dropped at your nonprofit's doors is by creating an Amazon Wish List. Considering how often people shop on Amazon, it could be more convenient for some of your donors to give this way. Plus, the delivery truck will do all the legwork getting the items to your office.
A great example of a wish list system is the wishlist page by PAWS Chicago. On this page, PAWS gives information about what types of items they will and will not accept, and where and when to drop them off. They also link out to their Amazon Wish List, which contains more specific items, and you can find more information about which items are the highest priority and how many of each piece the organization needs.
By offering both wish list types, donors can give items they already have at home that meet the requirements or they can choose to purchase these items elsewhere.
Tax Acknowledgement and Receipting
In order to start offering more ways to give to your organization, you need to know the legal requirements. In order for a donor to claim $250 worth of donated goods, a nonprofit must send donors a written acknowledgment of the donation, if any goods or services were given in exchange for the donation. For monetary donations and cash equivalents, you must send a receipt of the amount they've donated.
How to Fundraise for In-Kind Donations
Now that you have your ducks in a row, it's the time to spread the word and fundraise for in-kind donations!
One great way to start is by tapping your current network. Let it be known to your current donors, board members, and volunteers what items or skills your organization needs. Ask your staff to reach out to people they know. Chances are good that someone your organization knows has items you need at home or knows someone who would be willing to volunteer their expertise.
Doing a "standard promotion" of your new "ways to give" page in your newsletter and on social media is another great place to start. Sending out a dedicated appeal for your in-kind donations will also help.
You can also take things to the private sector by asking corporate partners to make in-kind donations. By building a relationship with an office supply store, for example, you may get all the office supplies you need. If the local grocery store is willing to put out a box to collect for your toy drive, that's great! More businesses may be willing to help you than you think.
For more tips on how to build corporate partnerships, check out this resource:
In-Kind Donations
No matter what your mission is, your nonprofit can benefit from accepting in-kind donations. With a gift acceptance policy, a "ways to give" page, and an in-kind fundraising plan in place, you're ready to start accepting in-kind donations.
For more insightful fundraising ideas, be sure to read 35 Nonprofit Fundraising Strategies to Help You Raise More.
Join the discussion in our Slack channel on connected fundraising