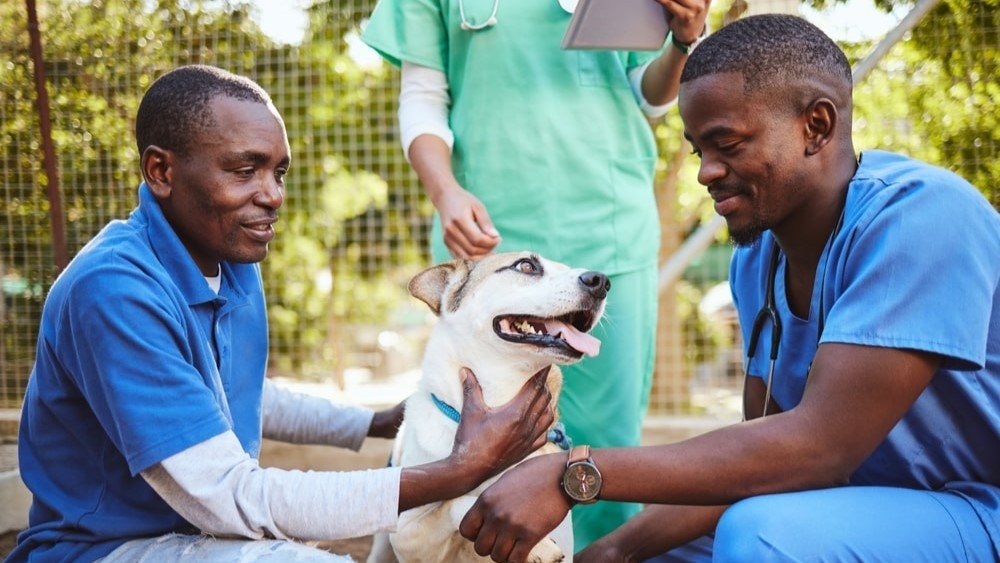 Managing volunteers can be one of those tasks that's easy to forget about until it's too late to catch potentially costly mistakes. The best volunteer management strategies start early. Every contact from the moment someone expresses interest in your mission is an opportunity to build on your relationship. With a good constituent relationship management system (CRM), you can personalize your volunteer outreach, show your appreciation, and understand what it takes to engage someone with your organization. Consider these best practices for building successful relationships with your volunteers.
6 Best Practices for Managing Volunteers
Many nonprofits start out managing their volunteers with spreadsheets or—even worse—handwritten timesheets. They spend a lot of time transferring that data between systems, which means they're only able to collect the bare minimum. Manually moving data from one place to another also makes them more susceptible to errors.
The first step to any volunteer management strategy is to use tools that will support the following six best practices:
Segment sign-ups by project
Collect and group detailed volunteer data
Provide a portal for self-reporting hours
Automate but personalize appreciation
Periodically review your volunteer timeline
Manage volunteers with a purpose-built CRM
Let's take a closer look!
1. Segment Sign-Ups by Project
When someone decides to volunteer with your organization, they often have a specific task, project, or campaign in mind. They also have their own skill set that they bring to the table. A generic sign-up form won't neatly capture their specific interest and relevant experience unless you make it long and cumbersome to fill out. The other option is to keep the form short, but that makes it harder to collect detailed information and adapt your communications based on their interests.
For example, say someone from an animal advocacy organization meets a retired veterinarian named Bob during a gala. Bob specifically says to this person, "I'd love to help out your organization, but I'm not one for big fancy events." The representative tells Bob that they have volunteer options for hands-on work with animals and then directs him to the sign-up form on their website.
One of two things can happen:
Bob fills out a generic form that does not indicate his experience or preferences. Accordingly, he is given information about volunteering at events by doing administrative or promotional work. Bob soon gives up on volunteering because it seems like he's only getting invites to events that he isn't interested in.
Bob follows the prompts on the volunteer page that are targeted specifically at volunteers who want to work hands-on with animals. He signs up and immediately receives a call from someone at the animal shelter to discuss volunteering his time for an upcoming vaccination drive.
This simple distinction sets the right foundation for that organization to get to know Bob and utilize his talents in a way that benefits him and the organization.
For more information on how to bring volunteers into your organization, see our resource, The Best Volunteer Recruitment Methods for Nonprofits.
2. Collect and Group Detailed Data
Now that the organization has information from a specific project page, they can start working to categorize what they know about Bob. His prior career indicates his interest in hands-on work with animals. His status as a retiree likely means that he's available on weekdays. His statement that he doesn't like "flashy events" indicates he's probably not a great prospect for organizing them. All this information is "chart-able."
| Volunteer Name | Occupation | Employment Status | Interests | Availability | Event Preferences |
| --- | --- | --- | --- | --- | --- |
| Bob | Veterinarian | Retired | Working with animals | Weekdays | Low-key, behind the scenes |
All the information categorized about Bob and other volunteers can be used to create segmented appeals for volunteers. With everybody correctly segmented, the organization can adapt its requests to the individuals most likely to respond.
They can send an appeal for help in their veterinary clinic to individuals who are most interested in hands-on work with animals, and they can promote their upcoming event volunteer opportunities to the group that's most interested in supporting those programs. But they can be even more specific!
For example, the organization holding a midweek veterinary clinic would know which volunteers to reach out to based on the availability field. They could simply filter their volunteer database to only show those available weekdays with veterinary skills who like working with animals. That way, they connect with people like Bob while not messaging others who wouldn't be a good fit.
Grouping your volunteers is a more effective way of ensuring you get the right people on the right projects. Of course, when that time comes, you'll have to deal with timeslips.
3. Provide a Portal for Self-Reporting Hours
Reporting hours can be a particularly challenging task for nonprofits to manage. Multiple projects with different committees can make it hard to keep track of which volunteer is doing what and when they're doing it. Asking volunteers to self-report their hours makes it easier to keep track of volunteer time, but it's also the easiest way for logging errors.
In some CRMs, organizations can add a step where volunteers' hours are added as pending until they are approved. Then, someone can give them a quick review before signing off. The nonprofit could also restrict volunteers to only entering hours for specific projects. That can help streamline the process of approving pending hours and eliminate the risk of incorrect timekeeping. It also makes it easier to manage things like reporting.
For example, if a nonprofit was running a corporate grant program with a local business, they'd want to be able to track volunteer hours specifically related to that grant. The nonprofit could create a group of volunteers connected to the business and provide their volunteers access to that specific project for self-reporting hours. That nonprofit would easily be able to provide a detailed report of every volunteer hour by employee. This system will also help employees adapt personalized appreciation messages later! They could thank the company as a whole and include a note about exactly the number of volunteer hours their employees gave, and they could mention specific numbers of hours in their thank-you messaging to individual volunteers.
4. Automate but Personalize Appreciation
"Automated personalized appreciation" may sound like a contradiction, but it's completely possible as long as you get to know your volunteers. If you follow the initial best practices of keeping detailed records and properly grouping volunteer data, you'll know what's important to them. With the automated self-reporting options, you also know when to show appreciation to the different groups of people who volunteer with your organization.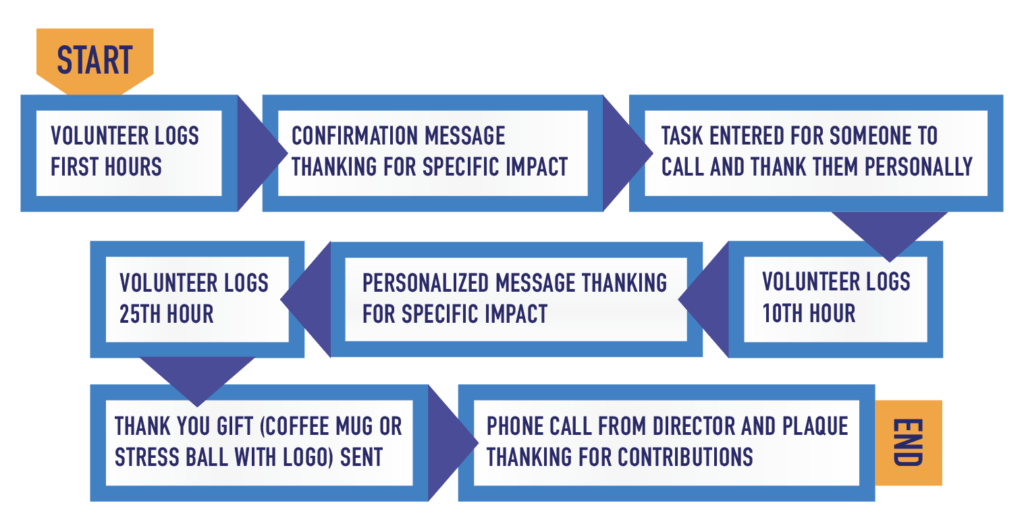 For example, imagine Bob the veterinarian has now logged his first five hours providing vaccinations for pets at a mobile clinic. After Bob logs his hours in his volunteer portal, he gets a confirmation email that assures him his hours have been successfully submitted and will be reviewed and approved soon. Later, he gets a personalized email thanking him specifically for the five hours he spent volunteering. A task is entered for someone to give him a call and thank him again personally.
All those tasks are triggered by that first milestone: Bob logged his first volunteer hours. The organization can use other milestones to adapt its thank-you messages as Bill progresses. When Bill logs his 10th hour, he'll get another personalized message. When he logs his 25th, the organization may send him a coffee mug or t-shirt with their logo on it as a thank you. When he logs his 50th hour, he may get a phone call from a director of the nonprofit as well as a plaque thanking him for his contributions.
Every milestone is triggered by an action in the CRM, ensuring that Bob always gets the appreciation he deserves for volunteering his time. It's also helpful when you want to inspire other constituents to behave more like Bob. Celebrating volunteers' commitment is a great way to show others that their hard work will be recognized and appreciated!
5. Periodically Review Your Volunteer Timeline
A volunteer as engaged as Bob is one every organization hopes for—and Bob's history could be a roadmap to finding others just like him. Using a CRM with a timeline capability, the organization could review Bob's entire history from end to end and the actions they took that got him to this point.
If you were running that nonprofit, you might look at how Bob initially came into the organization. You'd see his first interaction was at an in-person event where he met with a representative. You then pull up that event and notice that over 30% of your attendees went on to become volunteers while 60% donated more than $25. That tells you that event is one you should use as a model for finding both new volunteers and new donors!
You can also use interactions that didn't go as well to try and discover where you went wrong. You might pull up a record from that specific event where you got a constituent's information, but they never went on to volunteer. Looking at the timeline, you notice you never sent them a follow-up email. With that information, you can try to correct the trend by reaching out to that individual. You can also apply that lesson to your plans for the future by setting your CRM to send an automated follow-up email to individuals who did not volunteer following expressing interest at an event.
The ability to see exactly where that volunteer engagement falls off can help you keep people with your organization. You can gain insight into how your appreciation efforts are going, how your volunteer outreach programs are working, and which projects gain the most attention.
Of course, all of this is only possible through the use of a detailed CRM that allows you to capture and segment the right data.
6. Manage Volunteers With a Purpose-Built CRM
To accomplish all the above best practices, you're going to need a purpose-built CRM. Purpose-built means that it's focused specifically on nonprofits. Many commercial software options have CRMs, but those are "customer" relationship management systems that don't easily address the needs of volunteers. A good CRM will be nonprofit-focused and will include some of the following features that make managing volunteers much easier:
Segmentation capabilities: Creating volunteer groups comes down to one thing in a CRM: The ability to segment your data. Using tools like customizable forms and adaptable fields allows you to build criteria into your volunteer record that can be used to group them later.
Relationship tracking: Relationship tracking is vital to volunteer and grant management. Volunteers under corporate sponsorship, for example, should be somehow connected to that corporation in their volunteer record. That way, you can report their hours specifically to their employer while excluding them from non-related volunteer communications.
Unlimited pages, templates, and forms: It's not particularly challenging to create a unique page for every volunteer project. However, it can get expensive if you use a CRM that doesn't offer unlimited templates, pages, and forms. You should be able to create as many of these as possible so you can segment your data right from the start.
Automated features: Tasks like sending a thank-you message are predictable and repeatable—and that means they can be automated. If someone logs volunteer hours, a personalized email should go out based on the type and amount of hours they logged. A good CRM will help you do just that.
Scalable billing: More volunteers do not always equal more revenue. Unfortunately, a lot of CRMs bill based on the number of records you need to manage. That is challenging for any nonprofit that is growing because it's hard to predict future cost. Revenue-based CRM billing models are a much better alternative because they allow a nonprofit to scale based on how much they're earning, not how many volunteer hours they need to track.
Extensive integrations: One of the great options for volunteer management mentioned earlier—the timeline—is only possible when you're able to integrate all your tools so they can speak to each other. When your tools work together, you can see all of the steps that you took to engage that volunteer from your very first contact.
Ideally, the CRM you choose will also offer unlimited users. Users are all those individuals who are going to complete internal tasks for your organization. They may be volunteers or people employed with you. With unlimited users, you don't have to worry about scaling up or scaling down as your staffing needs change.
Using Neon CRM to Manage Your Volunteers
When managing volunteers, the key to success is to start as early as possible. Your first interaction with a potential volunteer will give you a lot of information about them that you can use to build your relationship. With detailed records, you can even use their history with your organization as a guide to building future connections with other potential volunteers. All of this is only possible with a powerful, purpose-built CRM.
Neon CRM is an excellent tool for managing volunteers because it helps you keep track of all those granular details you will use to personalize your outreach and appreciation. To learn more about how it can help your organization, contact us for a demo.
Join the discussion in our Slack channel on connected fundraising