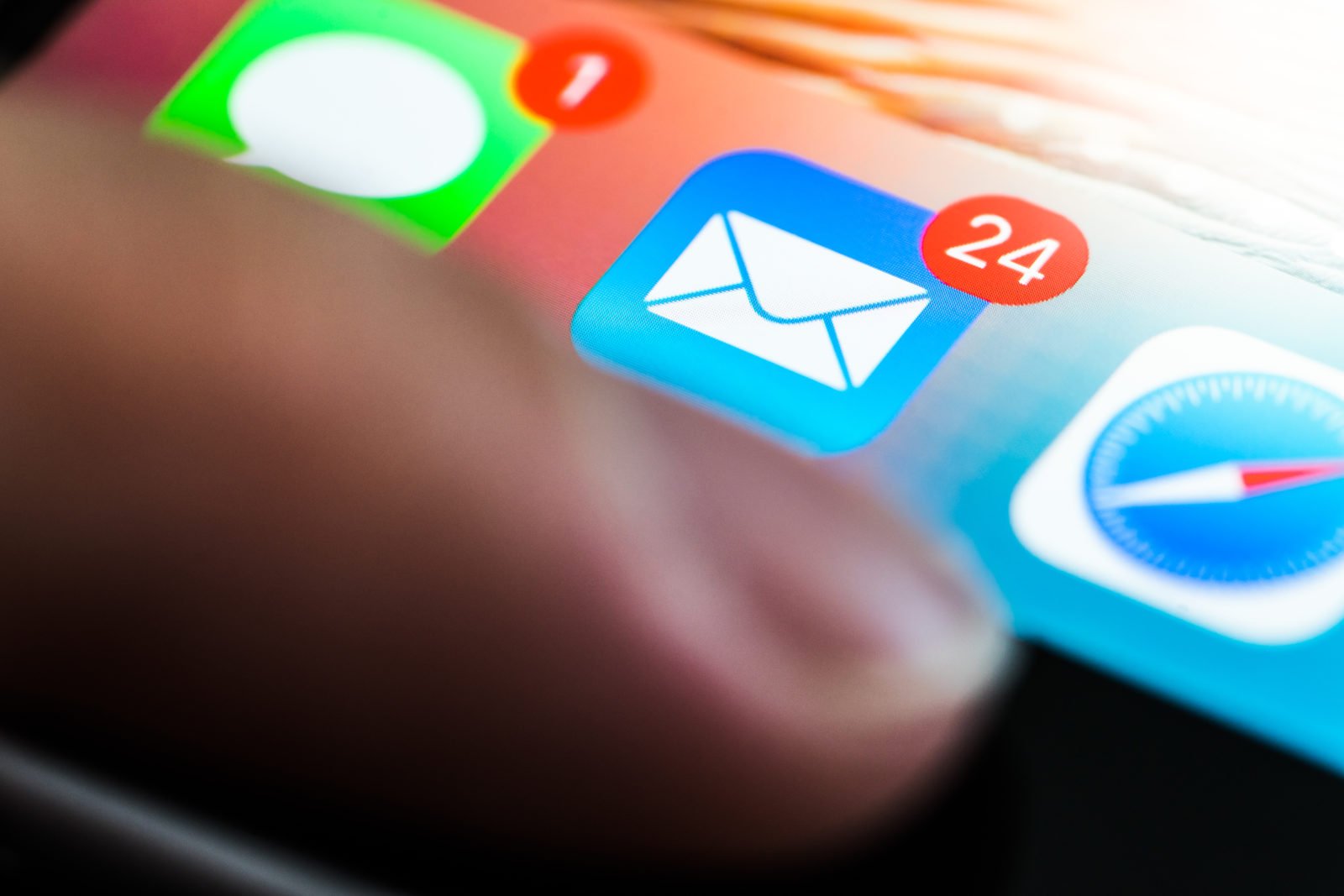 Nonprofit email benchmarks are more than interesting data points. They're valuable tools for evaluating your organization's email campaigns! Comparing your own performance to industry benchmarks can help you identify areas to improve your email strategies.
Let's take a look at six nonprofit email benchmarks that will help you evaluate your own emails, plus some insights into steps you can take if you want to improve your emails' performance.
These benchmarks are based on the performance of 37,472 individual email campaigns sent by Neon One clients in 2022. If you'd like to dig deeper into these benchmarks and what they mean for your organization, download The Nonprofit Email Report: Data-Backed Insights for Better Engagement.

The report includes specific engagement benchmarks for small and large nonprofits, recommendations for adjusting your campaign based on your performance, data-backed tips for writing subject lines and preview text that inspire opens, and much more.
Average List Size for Nonprofits
First things first: Having a small list of highly engaged contacts is more important than having a very large list of people who don't open your messages. That said, one common question fundraisers ask is "How big should my email list be?" Your email list size isn't the most important metric, but it can certainly be useful.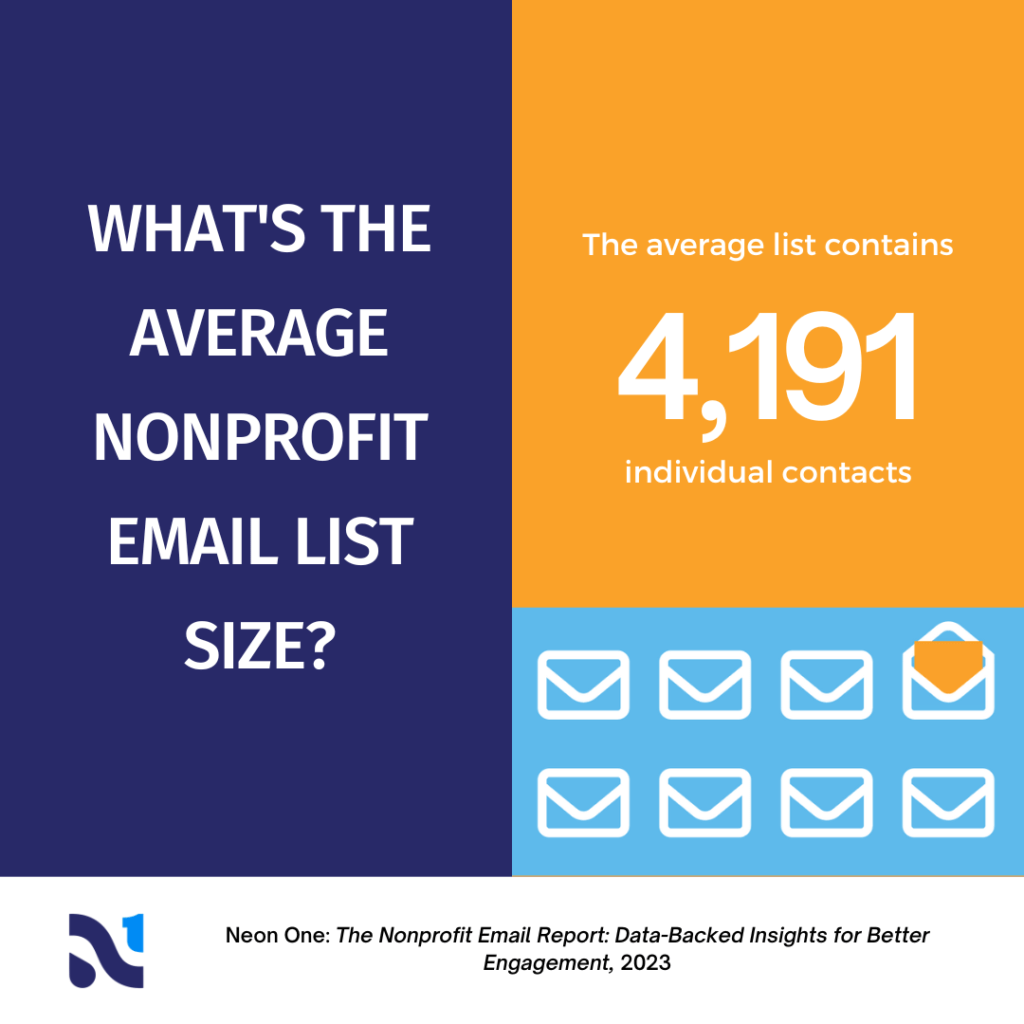 The average nonprofit's email list contains 4,191 contacts. Keep in mind this average includes both very large and very small organizations! Your list may be different.
Why Is Email List Size Important?
People want to communicate via email! Email is one of the most popular communication methods for donors and other supporters. According to research by marketing firm Data Axle, 47.9% of donors prefer email when receiving appeals and updates. When people give you their email addresses—even if they've only signed up for a newsletter or have opted into receiving updates during the donation process—they're opening the door to ongoing communication from your nonprofit. The size of your email list is an indicator of the size of your overall audience, including potential donors.
What If I Want to Grow My Email List?
Remember: An engaged list is better than a large list. That said, many nonprofits—especially newer ones—frequently set goals to grow their email audience. If you're one of them, you can try:
Adding a newsletter sign-up form to your website
Adding opt-in checkboxes to donation, volunteer, or membership forms
Collecting email addresses at events and community gatherings
Promoting your newsletter on social media channels
The key to growing your email list is to make it very easy for donors and other community members to sign up. Wherever you ask people to provide their email address, make sure your form is simple and straightforward.
Average Bounce Rate for Nonprofit Emails
Your bounce rate is the percentage of contacts on a list to whom your message could not be delivered. There are two kinds of bounces! Soft bounces happen due to temporary issues like server outages or contacts whose inboxes are full. Hard bounces happen when you have an invalid email address. This can happen due to human error—like typos—or when someone deletes their email address.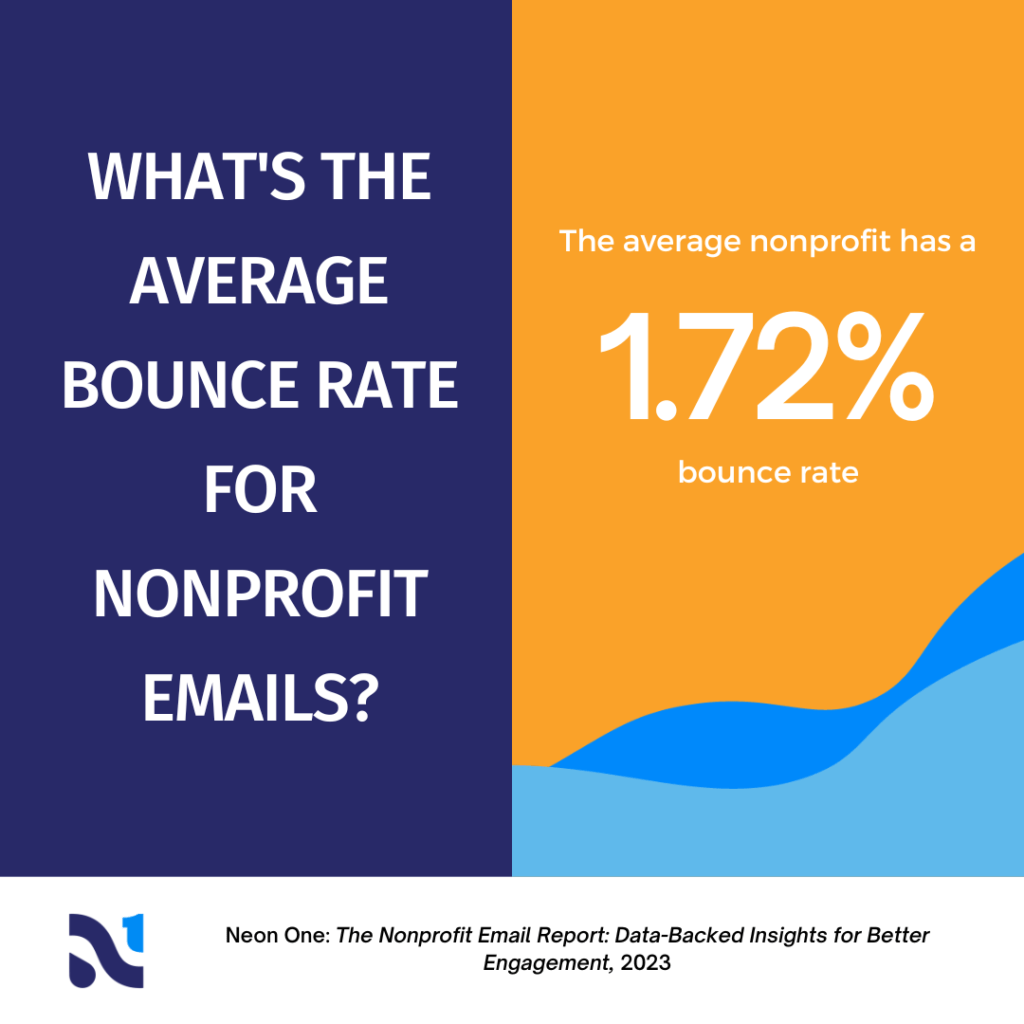 The average nonprofit's bounce rate is 1.72%. That means that, for every 100 contacts on a list, fewer than two of them will be undeliverable.
Why Is This Important?
Bounced emails represent messages that don't reach your subscribers. If you have a very high bounce rate, that means a significant portion of your list isn't receiving your messages. High bounce rates are generally an indicator that your email list isn't "clean" and should be updated. Removing email addresses that consistently bounce emails back to you can save you a headache in the long run!
Consistently sending emails to undeliverable addresses can result in the increased likelihood of your emails going to recipients' spam folders or, worse, could result in your being penalized for emailing spam traps. Spam traps are inactive addresses that are monitored by different email service providers to identify organizations that don't follow email best practices; emailing the wrong spam trap may even result in your organization being blacklisted.
What If I Want to Reduce My Bounce Rate?
High bounce rates are a sign that it's time to clean up your email list. That said, the type of bounces you receive will impact how you respond. Soft bounces are less worrisome than hard bounces. Those email addresses are still valid—they're just temporarily unreachable. If you notice a particular email address consistently returns a soft bounce several times in a row, you may want to remove it from your database. That's a good indicator that your contact isn't using that email address any more.
Hard bounces are more serious. If you have a high number of hard bounces, clean out your email list, stat! Those addresses are invalid or no longer exist. Regularly messaging them can negatively impact your email deliverability, so it's better to remove them from your list as soon as you can.
Neon CRM Tip: Contacts on your list that bounce three times are automatically unsubscribed from your emails. This doesn't entirely eliminate the need to clean out your email lists periodically, but it does help prevent deliverability issues by reducing your bounce rates.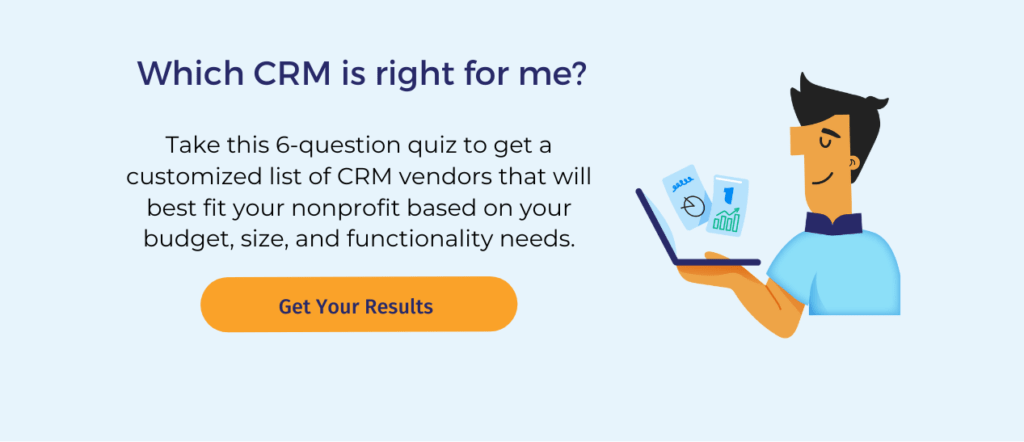 Average Open Rate for Nonprofit Emails
Your open rate is the percentage of people who received your email and clicked to open it. This metric is an important one! When your open rate is high, it means you're doing a good job of catching your contacts' attention and inspiring them to open your message.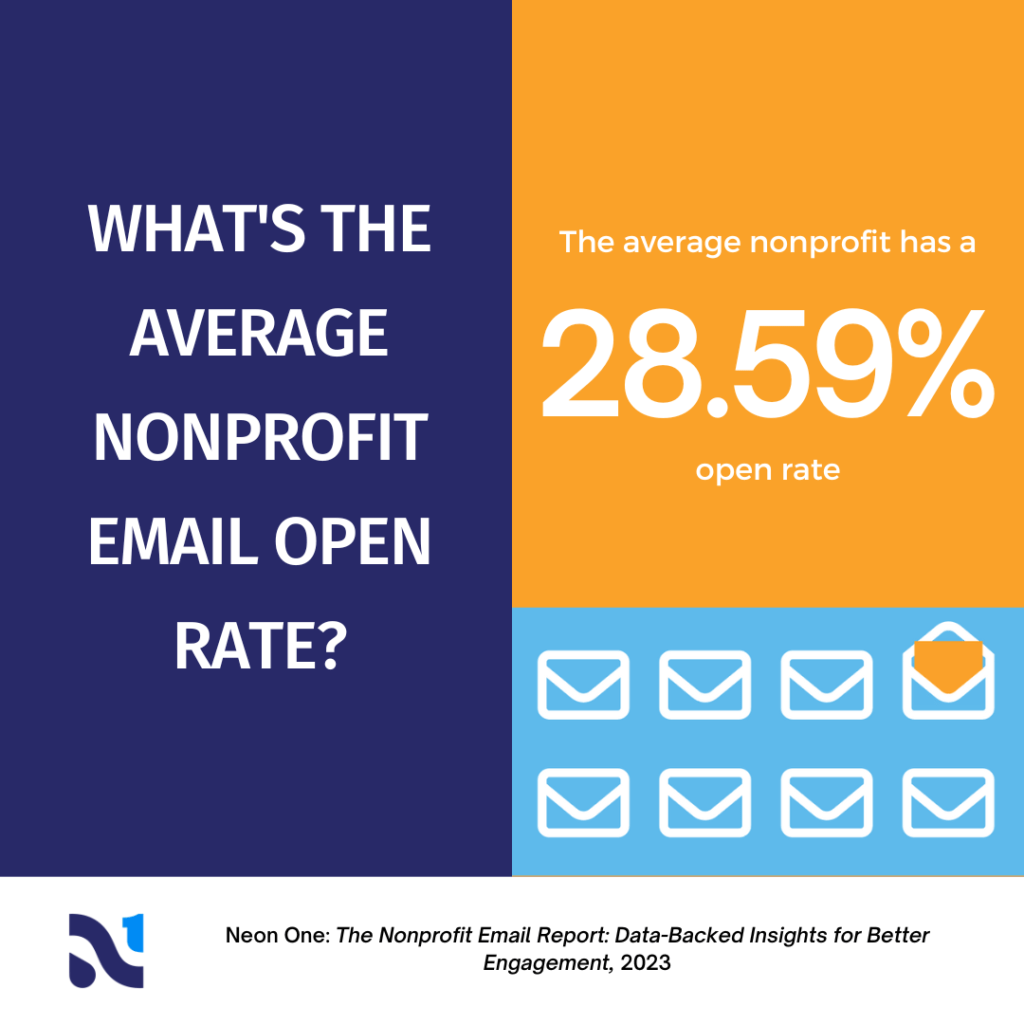 The average nonprofit email open rate is 28.59%. That's much higher than the average open rate for for-profit organizations—according to Campaign Monitor and MailChip, the average open rate across all industries hovers between 21% and 21.5%. If you're a nonprofit, your audience is probably more invested in what you have to say than they are in the emails they receive from for-profit and eCommerce organizations.
Why Is This Important?
Your open rate is an important indicator of your supporters' engagement with your cause. That engagement is important—your appeals, campaign updates, and impact reports are useless if people won't actually open them. High open rates mean you're doing a good job of sending emails that catch donors' attention, pique their interest, and inspire them to read what you have to say.
What If I Want to Improve My Open Rate?
Lots of different factors will impact your email open rates. If your open rates aren't as high as you like, you can try testing changes to elements like your subject lines or the day and time you schedule your communications. As you work toward improving your performance, make sure to only test one element at a time! If you change the time of day you send your email, try a fancy new subject line, and experiment with formatting your copy differently, you'll have a hard time identifying which element(s) had a positive impact on your open rate.
Experiment with things like:
Sending your emails from a different "contact" (example: Send from "Ari at Agloe Nature Center" instead of just "Agloe Nature Center")
Switching up the day and time you send emails
Sending emails to specific segments of contacts to ensure your messages go only to the people who are most likely to read them
Switching up the types of content you share
Getting creative with your subject lines and preview text
If you're going to concentrate on improving your email performance, your open rate is a great place to start. Many other important engagement metrics are based on the people who open your messages!
Average Unsubscribe Rate for Nonprofit Emails
Your unsubscribe rate is the percentage of people who choose to opt out of receiving additional emails from your organization. There will always be a handful of people who no longer want to receive your emails. That's okay! Some opt-outs are completely normal. But very high unsubscribe rates indicate deeper issues with your organization's content.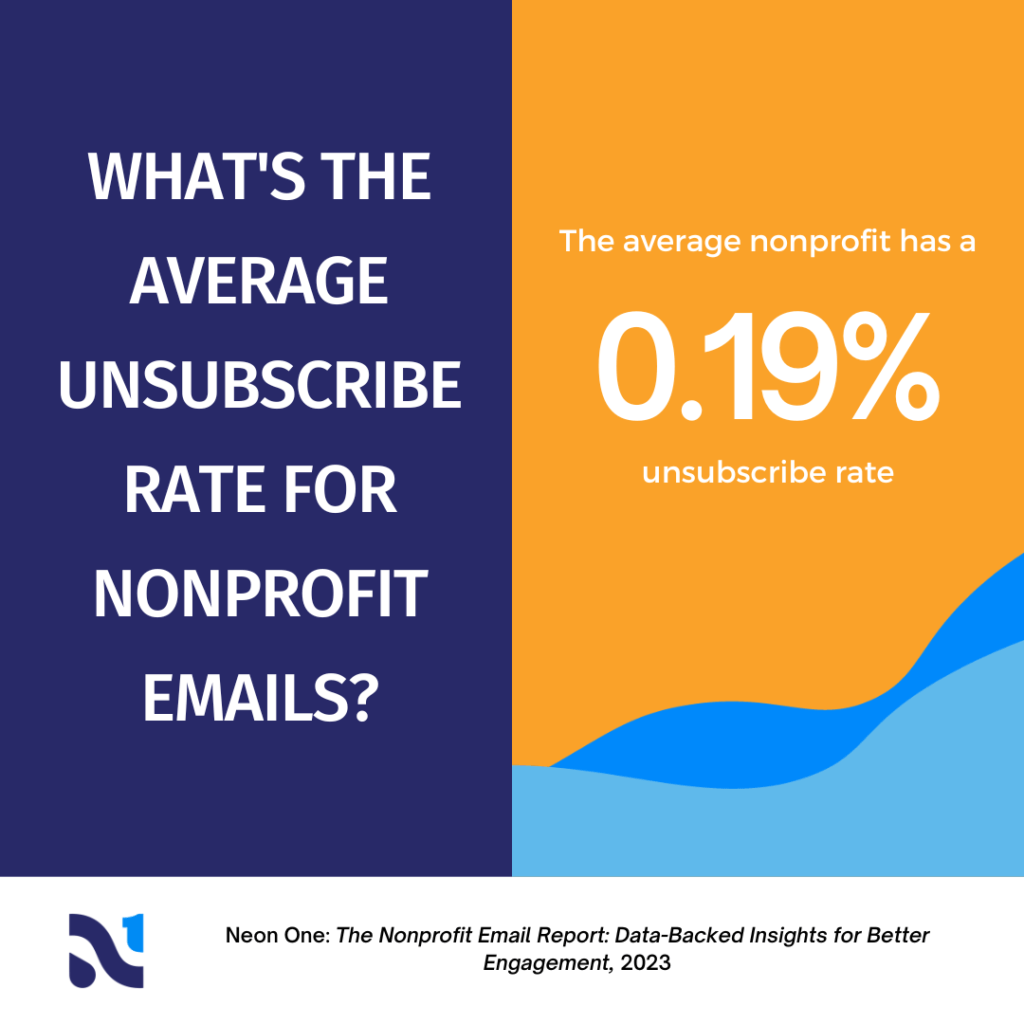 The average nonprofit's unsubscribe rate is 0.19%. That's a good sign that nonprofit email recipients are invested in receiving communications from the organizations they love.
Why Is This Important?
If your unsubscribe rate is very high, it's a good indicator that your content is no longer engaging your audience. There could be a number of reasons someone decides to unsubscribe from your emails. They may feel like they receive too many of your emails, are no longer invested in your cause, or could simply be trying to reduce the number of messages that hit their inbox every day. Low unsubscribe rates generally mean you're doing a good job of sending emails your audience finds interesting (or at least inoffensive) at a reasonable cadence. High unsubscribe rates are a warning sign that you need to rethink your email strategy.
What If I Want to Reduce My Unsubscribe Rate?
If you're feeling pressure to reduce your unsubscribe rate to 0%, don't stress yourself out trying to make it happen. People unsubscribe from emails for lots of reasons! That said, you can reduce a high unsubscribe rate by changing some elements of your email strategy.
Try experimenting with:
Reducing the frequency with which you send your emails
Segmenting your lists so emails only go to the people to whom they are most relevant
Intentionally making your emails more interesting, educational, or actionable
Not sure where to start? Try surveying your donors and asking them about their preferences. You might learn that your weekly campaign updates feel overwhelming or that people on your nonprofit's newsletter email list aren't interested in receiving program information. Feedback from your supporters will be helpful as you reevaluate your email strategy.
Average Email Click-Through Rates for Nonprofits
Your click-through rate—the number of people who open an email and click on a link you've included in the copy—is an important indicator of your lists' engagement with your content. When you combine it with your open rate, you can start to get a picture of how your readers interact with your content. High open rates and low click-through rates may indicate that your email caught peoples' attention but didn't inspire deeper engagement. Low open rates and high click-through rates may mean that your email didn't really stand out in peoples' inboxes, but your content was really engaging to the people who opened your message.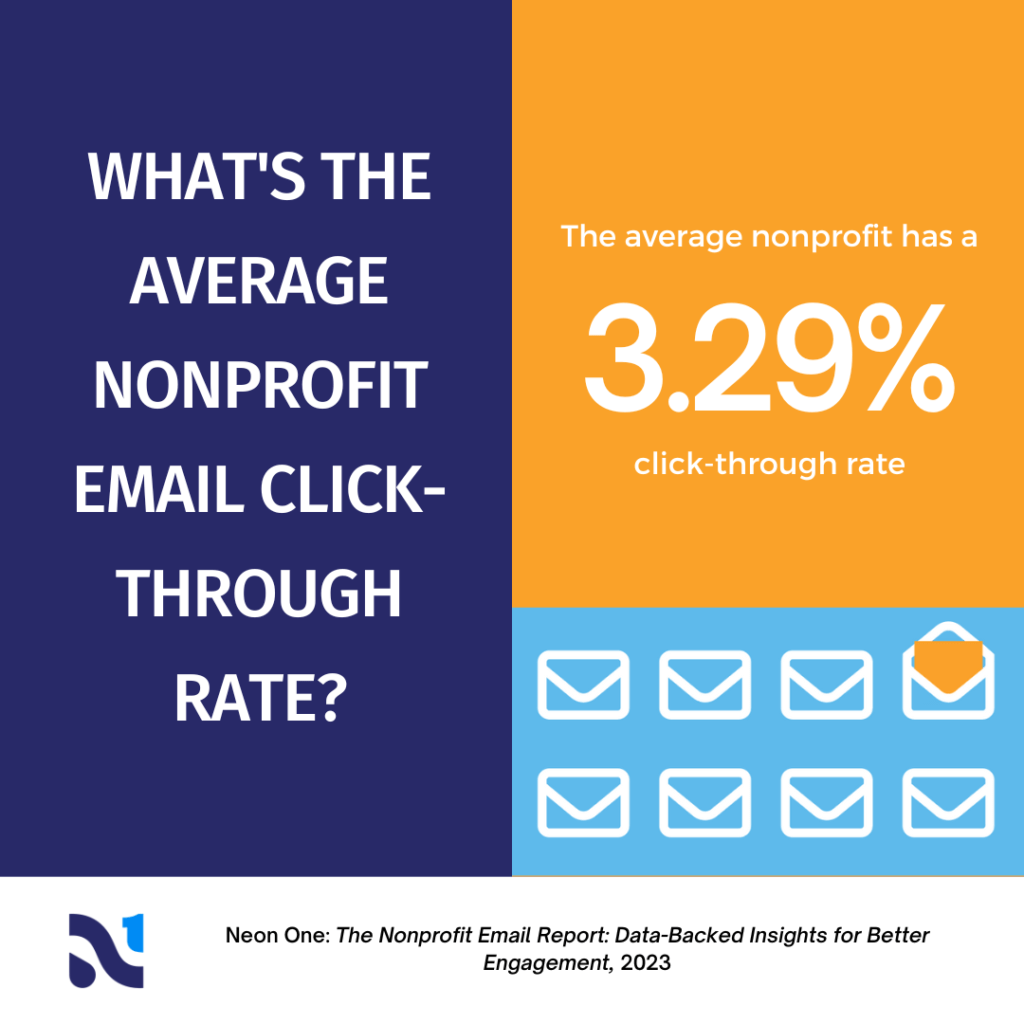 The average email click-through rate for nonprofits is 3.29%. Yours may vary from message to message: A short email with a single link probably won't drive as many clicks as a newsletter that's full of links to interesting stories.
Why Is This Important?
When people click on the links you've included in your email, you know you've sent them content they find interesting or have made a compelling appeal. High click-through rates mean your audience is invested in hearing what you have to say or supporting your cause. Low click-through rates mean the opposite! If only a handful of contacts click on the links in your email, you might want to try experimenting with a few different strategies to see if you can improve engagement.
What If I Want to Improve My Click-Through Rate?
If your click-through rate is low, try taking these steps:
First, make sure you include links to click on and that each link is obvious to your reader. A single link included at the bottom of your email may not inspire many clicks.
Make sure your links are easy to click. Try using buttons instead of hyperlinks; they're easier to use for mobile users!
Add clear text to your button (or add hyperlinks to words and phrases) that make it obvious what users will see when they click.
Include some copy that hints at what donors will get out of clicking on your link. Will they learn something? Will they read a story that will excite and inspire them? Can they make an impact in their community by donating?
Tracking your click-through rate is an important way to keep an eye on how well you're engaging your readers, and it helps you understand the types of content they find interesting. It's a versatile metric!
Average Amount Raised Per Email Campaign
Since almost half of donors prefer to receive messages from their favorite nonprofits via email—including appeals—understanding how your email campaigns influence donations is an important part of running an effective fundraising campaign.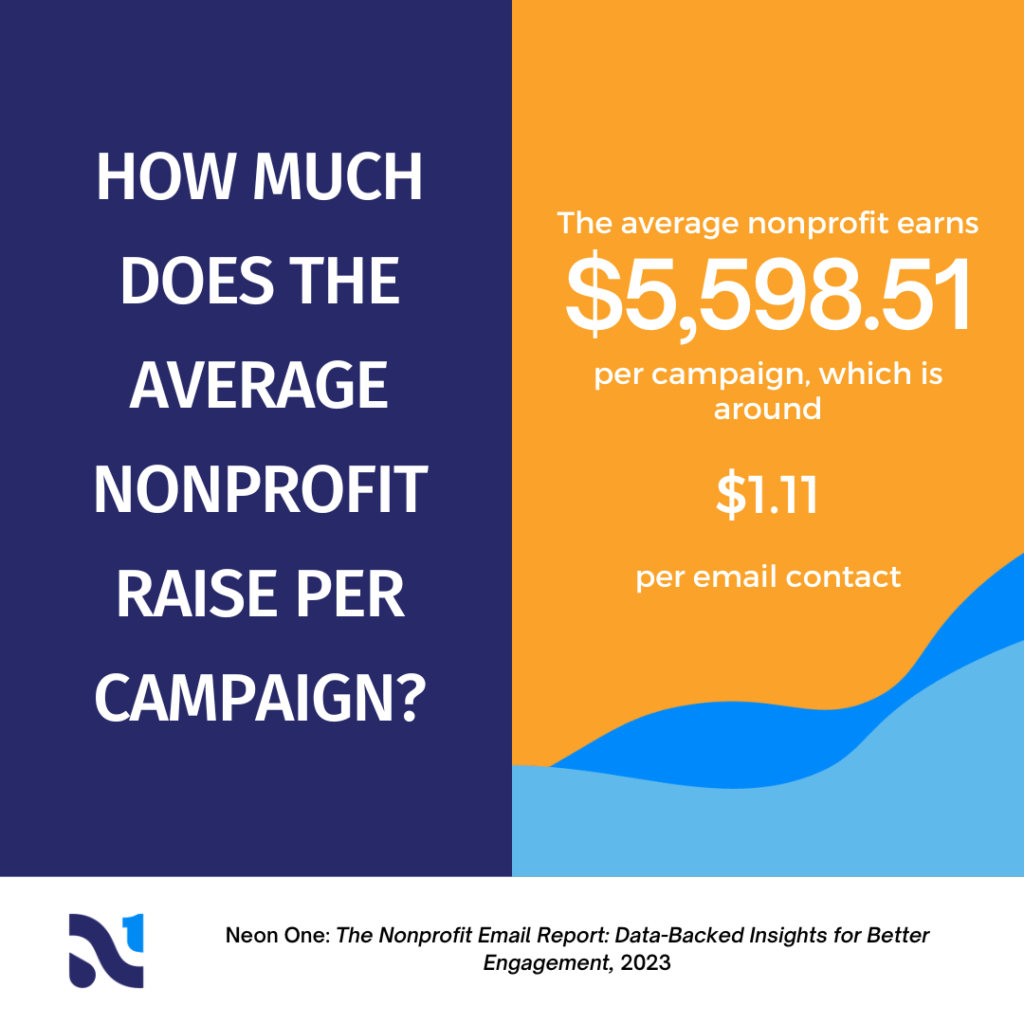 The average nonprofit raised $5,598.51 per email campaign—that's around $1.11 per contact. If you're a small nonprofit and haven't hit that number yet, don't worry! Small nonprofits tend to raise less—they average $3,533.54 per campaign. Their overall fundraising totals may be below the mean amount raised for all nonprofits, but that doesn't mean their donors are less committed. On the contrary, smaller organizations raise an average of $6.15 per contact. They may raise less per campaign, but they raise much more per contact.
Why Is This Important?
If you rely on email for fundraising, you'll want to keep an eye on how much you raise per email and per email contact. When you track your average amount raised per campaign and amount raised per contact, focus less on beating this benchmark and more on improving on your past campaign's results. If you're a small organization with 750 email contacts, you may not hit that number. That's okay! The important thing is to keep an eye on your list growth, clicks on links that take people to your donation page, and the amount your donors give as a result of your campaign.
What If I Want to Improve My Fundraising Email Campaigns?
As you grow your email fundraising programs, you'll probably want to set some growth goals for yourself. If you notice that few people give as a result of your email, try:
Making sure you ask for a donation early in your email—not everyone will read your whole message!
Including impact numbers or stories to help your donors understand the impact they'll make with their gift
Making your call to action stand out from the rest of your copy so people who skim your email will notice it
Reiterating that call to action throughout your email
Making it easy to click over to your donation page
Ensuring your donation form is optimized to improve conversion rates
Remember, try to experiment with one tactic at a time so it's easy to identify what works and what doesn't. Changing your appeal's format, your call to action's phrasing, the style of your buttons, and your donation form all at the same time will make it hard for you to identify what works well and what can be improved.
Use These Nonprofit Email Benchmarks to Gauge Your Own Performance
Almost half of all donors prefer to communicate with their favorite nonprofits via email. If you're evaluating your nonprofit's email performance, these nonprofit email benchmarks are a great place to start. Remember: These benchmarks are guidelines—not hard and fast goals to which every nonprofit must aspire—and include data from nonprofits of all sizes, missions, and revenue bands. These statistics are useful, but incremental improvements in your own performance will be more important in hitting each of these benchmarks.
Explore More Nonprofit Email Benchmarks
For more specific benchmarks, strategy recommendations, and other tactics for improving your email campaigns, download your copy of The Nonprofit Email Report: Data-Backed Insight for Better Engagement. Each of the industry benchmarks in the report are further broken down into averages for large and small nonprofits, plus recommendations and ideas for improving your engagement. Grab a copy of the report below!\
Join the discussion in our Slack channel on connected fundraising