Online donations are a critical part of nonprofit fundraising. In order to accept online donations, you're going to need a payment processor. PayPal for nonprofits is one of the most popular payment processors out there. Here's everything you need to know to decide if PayPal is right for your nonprofit.
What is PayPal?
PayPal is an online payment processing company. They are one of the largest, oldest, and most trusted companies in the space. Customers can link their bank account to their PayPal account and use PayPal to send and receive money, make purchases, and more.
PayPal offers accounts for both individuals and businesses. Creating an account is free, and the company does not charge their users any monthly fees. Instead, PayPal charges fees on their users' payments. For each transaction, they charge a set percentage of the transaction and a flat per-transaction rate.
PayPal is particularly useful for international transactions and for users who are concerned about security. The platform allows its users to transfer funds or make purchases without their private financial data being disclosed to the other party.
PayPal has a long history as a digital payment processor. The company was founded in 1998 as Confinity. After striking it big with their digital wallet product and merging with X.com, PayPal went public in 2002. Later that year, the company was purchased by eBay, where it became the default method of payment for most users. In 2013, PayPal purchased BrainTree, a payment gateway company that had previously purchased Venmo. In 2014, PayPal was spun off from eBay to become its own publicly-traded company.
As PayPal has built its business over the years, the company has expanded beyond online transactions. PayPal also has solutions for in-person payments, including credit/debit card readers, QR codes, and POS systems. One thing that's important to note: These different PayPal products charge different fees than PayPal's online services.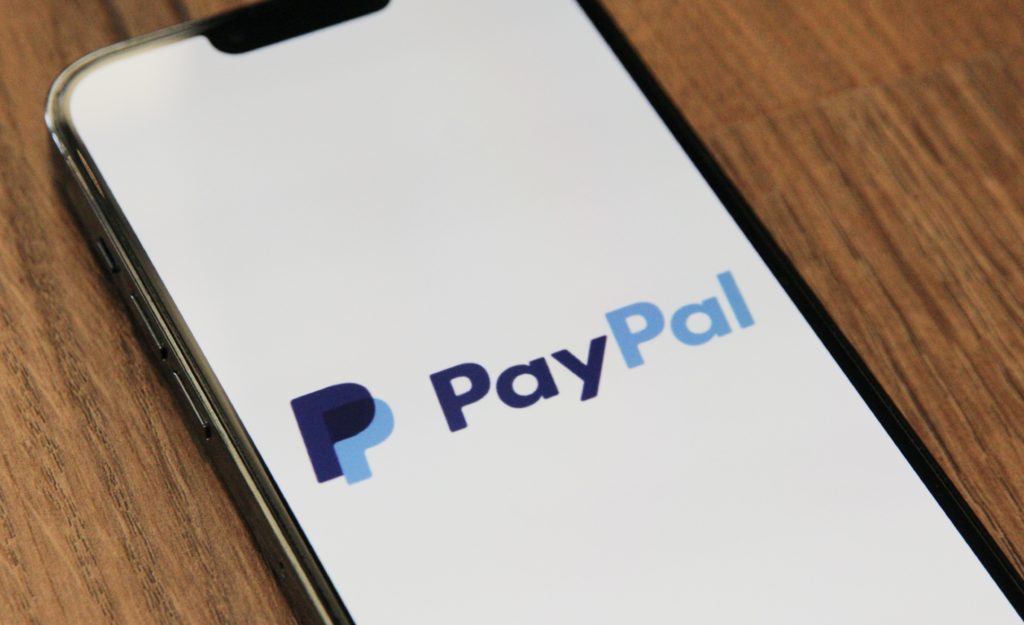 How Does PayPal Work for Nonprofits?
For nonprofits, PayPal offers a "charity" merchant account that comes with lower fees than their traditional merchant accounts. In order to qualify for the charity rate, a nonprofit must get their charity status approved by PayPal when they set up their account. If your nonprofit decides to use PayPal as your online payments solution, it's vital that you verify your charity status.
PayPal offers several different online software solutions for nonprofits. These solutions include:
Donate Button
PayPal has an easy-to-create donate button that your nonprofit can add to your site with minimal setup. This button will allow your nonprofit to accept donations using PayPal's software, but it may involve donors leaving your site and completing their transactions via PayPal. Clicking the Donate button launches a pop-up or a new donation page where the donor can select their donation amount, choose whether to make this a monthly donation, and opt into sharing their email address with your organization.
Donors who do not have a PayPal account can still use the PayPal donate button. They can choose to create a new account or to check out as a guest and enter their debit or credit card information. Your nonprofit can add your logo to the landing page and the "guest" donation form, but that is the extent of the branding options you'll have on your PayPal form.
PayPal Checkout
This is a payment gateway from PayPal that embeds directly into your site. It allows all donors to process their donation without leaving your website. It also allows your donors to choose Venmo as a payment method in addition to PayPal and all major credit/debit cards. PayPal Payments Pro is a more advanced version of PayPal checkout that allows donors to donate in six additional currencies. It also allows your nonprofit to process donations received over the phone using a virtual terminal. The virtual terminal is a fully online application that does not require any hardware like card readers.
PayPal.me
This is a software that allows you to send out secure customized donation links to your donors via text, social media, or your website. Unlike the other donation options, PayPal.me is exclusive to PayPal customers. In order to make a donation using this service, your donor will need to have a PayPal account or choose to open one.
The Donate Button, PayPal Checkout, and PayPal Payments Pro all come with capabilities that encourage recurring donations. Namely, their donation forms all have a checkbox that asks if the donor would like to make this a monthly donation. All three products can also provide donors the option to cover the processing fee associated with their gift.
What are PayPal's Fees for Nonprofits?
The PayPal merchant fee for registered charity accounts is 1.99% plus $0.49 for donations made in U.S. dollars. That rate is discounted from PayPal's standard non-charity donation rate of 2.89% plus $0.49.
If your nonprofit is working with an international donor base, it's important to note two things:
All currencies accepted on PayPal come with different fixed fees for charity transactions.
Donations made internationally come with an additional 1.5% fee.
However, these charity discounts only apply to online donations. If you are using PayPal's Zettle POS system to accept donations in person, you will be charged the standard rate for that product: 2.29% plus $.09 per transaction. To accept donations via QR Code, PayPal will charge you 2.4% plus $0.05 for transactions of $10 or less. For transactions over $10, they will charge 1.9% plus $0.10.
What are the Advantages of Using PayPal as a Nonprofit?
Any payment processor that you choose for your nonprofit will come with its own pros and cons. Here are the advantages to using PayPal:
PayPal is a Trusted Brand
If you asked the average person to name an online payments processor, they will likely say "PayPal." That level of brand recognition goes a long way towards establishing trust with your donors, which is a critical part of the donor experience. PayPal is also known for maintaining high levels of security. If you are concerned about keeping your donors' information safe, choosing PayPal would be a sound decision.
Setting Up PayPal's Donate Button is Easy
While PayPal's Donate Button doesn't come with as many features as their PayPal Checkout or PayPal Payment Pro products, it is incredibly easy to set up. You can visit the PayPal Donate Button page, log in to your account, customize your button and donation page variables, then copy and paste your button's HTML code into your site. That's it. If you are a young nonprofit without a lot of resources at your disposal, this could be a good solution for you.
PayPal Integrates with Most Nonprofit CRMs and Third-Party Apps
As one of the most popular online payment processors in the industry, PayPal integrates with pretty much any other app or CRM system your nonprofit might use. Even if you decide to switch to a new system, you can be confident that you won't have to switch to a new payment processor. Neon CRM, for example, easily integrates with PayPal. If you want to learn more about Neon CRM, schedule a demo today!
Schedule a Neon CRM Demo Today
What are the Drawbacks to Using PayPal as a Nonprofit?
Nobody's perfect. If you're considering using PayPal as the payment processor for your nonprofit, here are the downsides you should consider:
Limited Branding Capabilities
If you are using the PayPal Donate Button, you are able to add your logo to the donation page or the donation form pop-up. Beyond adding your logo, your ability to brand your donation experience is limited. Branding your donation pages is a key part of creating a smooth donor experience on your nonprofit's website. When donation forms don't look and feel like the rest of your site, donors are 41% less likely to complete a donation after landing on your form. PayPal's branding takes precedence over your nonprofit's unique look and feel.
PayPal's Nonprofit Discount Doesn't Apply to In-Person Donations
As we mentioned in the section on PayPal's nonprofit fees, their nonprofit discount only applies to online donations. If you are using any of PayPal's in-person payment processors, like Zettle, you pay the same fees that a for-profit company would pay. This can be a challenge when connecting with donors in person or when collecting event donations, registrations, or purchases at an in-person event. If your nonprofit puts an emphasis on in-person donations or events, PayPal might be a poor fit.
PayPal's Recurring Donation Options are Limited
Offering donors a few different options for recurring gift frequency can help improve the number of sustaining donors in your base. Some donors, for example, may want to donate when they're paid bi-weekly. Others may want to set up a weekly gift with distinct start and end dates to support a capital campaign. Neither of those options are possible with PayPal.
Since recurring donors are easier to retain than one-time donors, growing this segment of donors by offering thoughtful recurring donation frequencies is an important strategy. And while PayPal can help you increase your monthly recurring donations, it doesn't give you the flexibility to offer any other payment frequencies. If you're only encouraging monthly donations, you're probably missing out! 
It Takes Longer to Receive Funds in Your Bank Account
When PayPal approves a donation to your nonprofit, it deposits the funds into your organization's PayPal account. But that isn't the final step in the journey. You will still need to transfer those funds from your nonprofit's PayPal account to its bank account—and that transfer can take between 2-3 business days! That delay could cause issues for your nonprofit's bookkeeping, and it could even lead to a bill or two getting missed. Most nonprofit payment processors will deposit donations directly into your organization's bank account. But with PayPal, there's an extra step—and extra hassle.
PayPal is a Big Corporation, and They Act Like It
In January 2022, a class-action suit was filed against PayPal alleging that they froze users' funds—effectively taking their money from them—without a thorough explanation as to why and with limited options for appeal. One of the plaintiffs in that suit operates a nonprofit; she had almost $27,000 seized from her account. Depending on the work your nonprofit does, processing all your payments through PayPal could result in your funds disappearing and your organization's finances being left in limbo.
Neon CRM Users Should Consider Neon Pay
For nonprofits that already use Neon CRM, the best payments solution available is Neon Pay.
With Neon Pay, nonprofits can adjust their payout schedule to fit their needs. Nonprofits can count on their funds being available in 24 to 48 hours, and they can arrange payouts on a daily, weekly, or monthly basis. The risk of incorrect data entry is minimized with NeonPay because all transactions and transfers happen automatically, not manually. You can also easily generate charge reports to keep your accounting team in the loop.
Unlike PayPal, Neon Pay accommodates  instant updates.  Understanding what's happening with your donation processing in real time makes it easier to reach out to donors. If a donor's payment is declined, for example, you can log in, see that decline happen in real time, and work with your donor to find a solution.  
On top of it all, Neon Pay integrates seamlessly with other Neon One applications, leaving less room for error when recording donations. If you want to know more about switching your nonprofit's payment solution to Neon Pay, schedule a demo today.
What Does Your Nonprofit Need in a Payment Processor?
There is no one-size-fits-all answer when choosing a payment processor for your nonprofit. Before you start shopping around, make a short list of your organization's top payment priorities. The platform that best fits those needs—and your budget, of course—is probably the right platform for you.
If you're a new nonprofit looking for an easy way to start taking donations online, then PayPal could be a great solution. The company is a well-established payment processor that offers a variety of products nonprofits can use to raise money.
For nonprofits with more complex payment processing needs, your nonprofit should consider the disadvantages to using Paypal as your primary payments platform. Those disadvantages include limited branding and recurring payment options, as well as delays in getting your funds deposited into your bank account.
Looking for an alternative? Neon Pay is a great choice. Not only will Neon Pay get you your money faster, but the system will also let you schedule your payouts. With Neon Pay, automatic transactions and transfers mean fewer opportunities to make a mistake and mess up your data. Lastly, Neon Pay integrates seamlessly with every Neon One product. If you'd like to know more about Neon Pay or other Neon One products, schedule a call today.
Join the discussion in our Slack channel on connected fundraising