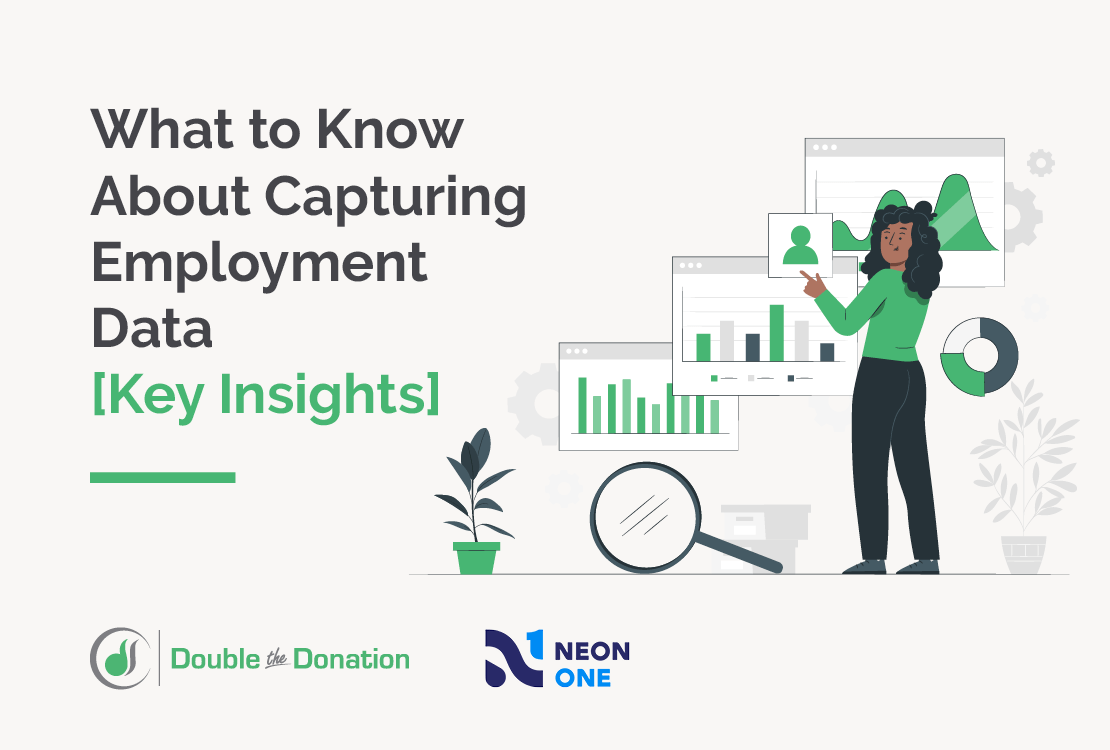 You've likely heard the phrase "data is king." In terms of nonprofit fundraising, this is more true than ever before. But you also need to know what types of data to prioritize, how to manage it safely, securely, and effectively, and what to do with it to maximize the resource.
If you're looking to bring your organization's fundraising strategy to the next level, one of our favorite types of data has to do with your donors' employment information. And that's what we'll be discussing here!
Specifically, we'll walk you through the following topics in order to craft a solid understanding of donor employment data and the impact it can have on fundraising and engagement efforts:
How to capture donor employment data
How often to capture and update employment data
What to do with your donor employment data
Ready to dive into the world of employment data and see what it can do for your team? Let's begin.
How to Capture Donor Employment Data
Before you can determine what to do with your employment information, you'll need to capture it in the first place. Luckily, this step can be fairly easy⁠—and there are a lot of ways to go about it.
We recommend employing multiple of the following methods in order to maximize the amount of data you ultimately receive.
Collect employment information during the giving process
One of the easiest ways to collect donor employment data is by adding a field to your donation form. As donors complete the online giving experience, they'll be prompted to enter the name of their company (or, even better, select their employer from an autocompleting search tool).
Send follow-up emails requesting additional data
Some donors might opt not to provide employment details during the giving process itself, but that's what your follow-up communications are for! Use your post-donation email outreach to collect this information from donors. This might include dedicated matching gift emails, donor surveys, and more.
Consider leveraging an employer appends service
Another alternative method for collecting employment data involves outsourcing the task to a third-party data appends provider. To conduct an employer append, you'll provide the company with the data you do have about your donors⁠—such as names, addresses, contact information, and more. The service provider will then scan the information against a number of public and private databases to (hopefully) locate the correct employment information.
Track collected data points in your nonprofit CRM
One of the most important steps of the data capture process is ensuring that the information you collect is going directly into your CRM. Create a field called "employer" in your database, and add in any additional insights you uncover as well⁠—such as job title, industry, and more.
Bonus tip! When possible, try to track donor relationships, as well! For example, if two spouses donate to your organization, make sure they're associated in your CRM. That way, if one employer offers a matching gift program or other workplace giving opportunities and the other doesn't, you can encourage the ineligible spouse to pursue a match through their spouse's company instead.
How Often to Capture and Update Employment Data
Once you have an employer listed in a donor record, are you able to mark that person off your "to-capture" list forever? Not necessarily.
According to the Bureau of Labor Statistics from the U.S. Department of Labor, the average tenure of an individual with their current employer falls around 4.1 years. And current events, like the Great Resignation, may drive that figure even lower.
That said, just because you know where a donor works in 2023 doesn't mean you'll know where they work in 2025, 2026, 2027, and so on. But having accurate and up-to-date information is fundamental for maximizing engagement success.
So how often should you capture or update your donors' employment data? It ultimately depends on your organization's unique supporter network, but you have a few options for doing so. These include:
Automatically updating your database every time a donor gives
Each time an individual completes an online donation form, they should be prompted to enter their employment information. Let's say one donor (we'll call him Jim) has given regularly to your organization for years. Each time, he's selected Apple as his employing company. But for his most recent donation, Jim entered that he works for Google! You can assume that Jim has had a career change, and you'll want your donor database to be automatically updated with the new information.
Conducting dedicated research for major donors and standout opportunities
On the other hand, some donors might merit conducting a bit of manual research. These are likely going to be your highest-value supporters, such as major donors who may qualify for particularly lucrative corporate giving opportunities.
What to Do With Your Donor Employment Data
Your employment data has a lot of potential. However, even organizations who are collecting this information are likely overlooking a lot of its possible use cases. These include (but are certainly not limited to) the following:
Encourage eligible donors to pursue matching gifts
Knowing where your donors work is one of the most important indicators of matching gift eligibility. When you have this information, you can trigger detailed and personalized communications that encourage qualifying donors to take the next steps.
Then, you can use your CRM to track matching gifts to completion. From there, you'll want to attribute corporate matches to the appropriate donors for acknowledgment and record-keeping purposes.
Uncover volunteer grants and other available workplace giving initiatives
Matching gifts aren't the only type of workplace giving program your donors might qualify for, either. Use your collected employment data to uncover other opportunities⁠—from volunteer grants and charitable giving stipends to payroll deductions and more. Then, be sure to inform your supporters about the initiatives you've identified; they might be eligible without even knowing.
Identify additional corporate partnership opportunities
Your employment data can also help inform additional corporate partnership opportunities! If, for example, you know that a substantial portion of your donors works for the same company, consider reaching out and asking the company to sponsor your next event or project. You already have a lot in common (your overlapping donor and employee bases), and it might be just what you need to get your foot in the door to develop a mutually beneficial partner relationship.
---
Wrapping Up
Donor data is the key to successful fundraising efforts⁠—and employment information is a critical piece of the puzzle. In order to effectively collect and leverage the information you have on hand, it's important that you equip your team with the right tools to do so.
We recommend a CRM that integrates with best-in-class solutions⁠—like the leading provider of corporate giving software for nonprofits⁠, Double the Donation—to create a comprehensive fundraising technology ecosystem that brings your nonprofit's initiatives to new heights.
A Note from Neon One
Looking for a system that will help you collect, organize, and manage your donors' employment data? Let's talk! Neon CRM includes the tools you need to store useful information about your donors that will help you build connections with them—and our integration with Double the Donation can help you streamline your corporate fundraising. We'd love to show you how.
Join the discussion in our Slack channel on connected fundraising