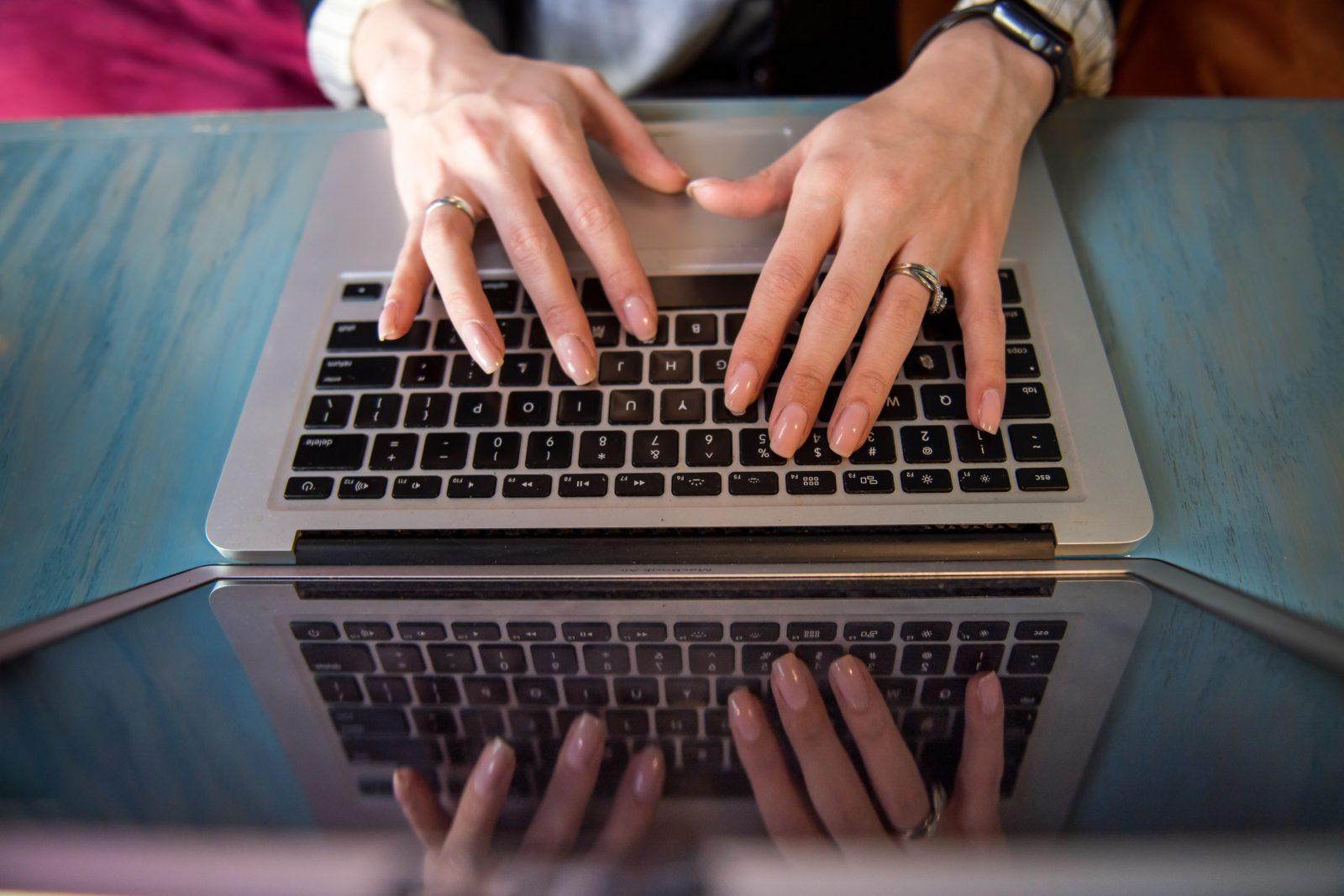 Email fundraising is a tried-and-true method for nonprofits all over the world. And for good reason! According to Statista, a leading provider of market and consumer data, the number of people who use email is predicted to hit 4.37 billion in 2023 and nearly 4.6 billion by 2025. And, since 99% of people check their emails at least once a day (with some checking much more frequently!), raising money via email is an increasingly important tactic for nonprofits.
Whether you've sent a dozen email appeals this month already or are writing your first one, here's what you need to know about email fundraising.
Is Email Fundraising Really Effective?
Yes! If you've ever doubted that this is an effective fundraising tactic, here are some figures that will put your mind at ease. Nearly half of all people cite email as their preferred method of communication with their favorite nonprofits. Neon One's report, Donors: Understanding the Future of Individual Giving, notes, "Email is a heavy favorite for donors, with 48% citing it as their preferred method of hearing updates and appeals from the organization."
The effectiveness of email is even more significant when you look directly at its ability to inspire giving. According to the 2022 Global Trends in Giving Report, 26% of respondents indicated that email is the tool that most inspires them to give, outpacing social media (25%), website (17%), and print materials (13%).
Email is the single most important communication channel and the most effective digital fundraising method. That's not to say that other methods aren't important—they are!—but it does mean that spending some time on your email fundraising strategy will be important to your organization.
How Much Should I Expect to Raise With Email Fundraising?
Now, before we dive too deeply into this topic, remember this: Your email fundraising campaign is unique. Your donors are unique, your mission is unique, and you may have more or less experience with email fundraising than the nonprofit down the street.
While these benchmarks are a useful place to begin evaluating your email fundraising performance, they aren't the be-all-end-all. Just use them to measure your success and find areas to improve. Okay? Don't worry if your fundraising campaigns look a little different.
Our research for The Nonprofit Email Report: Data-Backed Insights for Better Engagement found that the average nonprofit raises $5,598.51 per email campaign. That's a high-level benchmark; results for nonprofits will vary based on their size.
When we looked at email fundraising performance by the size of the lists who received each campaign, we found that small nonprofits and large ones raised different average amounts. Small nonprofits—those with lists between 250 and 999 people—raise an average of $3,522.54 per campaign. Larger nonprofits with lists of 1,000 or more contacts raise an average of $6,513.41.
That may seem discouraging for smaller nonprofits, right? But a closer look at the data reveals that they outperform their larger counterparts in an important way: They raise much more per contact. Check this out:
Large nonprofits raise an average of $0.88 cents per contact on their list. Small nonprofits, though, raise an average of $6.15 per email contact. That's an unbelievable difference!
If you're a small nonprofit, you may feel pressure to grow your list quickly or hit fundraising numbers that match larger nonprofits. Don't stress yourself out trying to achieve what others are doing: You may raise less than larger organizations, but you almost certainly have a more engaged, more dedicated donor base.
How to Set Your Own Email Fundraising Benchmarks
Industry benchmarks are a helpful place to start evaluating your performance. But setting and tracking your own benchmarks will be even more useful. Here's how to do it.
First, Find Your Average Amount Raised Per Email Campaign
To calculate your own email fundraising benchmark, start by finding the average amount you raised with your email appeals. Here's a pro tip: This is easiest if you create a donation form specifically for your campaign. When you do this, you can confidently attribute all donations made on that form to your campaign.
Let's say The Agloe Food Bank sent six appeals last quarter. Here's how they performed:
Email 1 raised $4,629.29
Email 2 raised $6,354.84
Email 3 raised $2,187.38
Email 4 raised $5,716.82
Email 5 raised $1,493.24
Email 6 raised $4,912.15
When we add these up, we find that the organization raised $25.293.72. When we divide that total by the number of email appeals sent, we find that they raised an average of $4,215.62.
Then, Find Your Average Raised Per Contact
Sometimes, looking at the average amount raised per person on your list can give you an indication of how engaged your email recipients are with your messaging. It can also help you identify other important trends, like how well an appeal resonates with your audience.
If the Agloe Food Bank divides their average amount raised for the quarter by the number of unique names who received those emails, they'll find their average amount raised per contact. If they had 452 people on their list and raised an average of $4,215.62, that average is $9.32 per contact. Not bad!
You can take this to the next level by getting more detailed with your internal benchmarking. You could try tracking the average amount raised for different segments of donors, for example, or you could track the averages for different types of campaigns.
If you notice that your time-sensitive GivingTuesday campaign performs very well, for example, while your capital campaign's appeal fell flat, take a look at the emails you sent. What messaging seemed to have worked well? How would you change future capital campaign emails to try to improve your readers' responses?
How to Write a Great Fundraising Email
Calculating your own internal benchmarks and comparing them to industry standards is all well and good. But, in order to do so, you need email fundraising data—and, for that, you'll need to send some fundraising emails. Here are some steps you can take to get started.
Write an Eye-Catching Subject Line
Did you know the average office worker receives about 120 business emails every day? Inboxes are crowded! A great subject line will help you stand out. Think of your subject lines like titles on a bookshelf: You want them to grab peoples' attention and make them wonder what's inside.
While you craft your appeal's subject line, try to keep the general mood uplifting. Emails whose subject lines included positive sentiments—like pride or excitement—typically outperform those with negative sentiments like fear or anger.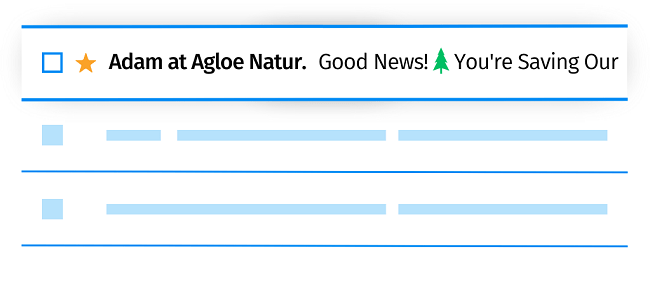 Your email fundraising results will rely heavily on catching donors' attention with good, uplifting subject lines. This is a useful example—"Good news!" is a great positive opening.
Use Preview Text
If a subject line is a title on a bookshelf, the preview text is the summary on the back cover. Preview text appears next to an email's subject line in a recipient's inbox: You can use this valuable real estate to include teasers or summaries that will make people want to open your message and see what's inside.
Add a Good Salutation
Have you ever received an email with an opening like "Dear Friend" or "Valued Customer?" How did that make you feel? Were you excited about reading the rest of the email?
Make your email recipients feel like your message is for them by using a good salutation. Ideally, you'll use their preferred name and prefix. Many email service providers will give you the option to add a fallback salutation, like "Dear Nature Warrior" or "Dear Animal Hero." While these aren't as personal as using someone's real name, they're still an improvement over something more generic.
Here's another tip: Test your email salutations before sending it to your whole list to make sure your reader's name or title is pulled in correctly. This advice comes directly from the author, who once sent an email to more than 26,000 people that began "Hey, %%first_name%%".
Awful.
Write Your Copy
The body of your email is where you'll make the case for your readers' support. Here are some quick tips on creating an effective fundraising email:
Tell a story! Success stories are a great way to catch someone's attention, generate positive feelings, and invite your readers to be part of creating similar successes for others.
Instead of focusing on your nonprofit and how important your mission is, work to establish an emotional connection between the reader and the people they'll help when they give.
Make it scannable. People will frequently skim over a message before deciding to read it deeply. Bullet points, bolded text, and lots of white space will make your message easy to glance through.
Ensure it's easy to act upon your message. More on that in a minute!
If you're interested in digging deeper into writing great fundraising emails, you might like this article on writing a stellar fundraising appeal or find inspiration from these amazing examples.
Create a Compelling Ask
You've told your reader a story and shared how their support will make a difference. That should be enough to compel them to give, right?
Not quite! Email fundraising is dependent on asking people to give. Your email appeals should always include a direct, specific ask.
When you ask for support, be sure you communicate the impact your reader will have when they give. Including a line like "Please donate to The Agloe Food Bank today" is fine. Writing something like, "Will you give the gift of a healthy dinner to families like the Cohens? Your $30 gift will provide fresh, healthy food to your neighbors." is much better.
Link to Your Form
When you ask for support, make sure you also link to the donation form where people can make their gift. You can do this more than once. You should do this more than once! Don't be afraid to link to your donation form multiple times in your email fundraising campaigns. Our latest research shows that including many links to a form results in more clicks to that form. Here are some places you may want to include links:
In every instance you make a direct ask
In a button near the top of your email
As a hyperlinked hero image
As an image-based call to action
In a button at the closing of your email
In your postscript
The important thing is that your reader will read an appeal and be able to act upon it immediately. Whether it's a big "Donate" button, a hyperlinked image, or a text-based link, make sure your reader can easily click (or tap, for those on mobile devices) and land immediately on your donation form.
Explore More Email Fundraising Tactics
Looking for more insight into building email fundraising campaigns and measuring their success? Check out The Nonprofit Email Report: Data-Backed Insights for Better Engagement. It includes tons of industry benchmarks for email performance (plus data specifically for small and large organizations), detailed strategies for writing compelling emails, and an example of the most engaging email of 2022. Get your copy below!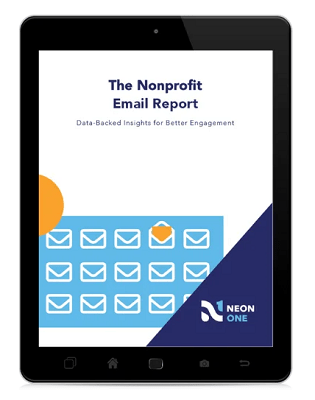 Email Insights You'll Actually Use
Discover email performance benchmarks specifically for nonprofits, strategies for improving your email performance, and practical data you can use to reach your donors more effectively.
Join the discussion in our Slack channel on connected fundraising