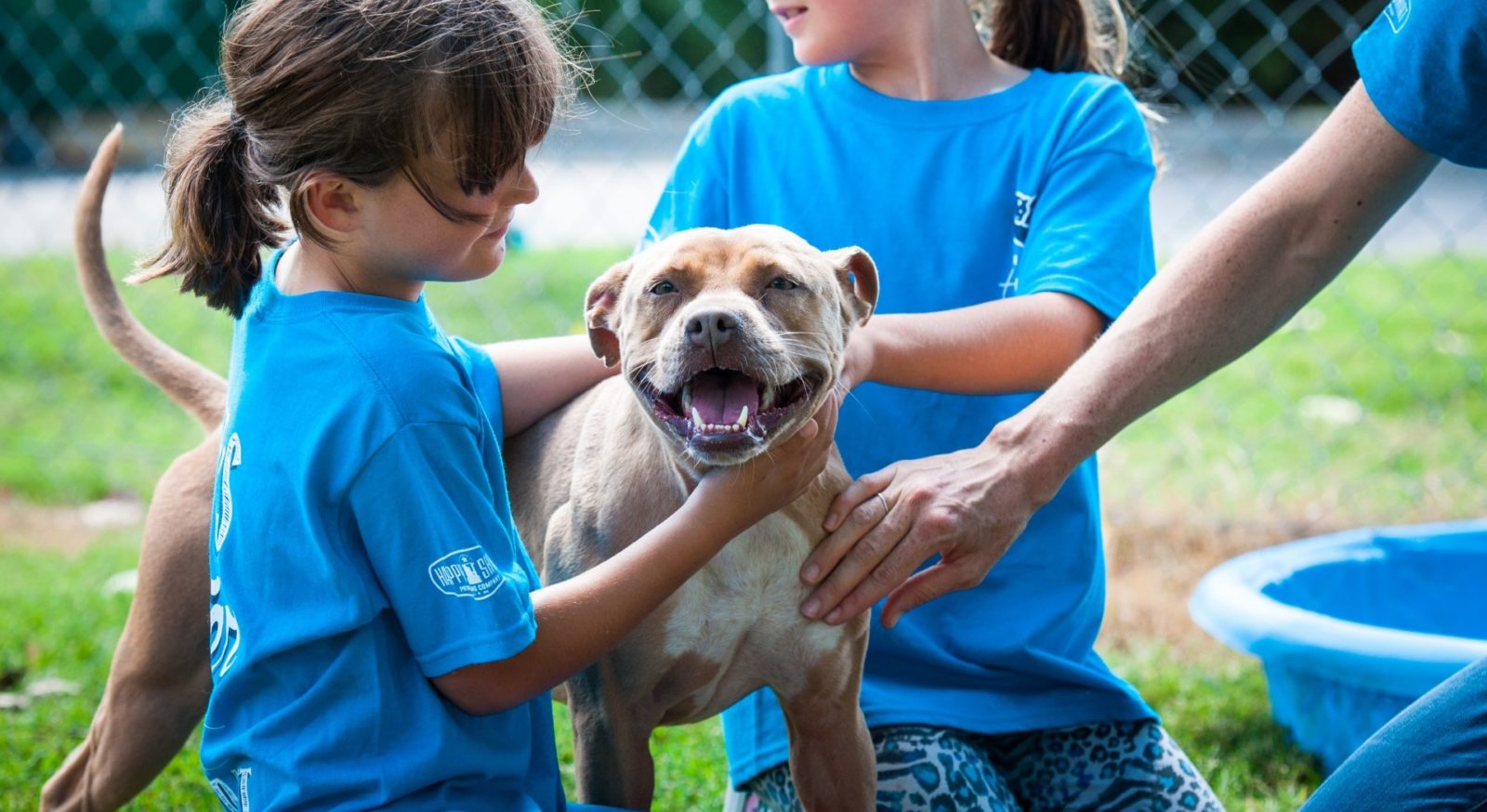 Planning an impactful GivingTuesday campaign is an essential part of year-end fundraising. Without dedicating time and effort to GivingTuesday, your year-end fundraising push may not be as successful as you'd like.
Over the years, Neon One nonprofits have come up with some excellent GivingTuesday campaign ideas and seen great results. To help you get inspired, we're sharing some of their stories. You'll also uncover some practical tips for kicking off your campaign.
How Do You Create a Successful GivingTuesday Campaign?
The best way to start planning your GivingTuesday campaign is to think about what you'd like your organization to accomplish on the big day. You can work backward from there.
Gather a group of relevant stakeholders and hammer out what you'd like to achieve. This is a great time to ask the big questions, like:
How will GivingTuesday fit into our year-end plans?
What budget can we allocate for GivingTuesday?
How can we stand out from similar nonprofits on GivingTuesday?
What is our GivingTuesday fundraising goal?
Once you have two to three measurable goals, you can start planning your campaign. Now, on to the ideas!
1. Build Excitement With a Unified Strategy
To maximize success on the day of the event, the team at Lawrence Humane Society created a 24-hour communication strategy. The strategy was complete with website updates, social media posts, and emails. Along with pre-event promotion, their plan created a more exciting experience for their donors.
"The first year we did it, we were just dipping our toes in the water," said Meghan Scheibe, Interim Executive Director of Lawrence Humane. "Even without a big strategy in place, we still raised around $2,500. We thought that was pretty great."
What happened next? Scheibe and her team used lessons learned from the first campaign to build out a better strategy. "We were able to create a specific campaign around the event. We got to use the campaign thermometer widget. People were able to watch along as we progressed. I think it got more people excited to donate."
The excitement paid off and Lawrence Humane received an overwhelming amount of support—approximately $14,000.
Why It Worked:
There's an old saying: "Success exists at the intersection of preparation and opportunity." Much of Lawrence Humane's success with GivingTuesday can be chalked up to just that—stellar preparation.
By promoting their GivingTuesday campaign across multiple channels, they got their appeal to more people. This consistent, thoughtful approach to communication creates connection. Those connections drive more donations.
Interested in learning more about storytelling in your campaigns? Check out our webinar on next-level storytelling tactics for nonprofits!
2. Create a Human-Centric GivingTuesday Campaign
For GivingTuesday, Mikva Challenge found its voice with its Power of One campaign. This campaign did so many things right. It reiterated the profound impact one person can make in the lives of others. They created engaging videos and social media posts highlighting the stories of students and educators of Mikva Challenge. Participants shared moments that connect them to Mikva's mission of empowering youth to create a just and equitable society.
Why It Worked:
The human-centric approach allows people to connect with the message more closely and find ways to relate to it. The message of "the power of one" also reminds donors that their individual donation will make a meaningful impact on their organization, which compels people to donate.
All donations, whether $10 or $10,000, are ones your nonprofit should appreciate. Learn more about the value of small-dollar donors below.
3. Create Competition with a Peer-to-Peer Fundraiser
A spirited competition can take the best fundraisers and make them even better. That's what drove one nonprofit to raise over $4,800 during their GivingTuesday campaign.
John King had never heard of GivingTuesday until he received a promotional email about it in 2016. King is the Board Chairman of Wyoming Equality, an activism nonprofit dedicated to achieving equity for Wyoming's LGBTQ communities.
"We're always looking for new fundraising opportunities," said King. "When I looked into it, it just made sense."
During their first go at GivingTuesday, King and his team set out to raise $5,000. Their strategy included personalized mail appeals, complete with branded return envelopes and a Facebook event page. Much to their delight, they were able to quickly surpass this goal. They raised a little over $6,500 total.
"We used Neon CRM to create the mailers," said King. "We sent out branded GivingTuesday appeals sealed with addressed return envelopes inside. It was pretty inexpensive to do. We got a great response, so we know we got an immediate return on investment."
The Wyoming Equality team also decided to utilize Neon CRM's peer-to-peer fundraising capabilities to create a competition within their organization. The goal was to see who could raise the most funds.
"Everyone involved with the organization was invited to participate," said King. "It became a really fun contest, and the winner got bragging rights for the whole year. We generated around $4,800 using Neon CRM's social fundraising function. It was a huge success."
Why It Worked:
GivingTuesday's own director of digital strategy said it herself: "If it's the only thing you do, organize a peer-to-peer campaign."
Peer-to-peer campaigns mobilize your most loyal supporters. In turn, they motivate their friends, coworkers, and loved ones to give. This helps introduce your nonprofit to a ton of brand-new audiences.
For more resources to kickstart your peer-to-peer fundraising, check out these peer-to-peer fundraising tips!
4. Build a Strong Partner Network That Can Strengthen Your Campaign
PAWS Chicago's 25th-anniversary campaign resulted in a lot of valuable successes you can replicate for your GivingTuesday campaign this year.
They created an engaging video that tugs at the heartstrings to introduce the premise of their campaign: Make Your Promise to Homeless Pets.
The "promise" donors are asked to make is three-fold: The first step is donating, the second step is to share with your friends by posting your promise on social media, and the third step is posting a picture or video with your pet.
For sharing on social media, they provide a template in which you can nominate others to make their promise to homeless pets. They were able to get local Chicago media personalities to participate in the challenge to increase its visibility. This emphasis on social sharing allows for word of mouth to spread and offers a new alternative to the traditional peer-to-peer model of fundraising: A peer pressure model.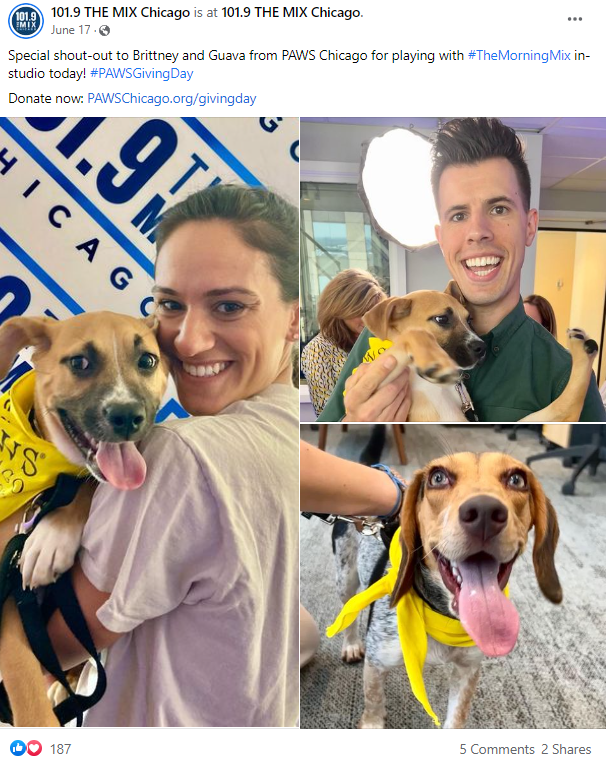 To supplement their fundraising strategy for this campaign, PAWS announced partners for the month of June who would contribute a portion of the proceeds to the campaign. Hero Coffee Bar created a PAWS coffee bag for sale online and in-store where $1 per sale went to PAWS. They created an affiliate link with Seva Stray in which a portion of proceeds made on any purchase through the link on their site went back to PAWS. Lastly, they partnered with custom ornament maker Hannah and Jakub Creations in which 15-20% of the proceeds from sales went to PAWS.
Why It Worked:
There are many factors that ensured the success of this campaign. Matching partners, who agreed to kick in their donations after the campaign hit certain fundraising milestones, corporate partners, and a strong social idea worked in tandem to make this campaign a success.
Need some guidance on finding corporate sponsorships for your nonprofit? Learn more about building partnerships with the for-profit sector below.
Check Out Our GivingTuesday Resource Center
We hope these campaigns have you inspired and ready for your own GivingTuesday campaign. For more resources and downloadable templates to help you craft and execute your GivingTuesday strategy, check out Neon One's Giving Tuesday Resource Center!
Join the discussion in our Slack channel on connected fundraising