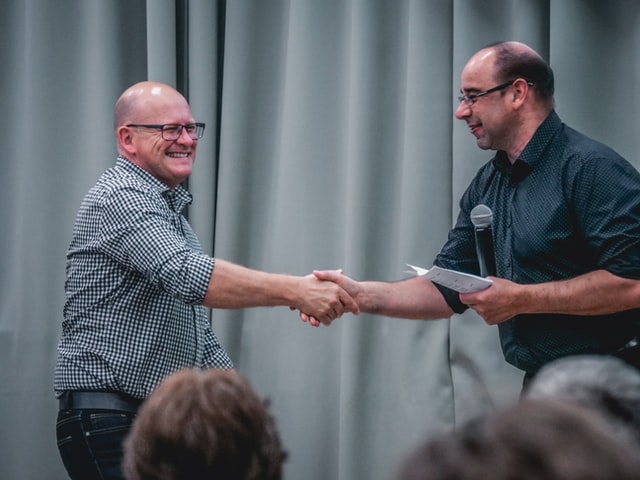 Nonprofits do amazing work: They're confederations of passionate people who have banded together to solve some of the world's biggest problems. But many of them face problems of their own! Low donor retention rates and unengaged donors are common challenges for charitable organizations. But how do you address them?
The solution lies in having a great donor stewardship plan.
Learning how to create and implement an effective donor stewardship plan will improve your organization's relationship with your donors, improve your retention rate, engage your supporters, and improve your fundraising. Here's how.
What is Donor Stewardship?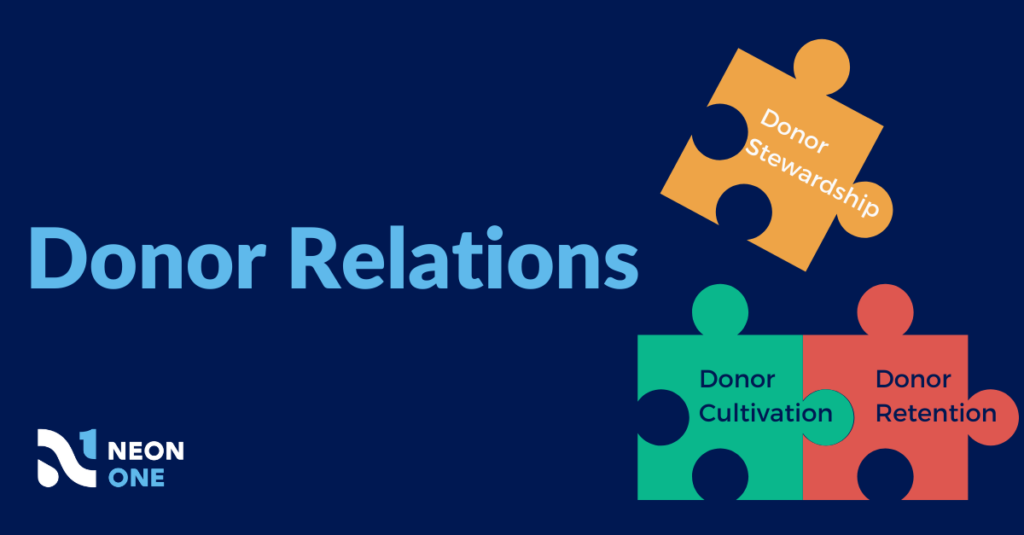 Donor stewardship is the practice of building lasting relationships and encouraging your donors to stay involved with your work. It helps you build a thriving base of highly-engaged donors, which will help you as you move toward your donor retention and donor cultivation goals.
Your donor stewardship plan should spring into action the moment someone makes their first gift. A thoughtful plan will deepen the relationship between your new donor and your organization and result in their support for years to come. With a great donor stewardship plan, you'll transform some of your donors from one-time supporters into lifelong givers. You may even discover some extremely passionate donors who choose to volunteer with you, make major gifts, join your board, or even plan a legacy gift in their will.
Why Does Having a Donor Stewardship Plan Matter?
Retaining existing donors is a key challenge faced by many nonprofits. Lots of organizations—even large, well-established ones—struggle to retain their donors. That often means that they spend large amounts of money to reach, inspire, and recruit donors only for those supporters not to make a second gift. On average, only 34% of donors will make a gift in the following year. Once you obtain a first-time gift, how your organization chooses to engage with your new donor will determine how likely they are to give again in the future.
If your nonprofit nails an effective donor stewardship plan, you can make a positive impression on your supporters and encourage them to give again in the future. This is an important tactic for nonprofits looking to build a sustainable fundraising program: As a general rule, repeat supporters have a far higher lifetime donor value than those who give one-time gifts.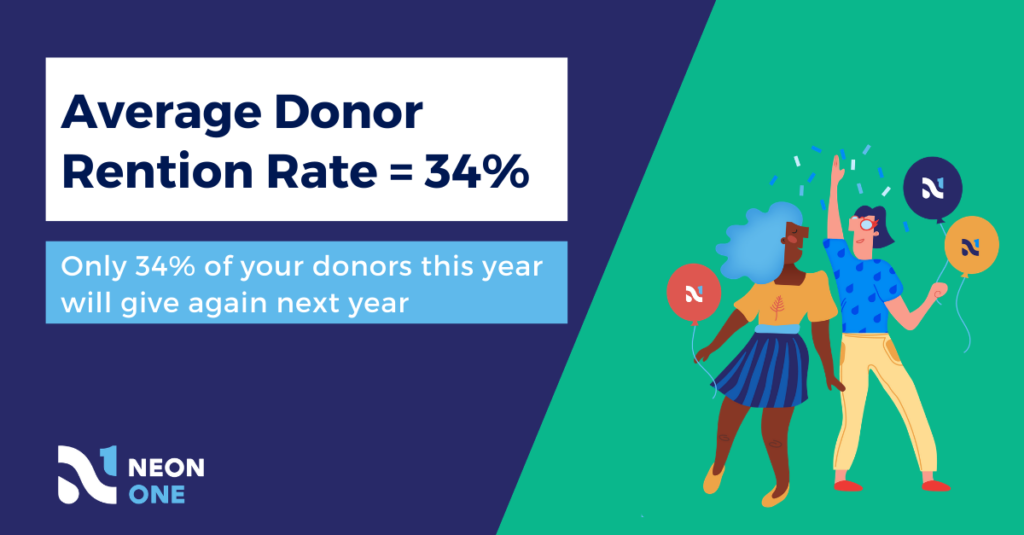 Investing time and resources into building a great stewardship program can help your nonprofit organization grow its fundraising revenue. Cultivating and maintaining donor relationships will ensure your organization's success for years to come.
The Difference between Good Donor Stewardship and Great Donor Stewardship
It's vitally important to give your donors a great experience after they've chosen to support your work. Whether you're completely new to fundraising or are simply looking for new ideas to build into an existing donor stewardship plan, this section will outline a few ways you can create a next-level plan for keeping your donors engaged.
Think Outside the Box
You may already be working on some of the basics of a great donor stewardship plan. You do all the right things: You send thank-you emails within 24 hours of a gift, you report donors' impact, and you send tax receipts promptly. You may even hold a yearly appreciation lunch for your loyal donors. What else can you do?
Get creative! Ultimately, your goal is to become so successful at stewarding that you know many of your donors personally and understand how your supporters prefer to interact with you. As you think about how to work toward that goal, brainstorm new ideas with your team. You may also want to consider sending surveys to loyal donors and volunteers to learn what they'd like to see from your organization. They may give you some unexpected ideas you hadn't considered before, like:
Facility tours so they can see their support in action
Community meetups or volunteer opportunities
Peer-to-peer fundraisers or donor-hosted events
New formats for updates, impact reports, or annual reports
Don't be afraid to try something new, and remember it's okay to try things that aren't immediately successful. For instance, If you decide to host a new event for your major donors and it ends up having a low turnout, find something you can learn from that outcome. Interview a handful of donors to learn what you could do in the future to make your event more appealing. Could you run it on a different day or time? Would they prefer to connect in a different way? The next time you update your stewardship plan, you can draw on your experiences and donor feedback to plan something outstanding.
Get Everyone Involved
An organization with good stewardship will have one or two employees who own and operate the stewardship program. An organization with a great stewardship program has all its employees and volunteers involved in the stewardship process in some regard.
Everyone at your organization should know how their role fits into and supports your overall donor stewardship plan. This can even include treating your loyal donors as valuable members of your team who can provide helpful feedback on your plan's effectiveness.
Create Your Own Donor Stewardship Plan in 5 Easy Steps
If you don't have a donor stewardship plan—or if you think your existing plan needs some tweaking—don't panic! The process of creating one is less daunting than it may seem. A great stewardship plan can be put together in five simple steps.
Step 1: Set Donor Stewardship Goals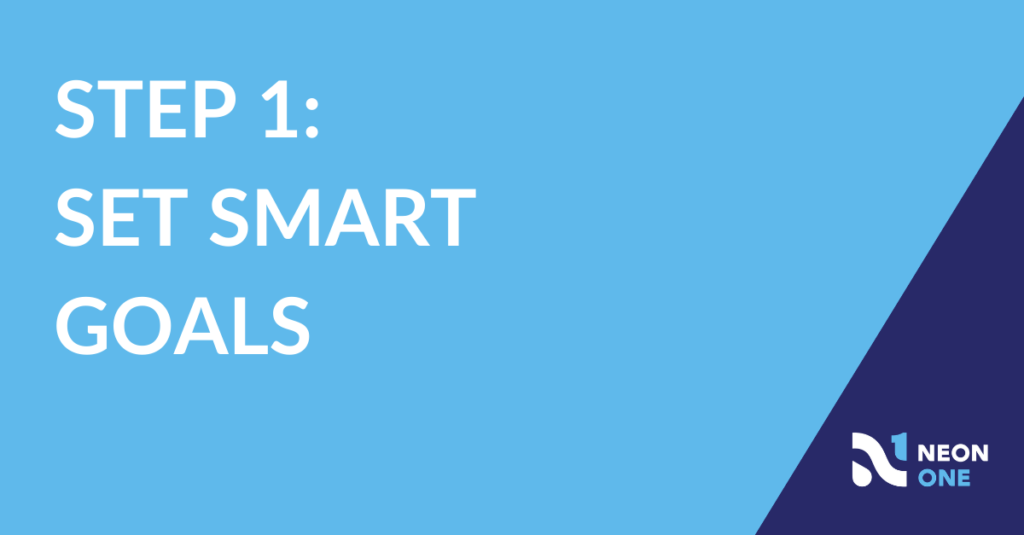 Setting some goals for your donor stewardship plan will help you be more successful. Setting some SMART (Specific, Measurable, Achievable, Relevant, and Timely) goals is the first place to start! Once you have those goals, they will guide the rest of your planning decisions.
Some common goals you may choose to set for yourself include:
Improving your donor retention rate by a certain percentage by the end of the year
Upgrading a certain number of people from one-time to recurring donors this quarter
Setting one-on-one appointments with a specific number of major donors next year
If your nonprofit is new or has a small team, these goals will be slightly different than a giant organization that is a household name. Jumping right into personal phone calls for every single first-time donor may not be possible if you don't have a huge development department, especially if you've launched a new campaign that's really starting to take off. Instead, try calling a handful of folks every week. Weekly newsletters may be too much for you right now; try sending one monthly or quarterly instead.
If you can, calculate some key performance indicators (KPIs) that will help you understand your progress toward your goals. You may want to calculate your donor retention rate, lifetime donor value, or other metrics, then keep your current performance in mind as you work toward improving them. If you're a young organization that doesn't have several years' worth of data, measure yourself against industry benchmarks instead.
Step 2: Create Different Segments of Donors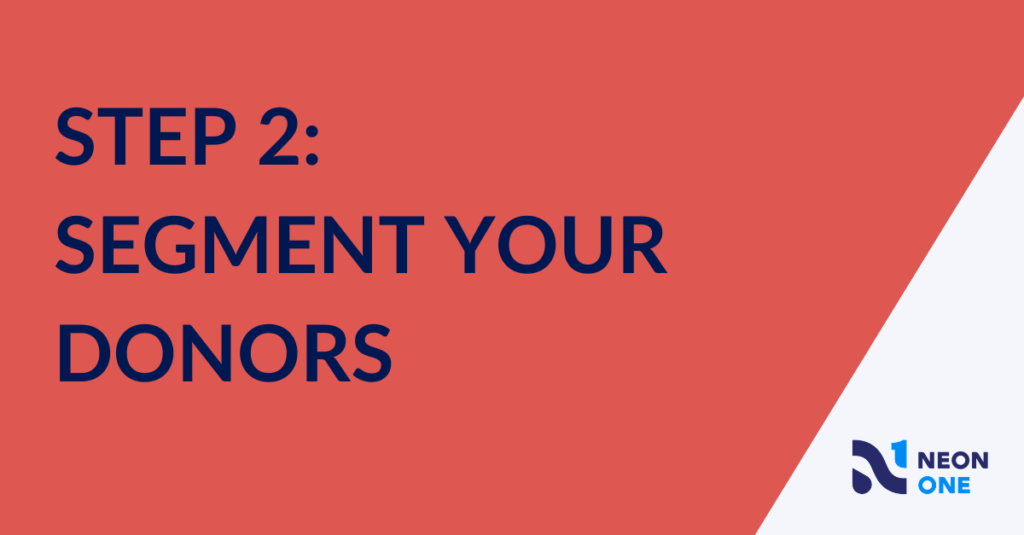 In order to execute parts of your plan, you will first need to segment your donors into different categories that will each have their own communications plans. Your donors aren't a monolith, and using a CRM to organize, report, and analyze your donor data can make segmenting much easier.
Donors are typically segmented by giving history, demographics, communications preferences, and/or average gift size. You may also categorize donors based on the goals you've set; if your goal is donor reactivation, for example, you might want to identify segments based on the date of each donor's last gift.
This is an important part of your donor stewardship plan because it will help make each of the activities in your strategy more relevant to your donors. Imagine you set a goal of inspiring 20 people per quarter to upgrade from a one-time donation to a recurring one. You'll almost certainly send an appeal for ongoing support. Instead of sending a single appeal to everyone, you can send tailored appeals to:
People who have made a single one-time donation
People who have given a few different one-time donations
People who are potential donors but haven't made a gift yet
You can also filter out donors who already make a gift on a recurring basis. Instead of asking them to set up a regular gift, you can thank them for their ongoing support and invite them to increase their regularly-scheduled donation.
Step 3: Plan Outstanding Donor Communications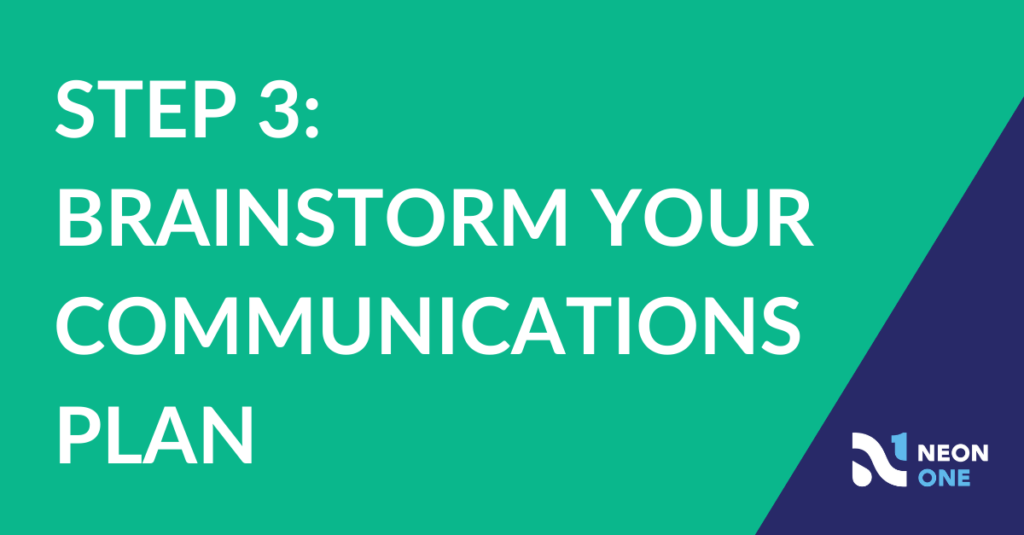 Once your goals have been determined and your donors have been segmented, you can create a calendar of points of communication with each donor segment. Devise a list of necessary communication points, the extras that you'd like to implement, and even what events you want to host.
Some common communications you may want to include in your plan are:
Thank-you letters
Welcome emails
Impact updates
Newsletters
Event invitations
Additional appeals
Get creative with how you communicate with your donors! Look at the different segments you identified in the previous step—how can you make each of the people on those lists feel seen and appreciated? If you can segment by the campaigns that each donor supported most recently, you can send them updates about those specific programs. Recurring donors may receive a special newsletter. Past event attendees may receive invitations that reference their past involvement. Anything you can do to tailor your messaging to your donors' history with your organization will help boost engagement.
Step 4: Create a Stewardship Matrix That Informs Your Plan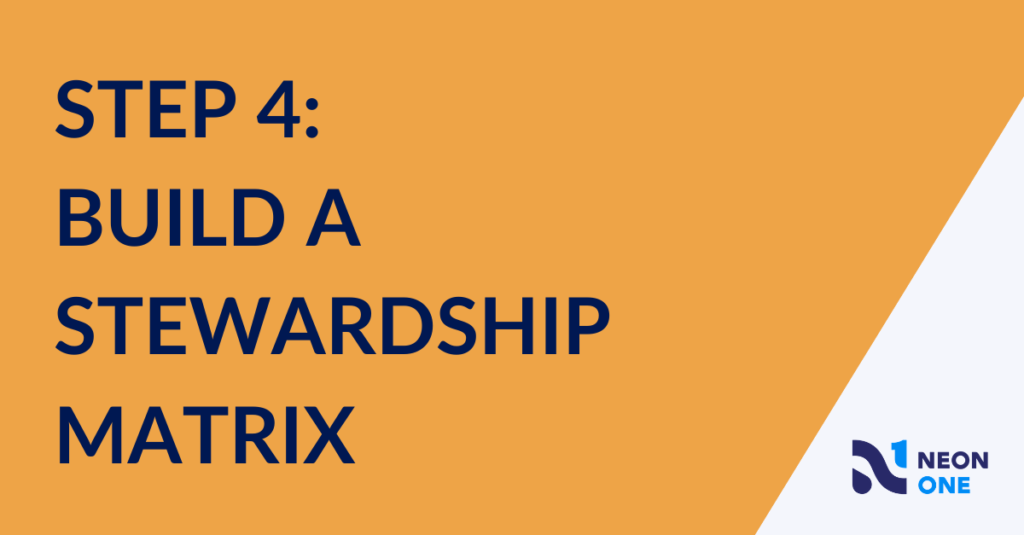 After you complete the first three steps, you can create a stewardship matrix that outlines what donor segments are being included in each communication item in the plan.
Your matrix will help you direct your time and resources to the areas they'll make the most difference. It doesn't have to be complex—here's a sample of what it can look like.
First-time donors will receive a thank-you message within 24 hours, a welcome email within 3 days, and an impact update within 10 days
Donors who completed a second gift will receive a thank-you message within 24 hours, a phone call within 3 days, and an impact update within 10 days
Donors who give above $500 will receive a thank-you message within 24 hours, a phone call within 24 hours, and an impact update within 10 days
To build a matrix, identify the segments you'll use to plan your communications. Then, create a communications journey for each. Be as specific as you can as you map out what messaging they'll receive and when they'll receive it.
Step 5: Automate Different Processes When Necessary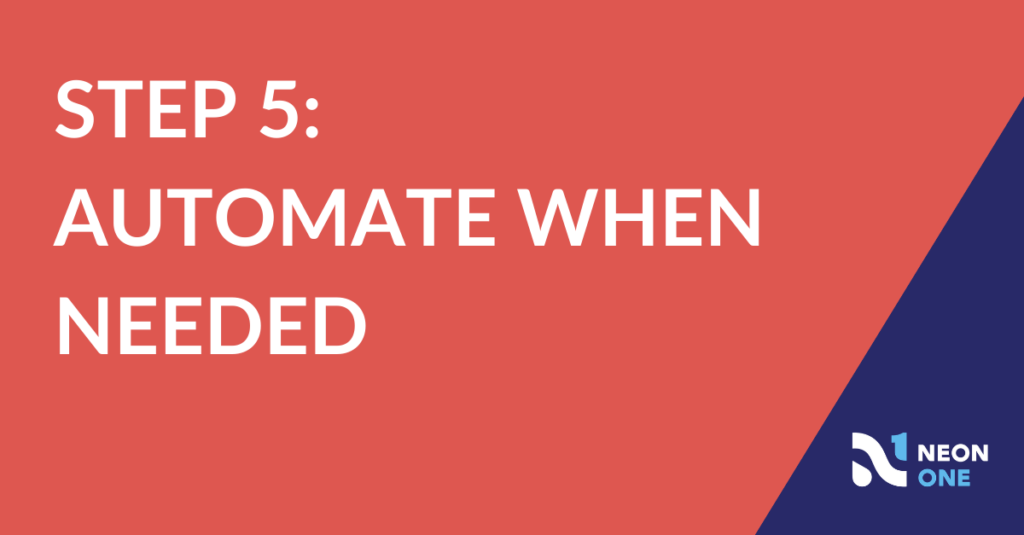 Make no mistake: Donor stewardship can require lots of time and resources. To alleviate the time-consuming nature of certain stewardship tasks, invest in a customer relationship management (CRM) system and automate tasks when you can.
Your CRM will be the digital driver of your stewardship plan by enabling you to keep important information organized and in one place. With the right platform, you'll be able to set up automated processes for sending emails, synching and updating data, and donor segmentation. You can even automatically schedule activities for certain members of your team! If your donor communications matrix includes a personal phone call within 24 hours of a large gift, for example, you can automatically create a task for someone to call a $500+ donor within a day of their donation.
Neon CRM Can Support Your Donor Stewardship Plan
Each of these steps—setting goals, segmenting donors, planning and executing a communications strategy for each group, and automating tasks when possible—will help you build a base of highly engaged donors who support your cause year after year. A CRM will make it all easier.
Neon CRM includes all the tools you need to steward your donors. From their first gift onward, you can use our platform to track your donors' data, segment your list of supporters, manage your communications, and more. Interested in learning how you can succeed with Neon CRM? We'd love to talk with you! We'll learn more about your nonprofit, your goals, and your needs, then create a personalized tour of our platform for you. Sound good? Talk to our team today!
Join the discussion in our Slack channel on connected fundraising