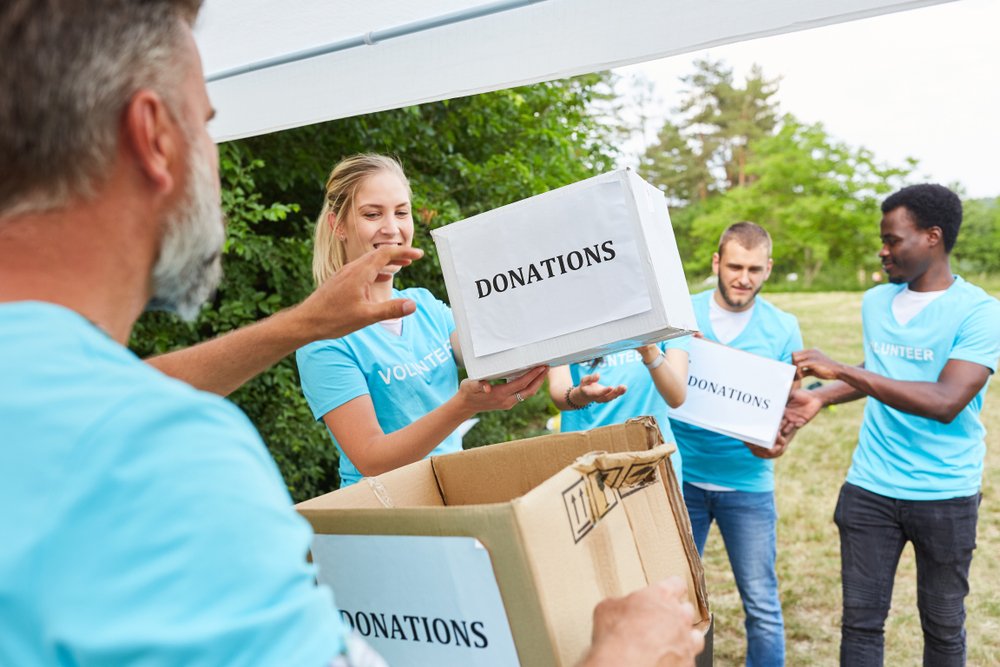 Developing a major donor pipeline is not all that different from developing any kind of donor pipeline. You'll need to take all the same steps for outreach, communication, and engagement—but you'll need to adapt them a bit to address a smaller base of harder-to-win prospects. Here are some tips to help you develop a major donor pipeline.
5 Tips for Developing a Major Donor Pipeline
The five steps for developing your major donor pipeline mirror any donor cultivation process: Identify, qualify, cultivate, solicit, and steward. However, when it comes to major donors, you'll need to make some slight adjustments.
1. Identify
The identification stage for a standard donor pipeline is a bit more demographic-focused than that for major donors. You're looking for individuals who are aligned with your cause but may not be aware of your organization. That often starts with your existing network. You may seek out donors with higher engagement potential, like those who attend classes and participate in events. You can then work with those individuals to grow your network of financial supporters.
You may also look at those who are involved in local groups that share one of your nonprofit's goals. These affinity groups can be a great spot to connect with individuals who are already motivated to help advance your mission. When you identify general donors like this—ones who are not already in your database but may be interested in getting to know more about your mission—you're casting an extremely wide net using your existing resources.
Major donor identification requires a more focused approach. You have to start by screening potential donors based on wealth indicators in addition to their affinity for your cause. Typically, you'll usually start looking at donors that already exist in your donor base instead of casting a broader, more generalized net, as you would with standard donor outreach. Reviewing things like the deeds a person owns, the types of vehicles and aircraft they have registered in their name, and their business interests can give you a good idea of someone's net worth.
Wealth-screening tools can be used to compile this for you. It pulls all that publicly available information into a database that you can then compare with your own. Through that, you'll find connections to high-net-worth individuals within your network. You can then start to qualify them.
For a more in-depth look at donor prospecting, see our resource Donor Prospect Research: A Complete Guide for Nonprofits.
2. Qualify
You could send an appeal to every single potential major donor you identify in the first step, but that's going to waste time, resources, and effort. You'll also have a harder time personalizing your communication when you're trying to reach a large audience. That's why you need to qualify your potential donors.
For example, if you pulled a bunch of potential small-dollar donors from an affinity group, you'd want to narrow down those prospects to the ones who are most connected to things around your specific cause. If you were a literacy organization prospecting donors from a historic foundation, you might specifically look for donors who participated in events relating to authors, rare books, or sites of historical literary significance like old libraries. Those individuals are already active donors in another organization and they have a clear philanthropic interest in your cause as well.
That same qualification can hold true for major donors. While it may be tempting to approach every major donor who's connected to your network, these people are very busy and difficult to get meetings with. It's important to continue to whittle down that potential major donor list to your most qualified leads based on philanthropic interests. If a major donor was working with that historic foundation, you'd want to see what they contributed to as part of it. If they made a massive donation in support of an archaeological dig, they're probably not a great lead for your literary foundation. On the other hand, if they paid to restore a historic library, they could be.
Keep in mind that most major donors won't immediately make a major gift: They'll often choose to support a nonprofit in a smaller capacity until they've built a relationship with that organization. If you've got an active donor base, try identifying potential major donors that are already involved with your organization. This can help you skip over many steps in the qualification process: You already know they have an affinity for your organization, and you can refer to their giving history to get a deeper understanding of the particular programs and initiatives that inspired them to get involved.
3. Cultivate
When you're cultivating a regular donor relationship, most of your interactions are remote. You might connect with them through email, social media, and your online communities. The cycle is also a lot shorter. You may only send an email or two before you solicit a donation.
Cultivating a relationship with a major donor is much different. A lot of your interactions will have to be in person and will be handled by one of your directors, a major gifts officer, or another senior representative. Because the eventual ask will be so high, your investment in your relationship will be high as well.
You might host in-person meet-and-greets and informational events to draw these individuals into your organization. You may also invite them to tour your facilities or meet with some of your beneficiaries. If they're an existing donor, you may choose to sit down with them for a one-on-one conversation to talk about what they've achieved with their support so far, why they're invested in your cause, and what their goals are as supporters of your work. In short, you're working hard to build a genuine connection between this person and your community.
Tracking these interactions is vital. A major donor expects to be remembered, so they'll likely be irritated by duplicate messages from multiple people at your organization. The cultivation cycle is long—especially if you're prioritizing building a deep relationship with them (as you should!)—and may involve multiple people and multiple conversations. Monitoring the relationship and keeping notes in your donor database and CRM will be critical if you're going to move to the solicitation stage. Make sure to keep detailed records about past meetings so you and anyone else involved in the process can stay up to date on the donor's motivations, goals, and history with your organization.
4. Solicit
With standard donors, your solicitation can be indirect. A person may go to your website, review your information, and choose to enter a donation without any direct contact from you. This is far less likely to happen with a major gift. Almost all major donor relationships will require a direct solicitation.
That solicitation can make a lot of people anxious. It's hard to make the ask, especially when you're asking for a large amount. To make it more comfortable, preparation is key. It should be treated as a business meeting complete with an agenda as well as opportunities for the donor to go over questions and concerns. When you're talking with your donor, make sure you reference their past history with your organization and their motivations that inspired them to get involved. You can do this effectively by reviewing the notes about past conversations that are in your CRM before your meeting.
Imagine you work for a nonprofit that's raising money to support childhood leukemia patients. In past conversations with your potential major donor, they shared that they're passionate about your cause because they were a leukemia patient when they were a child and want to help ease the burden for children experiencing the same challenges. You can build that information into your appeal: You may share a story about a patient who benefitted from your services, share some information about how helpful those services were, and tell the donor how many patients will receive similar services as a result of their gift. Most major donors will have goals or desired outcomes for their gifts. Anything you can do to help them understand their gifts' impacts will help you make that appeal successfully.
For more information on soliciting gifts for major donors, see our resource How to Practice & Prepare for Major Gift Solicitation.
5. Stewardship
Donor stewardship is how you keep donors engaged in your community. Your regular donors might get thank-you letters, impact reports, and communications about your organization and its successes. They may be invited to participate in exclusive online communities, attend appreciation events, or even receive merchandise branded with your organization's logo.
Stewardship is largely the same for a major donor, but all of your stewardship activities will be done on an individual level instead of en masse. You have to regularly show your appreciation for their support and share how they are helping your organization. Major donor thank-yous may be public-facing, if that lines up with your donor's preferences, or they may choose to stay anonymous. Based on the size of their gift and the donor's preference, you might name something in their honor, submit press releases about their gifts, or dedicate a spot on your blog to talk about their financial contributions. As they're a major donor, you may also choose to share updates in person. It will be vital to track all these communications in your donor database so you can make sure you're not duplicating your efforts and that you're truly getting to know your donor.
All these major donor pipeline best practices should be familiar to you; they're pretty similar to the best practices that you use for your regular donors. Each phase of the major donor pipeline mirrors the phases for a smaller donor, but major donors require building deep relationships, understanding their motivations and aspirations, making careful appeals, and intentionally maintaining a relationship with your biggest supporters. And there's another common thread between the two: The use of a nonprofit CRM to manage and build your relationships.
Using a Nonprofit CRM for Major Donor Cultivation
A nonprofit CRM will help you manage all the moving parts involved in building your major donor pipeline. It connects your donor database to all those other tools you're going to use to find and vet potential major donors. It will also help you keep track of your communication with them and set tasks so you can follow up as needed. When you're choosing a CRM, look for tools that are:
Integrateable: Your nonprofit tech stack includes a lot of tools other than your donor database and CRM. Your CRM should be able to connect with other third-party software, like wealth-screening programs that provide the net worth of your constituents or give you insight into wealth indicators that help you identify potential major donors. That information will help you narrow in on your most promising prospects.
Automatable: When you can automate your marketing and communication messages to your donors, you can be sure you'll never forget a thank-you message. A good system will allow you to trigger one of those messages when a donor takes an action. For major donors, it should also be able to trigger a task for somebody at your organization to make a personalized thank-you call.
Trackable: Nothing is more embarrassing than finding out you're the third person to call a major donor about a specific event. You can avoid that problem by using a system that will keep track of your communications so you don't duplicate efforts and annoy your potential donor.
Customizable: If you use a CRM with static fields or templates, you may not be able to track those little details that make your organization unique. You should be able to customize your fields and your templates specifically for your constituents.
Your nonprofit CRM is the backbone of your donor cultivation plan. If you choose the right one, it will be a lot easier to find, qualify, and truly connect with the major donors who are responsible for so much of your organization's funds.
Neon CRM Supports Major Donor Cultivation
While your major donor pipeline is similar to the pipeline of any other type of donor, you'll need to build relationships with them that are much more personal than the relationships you build with your standard donors. A nonprofit CRM helps you manage all those nuances, from the personalized thank-you messages to the follow-up phone calls and in-person meetings you use to cultivate your relationship.
Neon CRM is a great option for managing your major donor pipeline because it offers the customizability, flexibility, and attention to detail you need to foster these relationships. To learn more about its features, schedule a demo.
Join the discussion in our Slack channel on connected fundraising