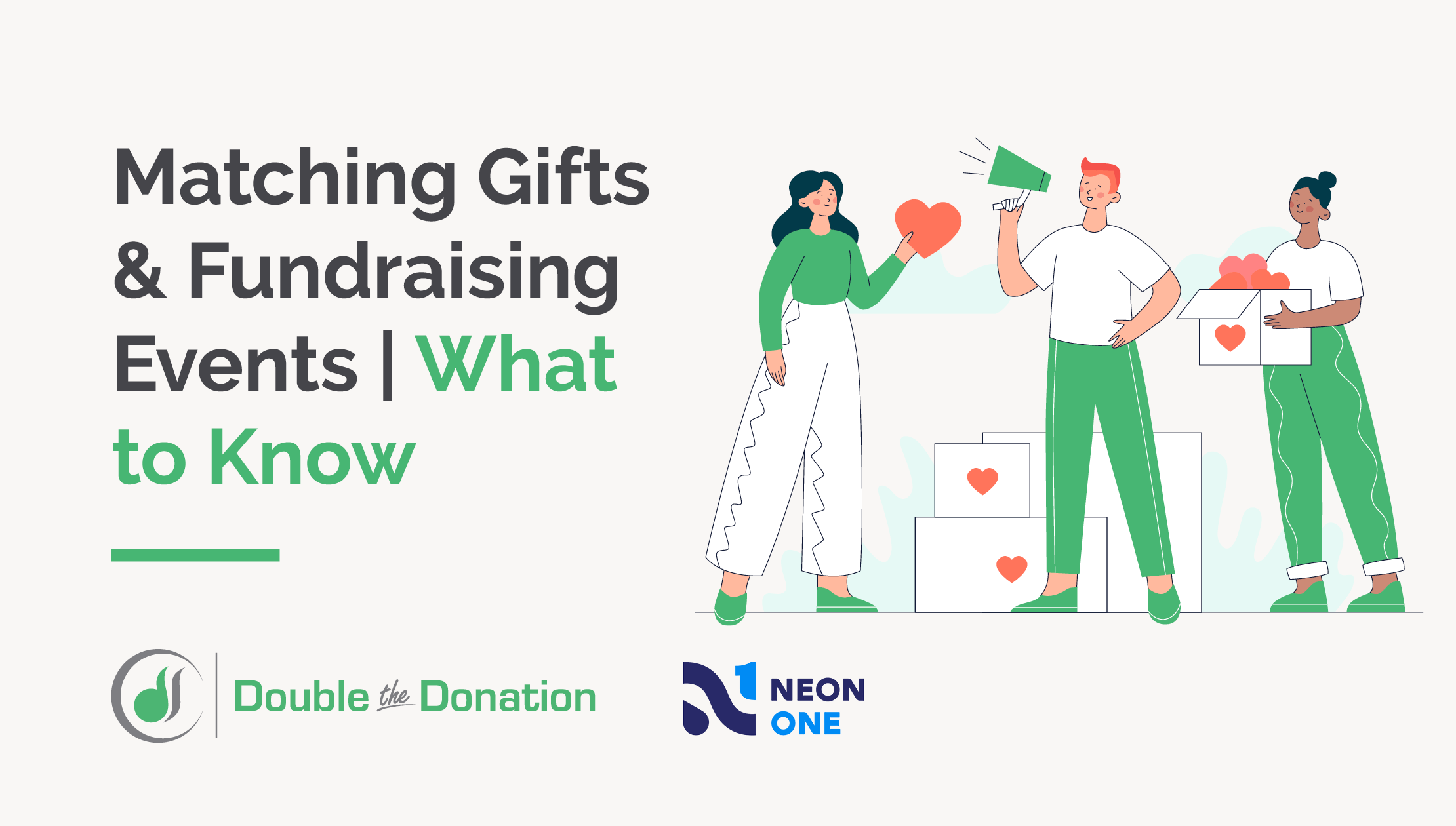 The most effective nonprofit fundraising typically involves a combination of engagement and revenue-generation strategies. Lucky for you, employee matching gifts and nonprofit fundraising events are two of the most significant tactics for charitable organizations today.
In fact, a Neon One study indicates that the majority of nonprofit executives report fundraising events as accounting for over 21% of their organizations' annual operating budgets. Meanwhile, Double the Donation reports that an estimated $2-3 billion is contributed by businesses through matching gift programs each year.
So what does that mean for your nonprofit's fundraising efforts?
If you're not making the most of community fundraising events and corporate gift-matching opportunities, you're likely missing out.
Here, we'll walk you through everything you need to know about matching gifts and fundraising events⁠—and how you can maximize the sources for your cause. This will include:
The Basics of Matching Gifts + Nonprofit Events
Typical Matching Gift Eligibility by Event Type
How to Use Matching Gifts as a Post-Event Touch Point
By absorbing the knowledge and insights shared in this guide, you can set your team's next fundraising event up for never-before-seen levels of giving, engagement, and more.
Let's begin!
The Basics of Matching Gifts + Nonprofit Events
In today's fundraising landscape, leveraging all avenues to maximize contributions for your organization is not just a smart strategy—it's essential for driving the greatest change for your cause.
More than likely, your nonprofit team has experience organizing and executing engaging fundraising events that bring supporters together to benefit your cause. But if you're not actively promoting matching gift opportunities alongside event communications, your donors won't be aware of the opportunity to get further involved.
Not only do employee matching gifts introduce new avenues of corporate funding, but they also incentivize more individuals to get involved in the first place. In fact, here's what recent studies have shown:
84% of donors are more likely to donate if a matching gift is offered.
1 in 3 donors would contribute a larger gift if a match is to be applied.
Fundraising appeals that mention matching gifts tend to see a 71% increase in response rate and a 51% increase in donation size.
A well-executed matching gift strategy can see engagement levels of over 75%.
Whether you're planning an upcoming gala, walkathon, virtual event, or more, the "dynamic duo" of matching gifts and fundraising events allows supporters to stretch their impact and get further involved in your nonprofit mission.
Typical Matching Gift Eligibility by Event Type
It's a common misconception that nonprofit donations contributed through fundraising events are not eligible for corporate matching gifts.
The good news is that, although each company offering matching gifts can establish its own unique program criteria, the general consensus is that event donations do typically qualify for corporate matching.
We'll break it down further for you by event type here.
Matching Gifts for Peer-to-Peer Fundraising Events
Peer-to-peer (or social) fundraising events are one of the most popular types of nonprofit engagement. These typically include matters such as 5K races, run/walk/ride events, fundraising challenges, and other "event-a-thon" style experiences.
When it comes to peer-to-peer fundraising, there are two key segments of supporters to engage with matching gifts:
Those who volunteer to fundraise on your behalf by soliciting donations from their personal networks (and often participate in the event)
Those who respond to their friends' and family members' giving requests by donating to your cause
Best Practice: Encourage both peer-to-peer fundraisers and individual donors to look into their companies' matching opportunities. First, individuals who give to the campaign will typically qualify for traditional matching gift programs if their employers offer them. So, if Sally gives $50 to her sister Bethany's P2P fundraiser, Sally's employer may provide an additional $50 to the campaign.
Meanwhile, some companies (including Intuit, BP, State Street Corporation, CVS Health, and more) also provide particularly generous fundraising matches. In the case that a fundraiser works for one of these companies, they may qualify to have all the gifts they collect matched for your cause.
If Bethany raised $1,000 for her favorite nonprofit from fifteen friends and family members, Bethany's company may match all fifteen gifts, contributing an additional $1,000 for the fundraiser.
Matching Gifts for Ticketed Fundraising Events
Another major type of nonprofit fundraiser is a ticketed event. These often include experiences such as galas, benefit dinners, auctions (live or silent), charity concerts, and performances.
It typically works like this: Attendees purchase tickets that provide them with access to an exclusive gathering, the funding for which goes to support a nonprofit cause. The problem with matching gifts for ticketed events, however, arises when a ticket is considered a purchase rather than a donation.
Typically, this might happen if attendees receive a tangible benefit with their ticket (such as a catered meal). While specific criteria can vary from one company to the next, however, the portion of the cost minus the value of the goods or services received likely remains eligible for a company match. Plus, it's also helpful to note that any donation made above and beyond the ticket price will typically qualify for a matching gift.
Best Practice: Provide event attendees with tax receipts that specify which portion of the total ticket price is considered tax-deductible. As this is typically the match-eligible part of the gift, an accurate breakdown allows supporters to request the appropriate amount from their employers when they complete the submission forms.
Matching Gifts for Donation-Based Events
A final category of fundraising event includes those that do not charge a set ticket or entry price⁠—such as an art show, guest speaker event, festival, and more⁠—but instead raise money from attendees who contribute at whatever level they choose.
Sometimes referred to as donation-based events, this is also typically the easiest type for which to determine matching gift eligibility. As it's a gift to the organization and does not provide the giver with any specific perks, contributions made to donation-based events are generally matching gift-eligible.
Best Practice: If you're accepting event donations online, add an optional field to your giving form that collects employment information! This will allow you to personalize your matching gift outreach to each supporter's program guidelines for their company⁠—but more on that below.
How to Use Matching Gifts as a Post-Event Touch Point
Picture this: Your fundraising event has reached its conclusion, and your last attendee has walked out the door. But you still have an opportunity to increase your supporter engagement, total earned revenue, and overall success. Plus, you can retain your cause at the top of supporters' minds for longer.
This is where matching gifts come in to help⁠—and using matching gift information as a post-event touch point can go a long way. Specifically, we recommend incorporating the following tried-and-true practices in your event wrap-up plan:
Send timely matching gift reminders after the event. When it comes to engaging supporters with matching gift opportunities, your timing matters. In fact, matching gift outreach sent within 24 hours of a donation being made sees a 53% email open rate. That's more than 2-3 times higher than the average open rate! Following up with event attendees soon after your event allows your team to leverage remaining supporter momentum and increase the likelihood that they'll take the next steps to complete their matches.
Highlight the ways that matching gifts multiply support. Top fundraising statistics report that an estimated 97% of donors cite impact as a key factor driving their support. When you frame matching gift opportunities as a way to amplify the difference an individual is able to make, you can strengthen their connection to your cause and drive continuous support⁠—including through corporate matches.

If possible, communicate the benefits of matching gift participation through tangible mission-related value. Here's one example: "Our shelter is able to support twice as many furry friends when you complete a matching gift on our behalf."
Use available employment data to tailor your outreach. One employer's matching gift program can vary significantly from the next⁠—in terms of qualifying gifts, staff eligibility, submission processes, and more. Thus, tailoring your post-event outreach to send company-specific messaging can go a long way.

To do so, however, you'll need to have supporters' employment information on record⁠—so, again, we recommend collecting it on your online giving or event forms.

From there, you can customize communications to reflect a company's specific program. For example, you may say: "Thanks for your recent event donation, Sarah! Did you know that your employer, Microsoft, matches team member donations up to $15,000 per year? Click here to access the company's submission portal and request a match from your employer."
Establish urgency by communicating submission deadlines. Often, a company's matching gift guidelines include a deadline by which a team member must submit their matching gift request. In other words, a donor can't make an event donation in 2023 and expect it to be matchable a few years down the road.

Therefore, as you craft your organization's post-event follow-up messaging, it's a good idea to incorporate a sense of urgency.

If you know a donor's corporate guidelines, you may be able to determine⁠—and communicate⁠—the specific cutoff date. For instance, Starbucks employees have 90 days from the initial donation to request their match. If your event takes place in November, then, you might want to send a follow-up for an unclaimed match in January. And be sure to mention that their time to match may be running out!
Make matching gifts for donors as easy as possible. If you want supporters to participate in their employers' matching gift programs on your behalf, it's critical that your team takes proactive steps to simplify the process. After all, a difficult, confusing, or time-consuming match experience is likely to result in a large number of unclaimed matches. But when it's quick and easy to get a gift matched, more donors are likely to do so.

For one thing, you should be sure to provide event attendees and other donors with informational resources regarding the opportunity. We recommend hosting a dedicated matching gifts page on your nonprofit website and including a company search tool and step-by-step instructions to walk supporters through the submission process. And again, sharing direct links to a company's request forms can be a significant help.
Not to mention, you can automate each of the above practices by equipping your organization with a dedicated matching gift platform⁠—specifically, one that integrates seamlessly with your Neon One fundraising tools.
This allows your team to raise more funds through matching gifts while devoting less time and effort to pursuing the opportunities yourself. You won't have to worry about potential matches slipping through the cracks, either!
---
Wrapping Up
By now, it should be clear that matching gifts and nonprofit fundraising events go hand in hand to maximize donor support and bring event revenue to the next level. But in order to collect all the matches you can, it's important to begin crafting your strategy now⁠. This allows your team to prepare and effectively integrate corporate matching throughout every element of your event plan.
If you're looking to enhance your organization's corporate partnership efforts and uncover broader sponsorship opportunities as well, leveraging matching gifts in your events is an integral first step.
Best of luck!
A Note from Neon One
Managing matching gifts, fundraising events, donor engagement, and all the other elements of a successful fundraising strategy is easier when you have the right tools. Neon CRM includes all the features you need to connect with your supporters and build a generous community that's passionate about your mission.
Sound interesting? Join one of our group demos! It's a great way to learn about how you can use our platform to support your fundraising, events, communications, donor management, and other activities all in one place—and you can see it all without the pressure of a one-on-one sales conversation.
Join the discussion in our Slack channel on connected fundraising