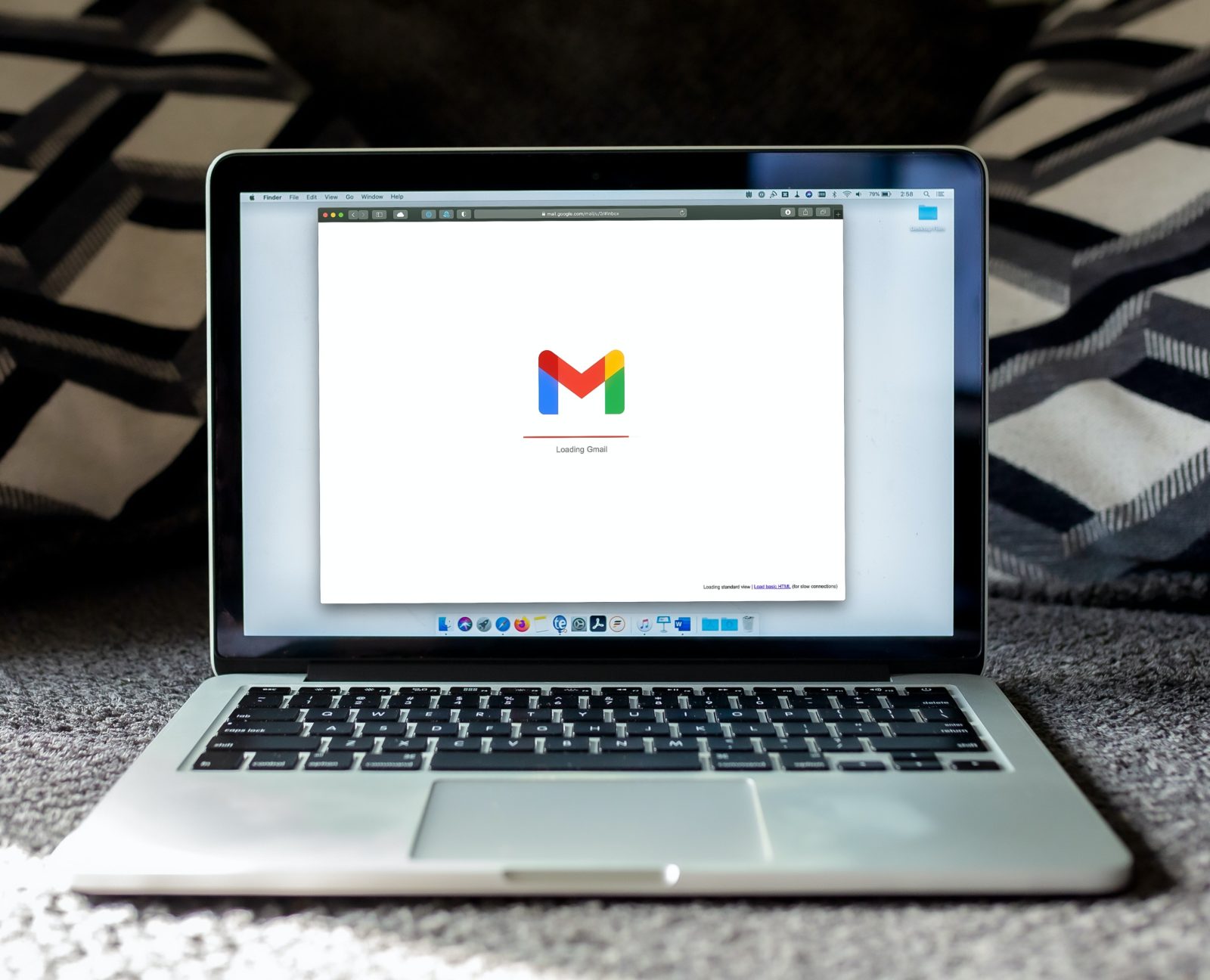 A solid email marketing strategy is essential to any business, and that includes nonprofits. Nonprofit email marketing remains a solid revenue driver for organizations of all types and missions.
You don't have to be a marketing prodigy to send a really great email. All you need is a message that will resonate with your intended audience and a grasp of a few basic skills.
In this blog, you'll discover some easy-to-implement basics that can take your email strategy from good to great. But first, let's answer some of our clients' common questions.
Is Nonprofit Email Marketing Still a Good Investment?
Some have speculated for years that email is dying and will soon become an outdated communication method. But the numbers show otherwise! According to research by OptinMonster, 92% of online adults use email and 99% of those adults check their email every day (sometimes up to 20 times per day).
This data also showed that 61% of consumers prefer to be contacted by brands through email. This trend continues for nonprofits: Neon One's report, Donors: Understanding the Future of Individual Giving, found that email is a favorite for donors, too—48% cited email as their preferred method of hearing updates and appeals from nonprofit organizations.
Aside from still being the preferred communication method, email marketing for nonprofits is a way to directly communicate with your supporters and directly drive people to your online donation page. This becomes even more valuable during fundraising campaigns.
How Often Should a Nonprofit Send Emails?
Email is an invaluable avenue for connecting with your supporters. The Nonprofit Email Report: Data-Backed Insights for Better Engagement found that nonprofits have an average email open rate of 28.59%. This may not seem like a big number at first, but it's a lot higher than the overall average, which is 16.97% according to Smart Insights.
However, there is no one-size-fits-all recommendation for how many emails your nonprofit should send in a week or month. It's a matter of audience preference.
To assess how many emails you should send per month, ask yourself and your team two important questions:
How many emails do we have the bandwidth to send?
What do we actually need to communicate to our supporters?
You want your nonprofit's brand to be considered valuable in the eyes of your email subscribers. They should see your name in their inbox and be excited! That means only sending an email when you have something important to say, whether it be a meaningful update, a heartfelt thank you, or an urgent appeal.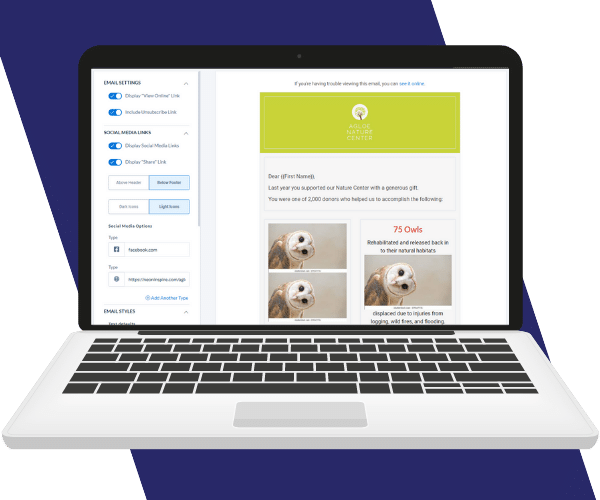 try it yourself
Email made easy
Make modern emails that will grab your supporters' attention. Take a self-guided tour of the Neon CRM email builder and see it for yourself!
Another common question is: What makes an email great? This can depend on what your audience is most interested in, but there are a few nonprofit email marketing best practices that all organizations can live by.
Nonprofit Email Marketing Best Practices
Good emails have the potential to acquire new donors, inspire existing ones, and even re-engage lapsed supporters. But, for an email to work, you'll need to have a firm grasp on some basic strategies.
Here are a few best practices to follow to make sure you're making an impact in every inbox:
1. Engage Your Audience
One important factor to consider while planning your nonprofit's email marketing is the different audiences receiving your messages. Making sure you send the right emails to the right people will ensure you get great engagement and minimize your email list churn. If you're not familiar with the term, "email list churn" refers to the number of people who fall off your lists during a particular period of time. There are lots of reasons your contacts may stop receiving your communications: They could unsubscribe, mark your messages as spam, or just disengage from your messaging.
Depending on your email list churn rate, your organization may lose 10-20 percent of its email contacts. For some nonprofits, it can be as high as 25-30 percent. That's a lot of emails lost every year, and that could mean missing out on donations, new members, and potential volunteers, too.
Here are some strategies you might want to consider as you seek ways to send compelling emails to your subscribers.
Make it easy to subscribe to emails: The harder someone has to work to get on your list, the less likely they are to sign up to receive updates. Grow your email list by including a sign-up form on your site or adding a communications opt-in field to your donation form.
Partner with organizations in your community: Reach out to an organization with a similar mission and ask if they'd be interested in cross-promoting each other's work. You can promote their mission with your emails, and they can promote yours in theirs. This is a great way to build relationships with other nonprofits in your community and reach new audiences.
Cut down on inactive subscribers: Be proactive about removing people from your lists when they don't engage with your emails for long periods of time. This may seem counterproductive when you're trying to grow your email list, but it's an important step. Cleaning out your email lists can help you reduce bounce rates and prevent spam complaints, but it can also free up space in your email lists you'll need as you grow your audience.
Try a zombie send: If one of your emails saw great results, don't be afraid to resend it to people who did not open it. This is sometimes called a "Zombie Send." Try this if you want to engage your supporters that have not seen your first email, but be sure not to resend it to anyone who opened your first message!

How to build your email audiences in Neon CRM
2. Craft a Solid Email Subject Line
More organizations are using email marketing than ever before. The average person receives more than 100 emails per day—and that's just for work. It's easy for your message to get buried in your supporters' inboxes. Even if your email's content is amazing, your supporters won't open it if it doesn't catch their eye. A great subject line can help.
Set your email apart with a compelling, attention-grabbing subject line. Nothing says "boring email" like an uninspired subject line. Think of your subject line as a headline—what would make someone interested enough to open your email and read what you have to say?
For more advice on crafting the perfect subject line, check out Nonprofit Email Marketing: Subject Line Strategies To Improve Open Rates.
3. Don't Shy Away from Newsletters
Speaking of subject lines, some words are more powerful than others. We examine a few words and their impact on open rates in detail in The Nonprofit Email Report, but one word that had a surprisingly positive impact: "Newsletter."
Subject lines that contained the word "newsletter" had an average open rate of 33.09% and higher click-through rates (7.42%) than those that didn't (3.19%). While for-profit companies are advised against using the word "newsletter" in subject lines because of the low open and click-through rates associated with it, we found it has the opposite effect for nonprofit organizations.
There's also been a notable resurgence in email newsletters across industries and personal brands. The bottom line: Newsletters are clearly a desired email type for nonprofit audiences, so don't shy away from investing in yours and even including the word "newsletter" in your subject line.
For more tips on how to make your nonprofit's newsletter the best it can be, check out our guide, How to Perfect Your Nonprofit Email Newsletter: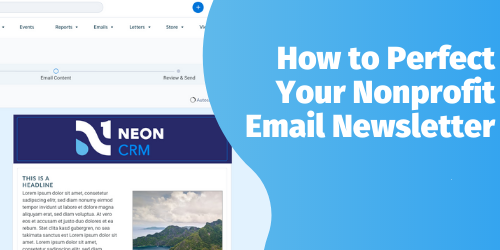 Perfect Your Nonprofit Email Newsletter
Learn how to set up, draft, design, and optimize your nonprofit newsletter for success with our free guide.
4. Beware "Seglumping"
Coined by Bloomerang's Steven Shattuck, seglumping—a mashup of the words "segments" and "lumping"—is "the act of referencing multiple audiences in one, unsegmented communications piece." More simply put, "seglumping" involves lumping different segments of supporters into a single list.
Not all donors give the same amount or in the same way. Avoid dumping everyone into a single supporter list to create a more meaningful message. Instead, consider segmenting your lists based on your audience's history with your organization.
When sending appeals, for example, a dedicated volunteer shouldn't receive the exact same messaging as a recent first-time donor, and recurring donors shouldn't receive the same appeal as one-time donors. Segmenting your email lists and sending relevant messaging to different groups will make your emails more effective, improve open and click-through rates, and result in higher engagement. You can learn more about this topic by reading our article, 4 Donor Segmentation Strategies That Drive Results.
5. Aim for Quality Over Quantity
Like all communications with your donors and supporters, your email marketing needs to tell a story. That story—who you are, what you stand for, and the services you provide—should remain consistent throughout all of your communications.
You may already have a content strategy in place for your blogging, social media, and other communications. Your nonprofit email marketing should also be part of that strategy. Sharing the same stories, talking points, and calls to action on all of your different content channels—including email—will make your message more memorable and increase the likelihood that your audience engages with and acts upon the stories you share.
Looking for more information? Read more about Donor Communications at Every Lifecycle Stage.
6. Optimize for Mobile
Whether you're talking about websites, online forms, or nonprofit email trends, mobile optimization is a necessity.
According to a study from Campaign Monitor, up to 77% of email opens happen on mobile devices. Optimizing your emails for smartphones, tablets, and other mobile devices isn't just a trend: It's a necessary step for any nonprofit that wants to use email effectively.
Mobile responsive emails have higher levels of engagement: Simply optimizing your messaging this way can increase clicks by up to 15 percent.
Not sure where to start? Here are some mobile email optimization tips that will help:
Check your load time: People have short attention spans. Emails that are slow to load will get poor engagement—readers will simply delete them and move to the next item in their inbox. Factors like large image sizes, custom fonts, and lots of design elements can all contribute to long load times. Once you've built your email, send yourself a test and make sure it loads quickly.
See how your email will appear in different email clients: You've created a beautiful, mobile-optimized email. Now, make sure it looks right in every inbox on every device. Use tools like Email on Acid or Litmus to test how your email loads in Gmail vs. Outlook or on different devices.
Use a provider with mobile responsive templates: Many email services, like Neon CRM's built-in email builder, offer responsive templates designed to look good on desktop and mobile devices.
7. Test The Timing
There's no perfect time to send emails for maximum results. There are some good places to start—many marketers recommend late morning and early afternoons on Tuesdays or Thursdays, for example—but those are guidelines, not rules.
In The Nonprofit Email Report, we found that nonprofits tend to send emails in the late morning and early afternoon. The average email send time for small nonprofits was 12:01 p.m. CDT and the average open rate for this time was 45.37%. But for large nonprofits, the average email send time was 11:32 a.m. CDT with an average open rate of 26.10% at this time.
The good news is the ideal time to send emails depends on your audience. And who knows your audience best? You do.
Here are some things to consider as you decide when to send emails:
Try nights and weekends: Emails sent during business hours still see the best engagement levels. But that doesn't mean you shouldn't experiment with sending messages at other times! People may be more likely to see your email if it's not buried in a flurry of morning emails or during hours your readers are focused on work.
Timeliness matters: People are most likely to open an email when they get it, so don't feel you need to wait for the perfect time to send it. If you have something urgent to communicate—especially if your email involves current events or anything time-sensitive—send it immediately. If you usually send your emails on Wednesdays at 10:00 a.m. but something important happens on a Thursday, don't wait until the next Wednesday to talk about it.
Test, test, and test again: To find out what works best for your audience, be sure to experiment often and track the results. When you find something that works, keep doing that—but continue tweaking to make it even better.
Effective email marketing isn't an art—it's a science. We encourage you to try out these tips and to embrace experimenting with your emails. Work on expanding your email lists in a way that will help encourage engagement, and make sure you send content that's relevant to different segments of your audience. Experiment with your content, timing, and subject lines, but make sure all the emails you send are optimized for mobile devices. Measure and keep track of what works best for you, and continue to look for areas where you can improve.
Nonprofit Email Marketing Benchmarks and Best Practices
When it comes to email marketing, nonprofit-specific benchmarks have been notoriously hard to come by. That changes with the release of The Nonprofit Email Report: Data-Backed Insights for Better Engagement! Inside the report, you'll not only find data that was analyzed with organizations like yours in mind, but practical tips for improving your emails and increasing email campaign effectiveness. Get the latest nonprofit email marketing data and insights by downloading the report below!
Join the discussion in our Slack channel on connected fundraising