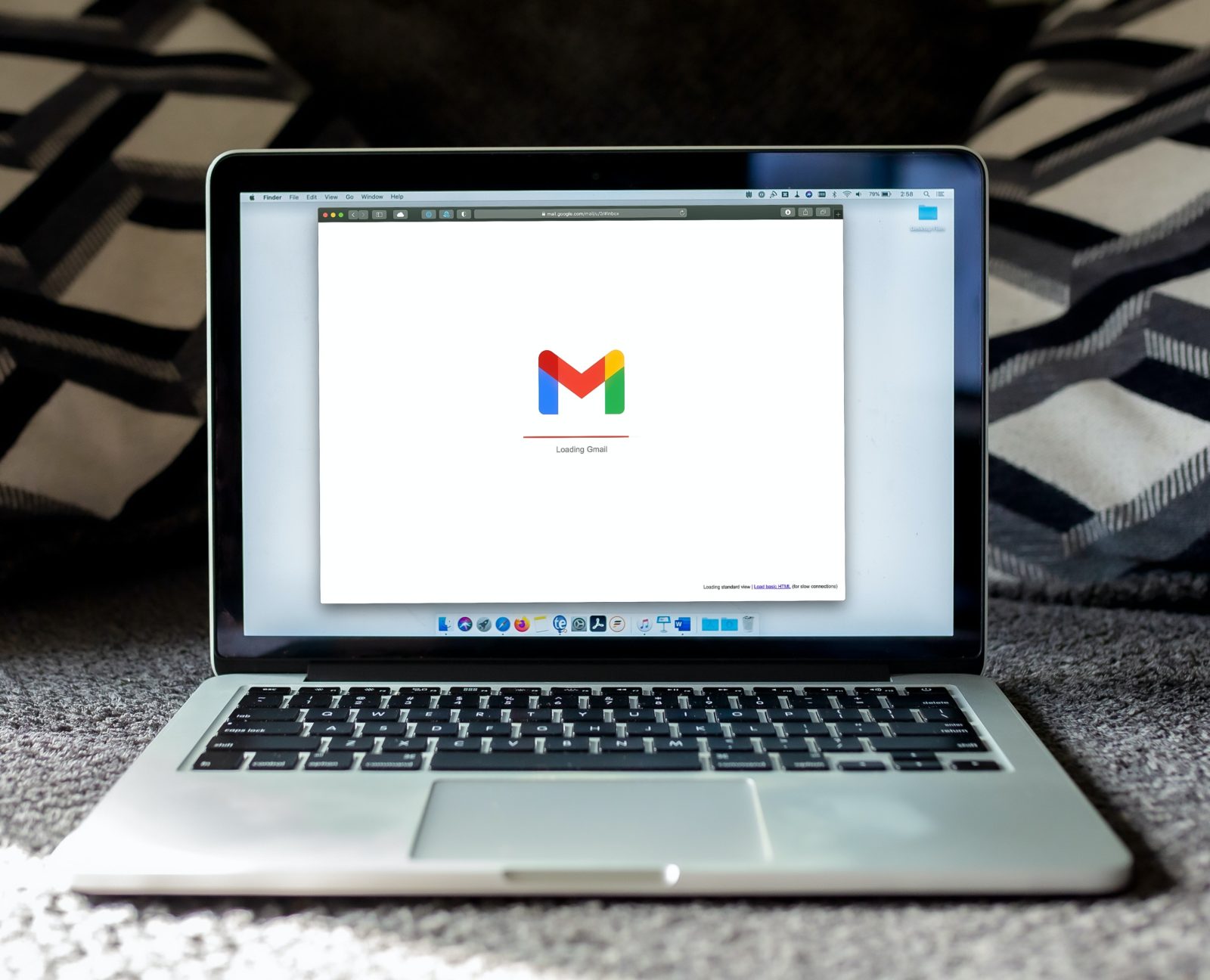 A solid email marketing strategy is essential to any business, and that includes nonprofits. Even as open rates decline, nonprofit email marketing remains a solid revenue driver for organizations of all types and missions.
You don't have to be a marketing prodigy to send a really great email. All you need is a message that resonates, and an intended audience. And who knows more about resonating messages than nonprofits?
In this blog, we'll be sharing some easy-to-implement basics that can take your email strategy from good to great. But first, let's answer a common question that we get asked by our clients.
"How Often Should a Nonprofit Send Emails?"
Email is an invaluable avenue for connecting with your supporters. A study from Mailchimp found that on average, nonprofits have an email open rate of just over 25%. This may not seem like a big number, but when compared to the general average of 6%, it's quite a jump.
That being said, there is no "one-size-fits-all" recommendation on how many emails your nonprofit should send per week or month. It's a matter of audience preference.
To assess how many emails you should be sending per week, as yourself and your team two important questions:
How many emails do we have the bandwidth to send?
What do we actually have to communicate with our supporters?
You want your nonprofit's brand to be associated with value in the eyes of your email subscribers. They should see your name in their inbox and be excited! That means only sending an email when you have something to really say — whether it be a meaningful update, a heartfelt thank you, or an urgent appeal.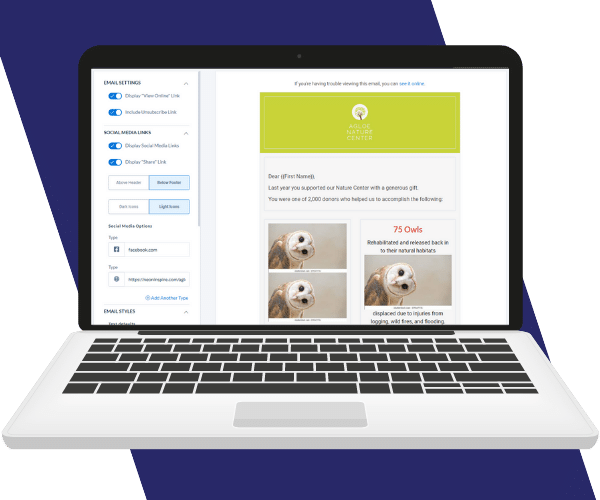 try it yourself
Email made easy
Make modern emails that will grab your supporters' attention. Take a self-guided tour of the Neon CRM email builder and see it for yourself!
Nonprofit Email Marketing Best Practices
The difference between a good email, and an okay one, can also mean the difference between a retained donor and a lapsed donor.
If you're just venturing into the world of nonprofit email marketing, here are a few best practices to follow to make sure you're making an impact in every inbox,
Best Practice #1: Build Your Audience
You've heard us talk about donor retention, now we're going to talk about email list retention. Depending on your email list's churn rate, your organization may lose 10-20 percent of its email contacts. For some orgs, it can be as high as 25-30 percent.
That's a lot of emails lost every year. And that could mean donations, members and volunteers lost, too.
That means you need to invest in building your email list. Here are some potential strategies:
Partner with Organizations in Your Community: Reach out to an organization with a similar mission, and ask if they'd be interested in cross-promoting. Basically, you would promote their mission with your email, and they would promote yours in theirs. This is a great way to promote goodwill in your community and to reach new audiences that are already interested in assisting with the need your organization serves. .
Try a Zombie Send: If one of your emails saw great results, don't be afraid to resend it to everyone who did not open it — also called a "Zombie Send." This will engage your supporters that have not seen the email, without double sending to anyone. Be sure not to resend to anyone who has already contributed!
Cut Down on Inactive Subscribers: If all else fails, be proactive about removing people from your lists who simply aren't engaging. Check out this article from HubSpot about their experience cutting their email list nearly in half and how it impacted them. They removed anyone who hadn't engaged with their emails in 6 months, and ended up getting more accurate data on email engagement rates. "After all, 550,000 subscribers is nothing but a vanity metric if 250,000 of those people aren't actually engaging with your content."
Best Practice #2: Beware "Seglumping"
Coined by Bloomerang's Steven Shattuck, seglumping is "the act of referencing multiple audiences in one, unsegmented communications piece"
More simply put, Lumping + Segments = Seglumping.
Not all donors give the same amount or in the same way. Avoid dumping everyone into a broad range of support to create a more meaningful message.
Instead, consider segmenting based on previous actions your audience has taken with your organization. For example, when sending appeals, a dedicated volunteer shouldn't receive the exact same messaging as a recent first time donor.
For more on potential segments that you can build in your Neon CRM system, check out our webinar, "Eight Segments You Need in Your CRM For Year-End Success".
Best Practice #3: Craft a Solid Email Subject Line
More organizations are using nonprofit email marketing than ever before. The average person receives about 85 emails per day, so it's easy for your message to get buried by others. Even if the content inside of your email is amazing, your supporters may never even open it.
Set your email apart with a compelling, attention-grabbing subject line. Nothing says boring email like a subject line that simply reads something like "October Newsletter." Think of your subject line as a headline — what will make someone interested enough to open your email and read what you have to say?
For more advice on crafting the perfect subject line, check out these resources:
Best Practice #4: Aim for Quality Over Quantity in Your Nonprofit Email Marketing
Like all communications with your donors and supporters, your email marketing needs to tell a story. That story — who you are, what you stand for, the services you provide — should remain consistent throughout all of your communications.
You may already have a content strategy in place for your blogging, social media and other communications (if you don't, think about creating one). Your nonprofit email marketing should be part of that strategy, just an extension of your current strategy through a different medium. Your supporters will expect consistency, and keeping content relatively similar will reinforce your organization's brand.
Additional Reading: The 3 Types of Giving Tuesday Emails You Need to Send
Best Practice #5: Optimize for Mobile
Mobile, mobile, mobile. Whether you're talking about websites, online forms or nonprofit email trends, it's clear — mobile optimization is a necessity.
"It's not a question of do I need to optimize my email. The answer is yes," said Driscoll. According to the panel, at least 40 percent of email advocacy gifts are made from a mobile device. Depending on the organization, that might be even closer to 60 percent. Mobile optimization is not just one of those nonprofit email trends — consider it a nonprofit email reality.
And even if donations aren't really the focus of your nonprofit email campaigns, fear not. Mobile responsive emails can improve engagement — increasing clicks up to 15 percent. Check out these stats from our partner MailChimp for more info.
Here are some mobile email optimization resources:
Test the Loading Speed of Your Website: Especially with mobile, seconds matter. If supporters click on a donation link, that page should ideally load within two or three seconds. Use webpagetest.org to test the speed of your page from multiple devices and browsers.
See How Your Email Will Appear in Different Email Clients: So you've created a beautiful, mobile-optimized email. Now, make sure it looks beautiful in every inbox on every device. Use Email on Acid or Litmus to test how your email loads in Gmail vs. Outlook vs. Android vs. iPad.
Use a Provider With Mobile Responsive Templates: Many email services, like Neon CRM's built-in email builder, offer responsive templates designed to look good on desktop and mobile devices.
Best Practice #6: Test The Timing
There's no "silver bullet" for the perfect time to send emails for maximum results. I know, I was disappointed too.
The good news is the ideal time to send emails depends on your audience. And who knows your audience best? You!
Some things to consider:
Try Nights & Weekends: While business hour emails still see the best engagement, night and weekend emails are not far behind. And people may be more likely to see your email when it's not buried in the morning email onslaught, when they may have more pressing emails to attend to.
Timeliness Matters: People are most likely to open an email when they get it, so don't feel you need to wait till the perfect time to send if you have something urgent to communicate. Especially if your email involves current events or anything time-sensitive, send it immediately.
Test, Test & Test Again: To find out what works best for your audience, be sure to experiment often and track the results. When you find something that works, keep doing that — but continue tweaking to make it even better.
There you have it, the tips you need to succeed in nonprofit email marketing
Effective nonprofit email marketing isn't an art — it's a science. We encourage you to try out these tips, but don't be afraid to experiment to see what works best for you. Measure and keep track of what works best for you, and continue to improve.
Have any tips on sending effective nonprofit emails? Let us know in the comments!
Perfect Your Nonprofit Email Newsletter
Learn how to set up, draft, design, and optimize your nonprofit newsletter for success with our free guide
---