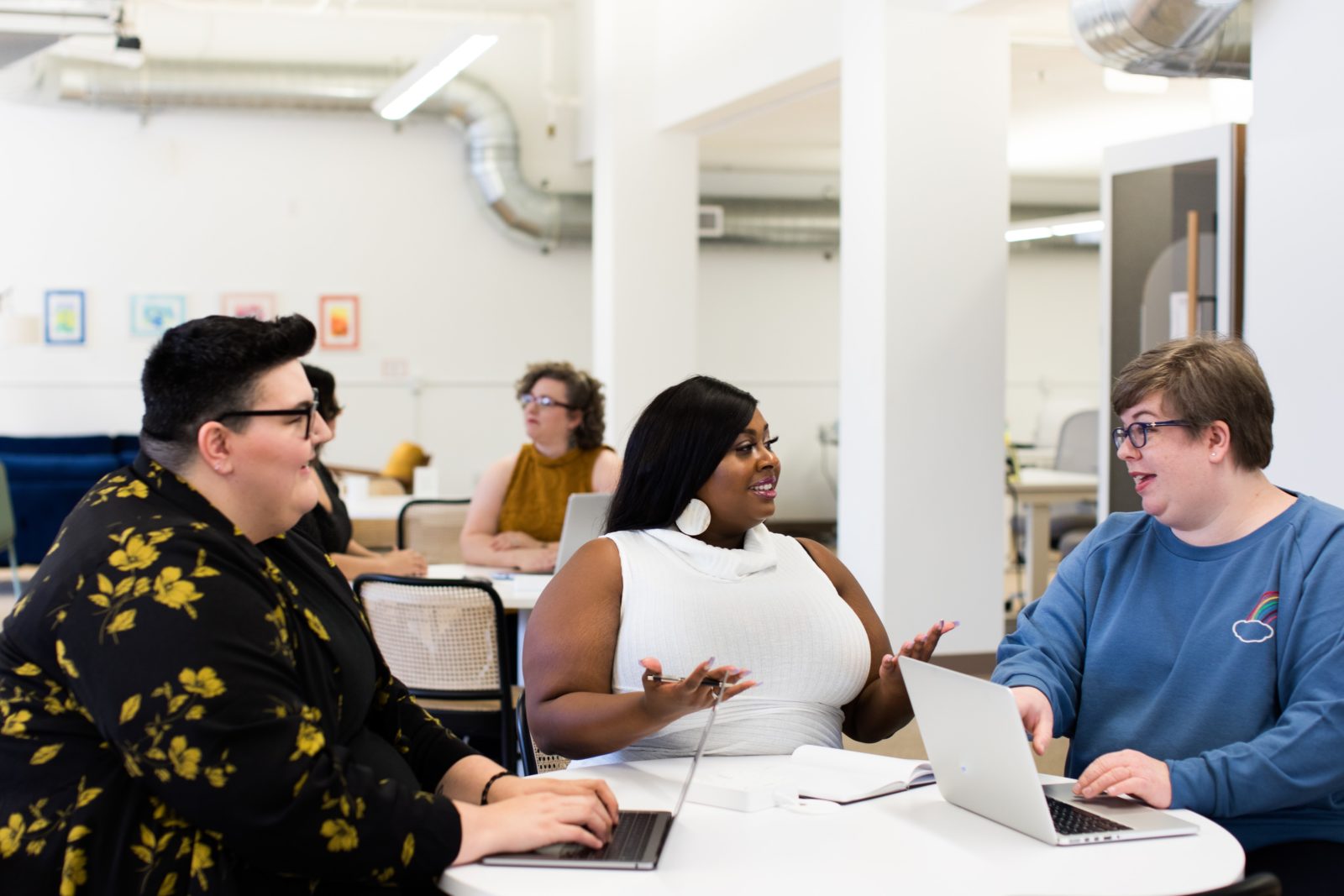 Earlier this month, our Director of Strategic Partnerships, Tim Sarrantonio, dove deep into this year's Giving USA report and broke down the basics as it relates to individual, foundational, legacy, and corporate giving (so you don't have to).
The webinar also included real Neon One client examples and concrete strategies for navigating fundraising in 2020.
In case you missed it, here are the most impactful takeaways in this exciting presentation.
But First, What is Giving USA?
Giving USA is the longest-running annual report on U.S. charitable giving. It began in 1956 by the American Association of Fundraising Counsel, now known as The Giving Institute. The yearly report is researched and written by the Lilly Family School. Every year they estimate sources of giving, amounts received by type of org, and much more.
Each year, the Giving USA report provides nonprofits of all sizes with some of the most meaningful data points measuring the health of the sector.
In June, Giving USA released their 2020 report and we're here to break it down.
Giving USA 2020 Report Results (2019 Data)
This year's report outlines that charitable giving overall rose by 2.4% last year after inflation to $449.64 billion dollars.
While this is overall a good thing, it is still below the average rise of 2.8% that our sector has seen since 1979, and 2020 has thrown all previous conceptions out the window.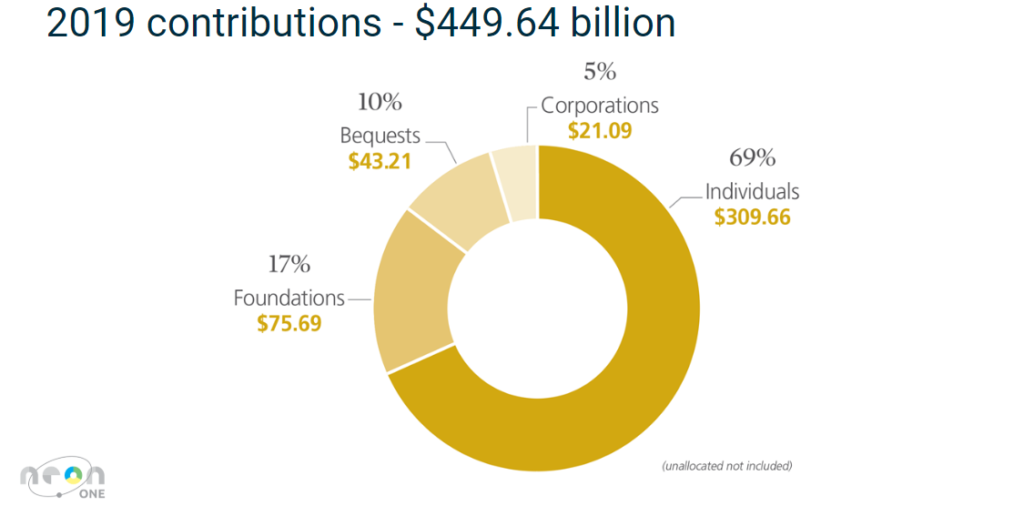 Religious organizations received the largest share of charitable dollars in 2019, at 29 percent of total giving. Education comprised the second-largest portion at 14 percent of total gifts.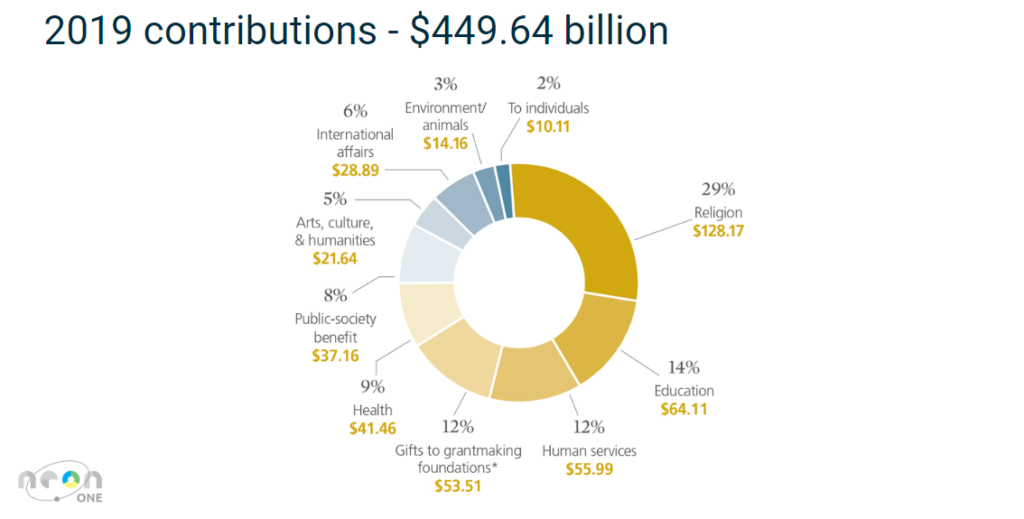 Total charitable giving has increased or stayed flat in current dollars every year since 1979, with the exception of three years that saw declines: 1987, 2008, and 2009.
In 2019, all giving sources are at either all-time or second all-time high. On the recipient side of giving, all but three charitable subsectors exceeded their previous highs.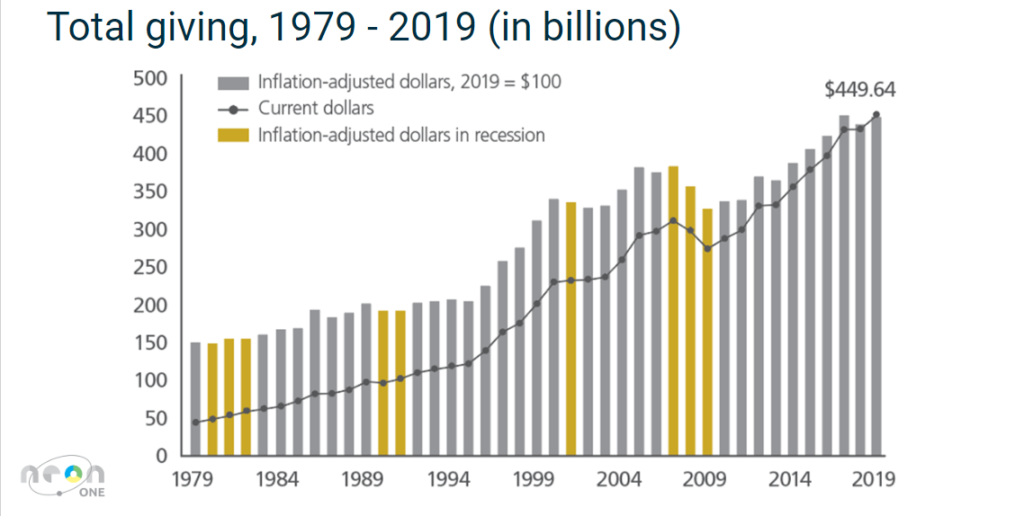 How Has Giving Changed in 2020?
We've taken data from our own Neon One ecosystem with a sample size of over 25,000 nonprofits and collected some larger industry data trends happening in the social good sector and paired those trends with real-life examples.
Unlike the Giving USA Report, this data is in relation to 2020 results and how nonprofits have been affected by and responded to the pandemic among the many other challenges from 2020.
Small and Mighty Donors
Strong early giving by constituents created an early bump for organizations in all channels of giving.
June in particular saw healthy increases in giving compared to 2019 in the number of total donations but a decrease in average gift size. This data implies more people and organizations are giving but in smaller amounts, proving the importance of small donors.

We've seen this data come to life with Arts People client Huntington Arts Council and their GivingTuesdayNow campaign.
Huntington Arts Council initiated a campaign that brought together several Long Island organizations for a collective GivingTuesdayNow campaign. They leveraged video content to tell their story, driving small and large donors to a clear call to action to donate and act in order to support the arts in their community.
Entirely Virtual Giving Events
Our Giving Event clients at Neon One saw an increase in the number of participating nonprofits, scheduled donations, and peer-to-peer donations. This is most likely due to the increase in Giving Days in the Spring due to the surprise GivingTuesdayNow campaign and the all-around need for support and funds across the social good sector.
Unlike many Giving Events, this year they were all entirely virtual. Giving Event planners had to think creatively and quickly about what they could do to make an in-person impact with a virtual event. Based on the data, it seems like it worked!

Arizona Gives is a great example of this initiative. Launching in the midst of the pandemic, Arizona Gives really helped set the tone for the rest of the spring giving events. It raised over $6.1 million for 913 nonprofits in their state.
Opening up early giving and onboarding more organizations to participate was key. They also launched a relief fund to help increase the exposure and assistance to participating organizations.
What Can Nonprofits Do Right Now?
Be Bold
North Texas Giving Tuesday Now was the first-ever giving day collaboration between United Way of Metropolitan Dallas, Communities Foundation of Texas, and Dallas Cowboys.
They have worked together in the past in small projects but it wasn't until the great need from their community due to the pandemic that they realized they needed to be bold and team together for a collective Giving Event. GivingTuesdayNow gave all three organizations the opportunity to team together to make the biggest impact as possible for their community of North Texas.
Working together they raised more than $20.7 million for over 2,500 North Texas nonprofits, as well as an additional $21.8 million contributed to COVID-19 relief funds.
Ask and Ask Again
Organizations who asked donors for support during the first months of the pandemic are in a much healthier position compared to those that decided "not to bother" their donors. Now is the time to reach out and tell your story if you haven't!
Sesame Workshop wanted to ensure their message didn't take away from essential service organizations while still outlining their value. They did this by extending their peer to peer fundraising. This step expanded the ways they were able to engage with their supporters.
Have a Plan V
Instead of canceling your gala or 5K, consider shifting your event into a virtual environment.
With technology platforms that allow for live streaming, activity tracking, and real-time engagement, there's no reason you can't delight your donors while they enjoy things from the comfort of home.
This year the Ulman Foundation is spearheading a first of its kind virtual fitness event to help organizations throughout Maryland. The event offers different classes and activities for fundraisers to virtually join in the fun.
If you weren't able to attend but would like to view the recording, you can see the video here.
Join the discussion in our Slack channel on connected fundraising