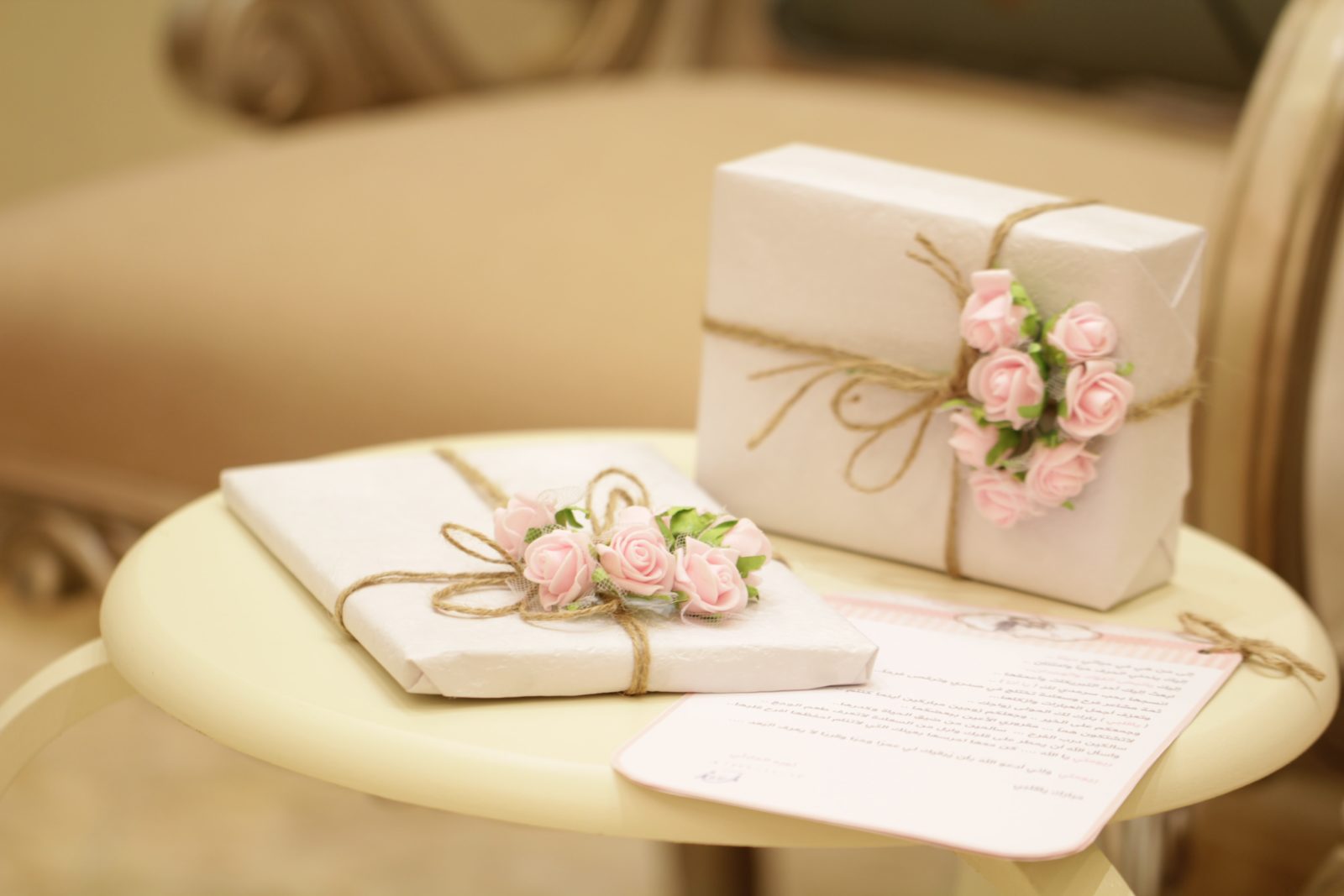 What if your nonprofit could bring in twice as many donations while only doing the work to bring in one? Sounds unbelievable, right? Matching gift programs, however, make it possible for your nonprofit to do just that.
If you're not familiar with matching gifts, they are donations that companies will make to nonprofits to match a donation an employee has made. This happens after the employee submits the appropriate paperwork.
The donor just has to submit a request to their company — usually, the company matching gifts at a 1:1 ratio. There are even some corporations that match at even higher ratios!
Matching gifts can be a great way for nonprofits to maximize their donations. So we've compiled a guide that will help you make the most of those programs. The guide is divided into three sections:
Click on the section you're most interested in or read through the entire article for a complete understanding of matching gifts!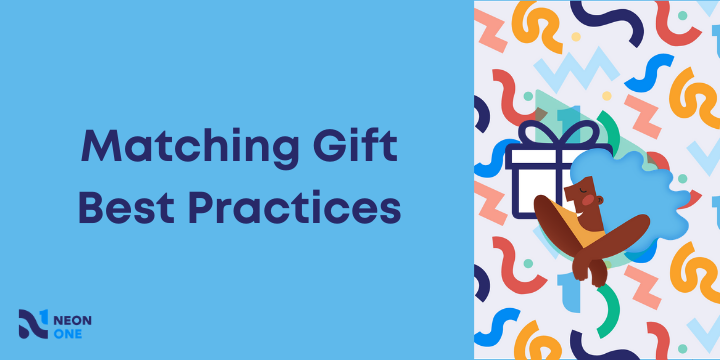 Matching Gift Best Practices
The first section will cover five ways for your nonprofit to improve how you use matching gifts.
Best Practice 1: Educate Your Organization
Ensuring everyone has baseline knowledge of matching gifts is the best first step to maximizing your contributions. It helps to make sure everyone is on the right page.
Additionally, if your organization has the resources to do so, appoint a matching gift coordinator. This individual can be in charge of the team that promotes matching gifts to donors.
Why It's Important
Although matching gift programs aren't a tricky concept, it's still important that everyone on your staff understands the process. That way, they can relay the information to your donors.
Having a matching gifts coordinator gives your staff someone to turn to if they have questions.
Best Practice 2: Incorporate Matching Gifts Into Your Donation Forms
As you acquire new donors and incorporate them into your donation flow, make sure that you're letting them know about matching gifts.
You can do this by optimizing your online donation form. You can integrate your online donation software with a matching gift tool that adds the relevant information to your form.
Why It's Important
One of the most common reasons donors don't submit matching gift requests is that they don't know that their employers offer such programs.
Even if they know about their company's program, they might not know about requirements, deadlines, or restrictions.
By integrating your matching gift software with your donation forms, you help raise awareness around matching gifts and create an easy way to start the process.
Best Practice 3: Conduct a Prospect Research Screening
Prospect research can reveal a wealth of information about donors. A screening can reveal simple details like names and addresses and more complex data like past giving patterns and business affiliations.
Additionally, prospect research can identify where donors currently work or where they retired from.
Why It's Important
You can use this information to your advantage when it comes to matching gifts! Prospect research can help you know which programs to promote to supporters.
For example, if you gain knowledge about your donors' employer, you can send them reminders with specific instructions about submitting a request for their company.
Interested In Integrating a Prospect Research Software With Neon CRM?
Check Out Our Partnership With Windfall Data
Best Practice 4: Keep A Record of Donors Who've Made Requests
To successfully receive matching gifts, you'll need to keep good records and track your nonprofit's progress.
When donors submit information about matching gifts on your online donation form, all of this data will automatically be filtered into your database.
Why It's Important
When you track matching gift metrics and keep records of which donors submit a request, you can better determine how to market these programs to your donors.
You'll know what donors have made gifts in the past and be able to send them timely reminders.
With the comprehensive data tracking and robust reporting capabilities included in your CRM, you should be able to get much deeper insights into how many donors are submitting matching gift requests.
Best Practice 5: Incorporate Matching Gift Information In Your Fundraising Campaign
When donors contribute to a fundraising campaign for your nonprofit, you already know that they're invested in your cause. Why not let them know about matching while you have their attention?
You can let donors know about how they can double their donations before and during:
When you send out communications about your fundraising events, include some information on matching gifts and link to your matching gifts page or another resource to learn more.
Why It's Important
By informing contributors about matching gifts during peak giving times and at fundraisers, you can not only double the donations you receive but further promote your cause to donors and the companies they work for.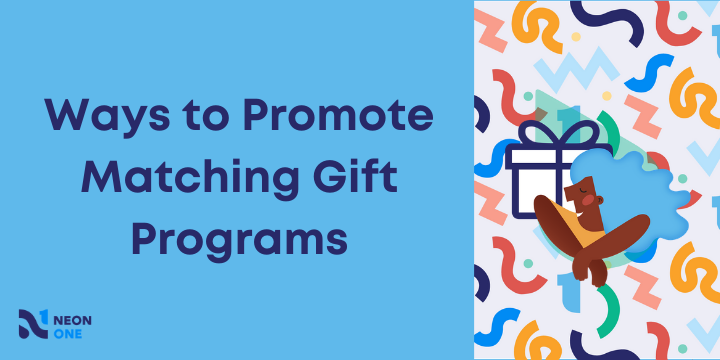 Ways to Promote Matching Programs
Encouraging donors to look into matching gifts can seem complicated at first, but it's not so hard if you use the right strategies.
Luckily, we can help you market matching gift programs to your supporters.
Whether you want to inform first-time donors about matching gifts or provide existing and dedicated contributors with enlightening resources, we can help you encourage donors to make their donations go further.
1. Encourage Matching Gifts as Donors are Making Contributions
One of the easiest ways to let your donors know about doubling their contributions is to promote matching gift programs during the donation process. You can let your supporters know about matching gifts by incorporating an optional field on your donation page.
How to Execute It
Look at Texas A&M University's Association of Former Students as an example.
They provide an eye-catching link leading to helpful information about employers' matching programs, including instructions for submitting the paperwork.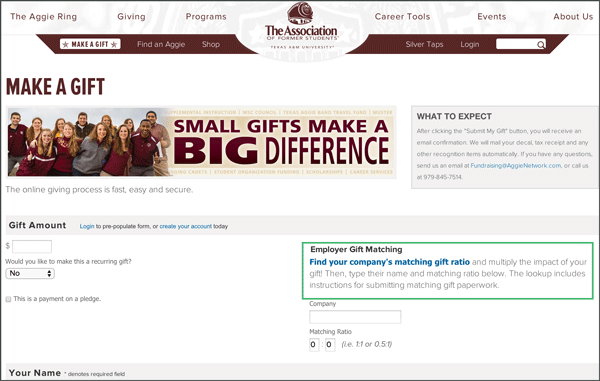 By incorporating an optional step about matching gifts in your donation form, you can help them learn more and potentially put in a request.
Giving donors the opportunity to learn more about their company's matching program on your donation page is essential. They're already in the giving mood and will more likely take extra time to look into matching their contributions.
2. Created Dedicated Matching Gift Pages
You don't just want donors to know about matching gifts; you want them to remember it.
Create a designated page on your website that contains information about matching gifts.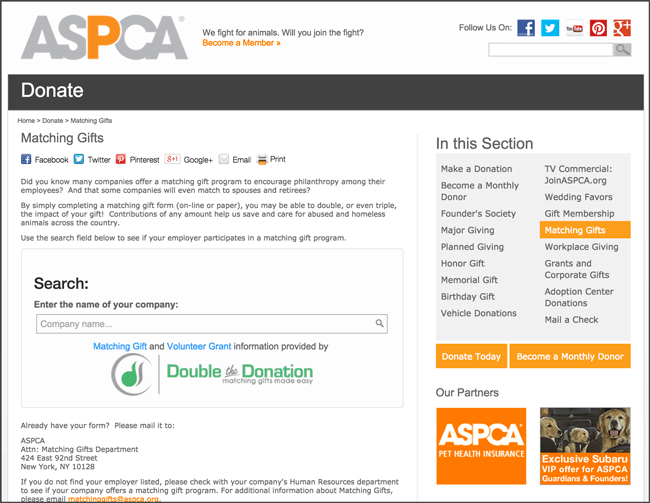 Having a dedicated page gives your donors a place to refer to when they have questions about submitting a request or checking their employer's program.
The more knowledge donors have on the program, the more comfortable they'll be with the process.
How It's Executed
This page could offer a multitude of information such as:
Statistics about matching gifts and online donations in general.
A shortlist of companies that offer these programs.
An explanation or example of how matching gifts are impactful.
Tips on how to submit matching gift requests.
A matching gifts tool so that donors can search for their company's program.
Plus, if you create a matching gifts page, you can link back to it when sending out newsletters, Facebook or Twitter posts, or even thank-you emails.
3. Include Matching Gift Information in Your Acknowledgements
Sending out thank-you letters immediately after your supporters give keeps their gift fresh in their minds. Thank-you letters are the perfect opportunity to remind donors about their company's matching program.
How to Execute It
After showing your appreciation for the gift, include some information on matching gifts. The Hereditary Neuropathy Foundation (HNF) offers a perfect example of how a genuine thank-you email can be paired with data about matching gifts.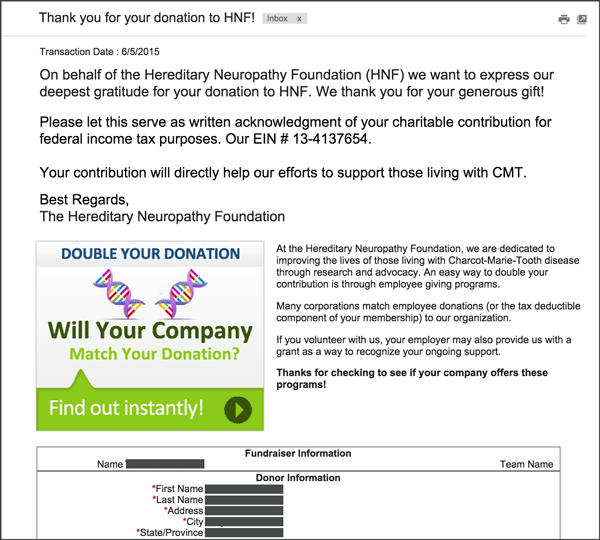 Notice that the first paragraph shows gratitude for the donor's gift and then transitions into "Double your donation." The HNF also includes a useful graphic and link directing donors to information about matching gift programs.
4. Promote on Social Media
By keeping followers up to date about matching gifts via popular social media sites, you not only pass along vital information to donors, but you do it in a format that most of them are already familiar with.
It can also reach individuals who don't know much about your organization.
If donors share information about matching gifts, their followers will see the post. You can potentially acquire new donors and receive more matching gifts through social media.
How to Execute It
Facebook is the current social media giant, and you can use the site to promote matching gifts to donors.
For instance, The National Kidney Foundation does a great job creating eye-catching posts and including links that direct followers to more matching gift information. This post alone garnered over 460 likes and was shared nearly 200 times!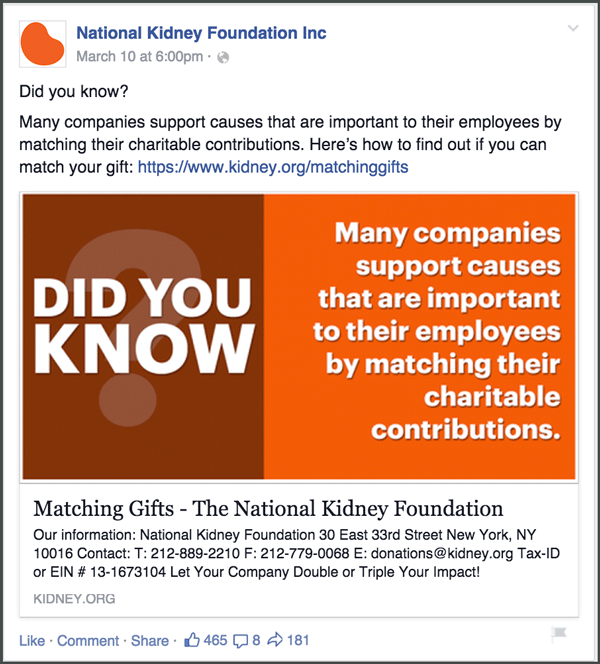 In addition to a simple Facebook post, you can use Twitter, Instagram, or even Pinterest to spread the word.
Looking For Nonprofit Social Media Advice?
The key to using social media sites to their greatest potential is consistency.
It's better to have one or two solid social media accounts that promote your organization than a dozen profiles that remain silent and stagnant for months on end.
5. Don't Forget Email Newsletters
If your donors don't know a lot about matching gifts, a great way to help them get in the know is to send out gift matching information via your newsletter.
By doing so, you can continue to foster the relationship you have with existing donors while also helping them make their donations go further.
How to Execute It
Goodwill of Southwestern Pennsylvania does an excellent job of letting donors know about matching gift programs.
Additionally, the newsletter gives donors information about the different areas that their contributions support and provides them with links to more details about matching gift programs.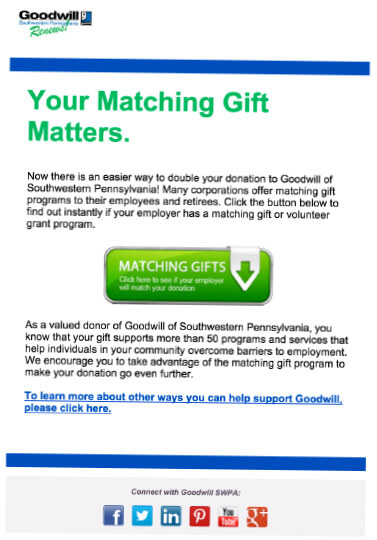 Other useful ways to encourage matching gifts through newsletters include:
Incorporating pictures, videos, or additional information about projects that matching gift donations will go towards.
Including a direct link to a helpful resource geared toward matching gift information.
Encouraging donors to search for their company's matching gift program.
For More Ideas on How To Use Your Newsletter
How to Perfect Your Nonprofit Newsletter Ebook
Sending out newsletters that feature information about matching gifts could be scheduled during peak donation times, helping educate new donors and reminding dedicated and consistent donors that they can double or even triple their donation.
For more ideas, check out the Nonprofit Marketing Guide's list of nearly fifty tips for promoting matching gifts via email.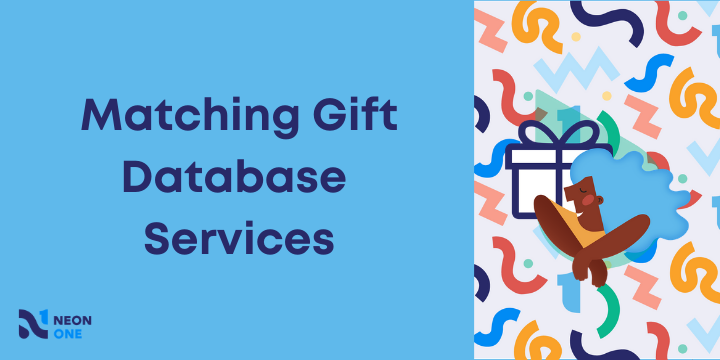 Matching Gift Database Services
To make the matching gift process even easier for your donors, consider using a matching gift database.
What these databases do is create an embeddable search tool on donation forms for donors to use to find out if their company offers employer match.
The software automatically follows up via email with all the forms or paperwork the donor needs to fill out to facilitate the gift match between their company and the nonprofit.
Neon CRM and Double The Donation's Certified Integration Maximizes Your Fundraising Potential
Join the discussion in our Slack channel on connected fundraising