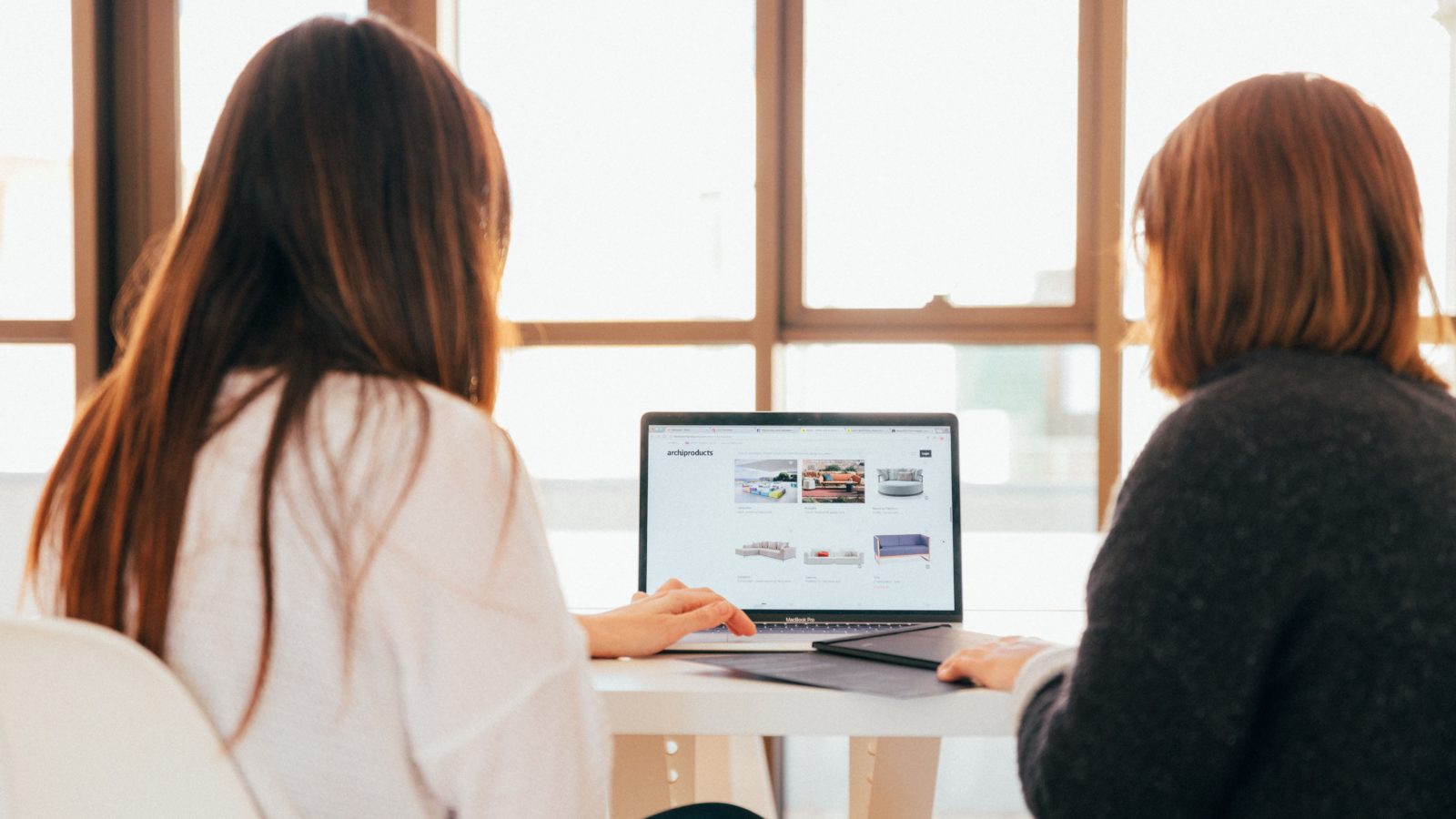 Building a new website for your nonprofit is a bit like designing your home. While there are going to be elements particular to your organization—much the same way that a couple might prioritize double sinks in their bathroom while someone else might really want a deep soaker tub—there will also be certain website features that you include no matter what.
No matter what kind of work your organization does, for example, you wouldn't want to build a nonprofit website with no donate button. That would be like building a house that had no bathrooms at all.
Regardless of the size or mission of your nonprofit, the best practices we've collected in this article should be part of your website plan. By including these 10 features on your nonprofit's site, you will help ensure that visitors are able to find the information they're looking for—including when and how to get involved with your mission.
1. Donate Button
If a visitor is on your page and gets inspired to donate, you want to make following through on that inspiration as easy as possible. That's why every nonprofit website should feature a large, colorful (or at least distinctive) "Donate" button on every page of their website that links directly to their donation form.
The easiest way to do this is by including the button in the top right hand corner of your primary navigation. What's your primary navigation? It's the top menu that can be found on every page of your site. We'll talk more about it in the next section.
This "Donate" button should stand out from the rest of your menu, and, in doing so, naturally draw the user's eye. Take a look at your nonprofit's brand guidelines and choose one of your supplementary colors that really pops.
Once someone clicks through to your donation form, you want to make sure your form also follows your brand guidelines. Did you know that branded donation forms see conversion rates seven times higher than non-branded forms? This is a simple way to raise more money on your website.
For nonprofits that use Neon Websites and Neon CRM, the two systems integrate seamlessly. And Neon CRM's donation forms have a ton of best practices built in to help your donors complete their gifts. If you want to learn more, check out this article.
2. A Clear Structure
When in doubt, just remember to keep your website's structure as simple as possible. A visitor to your nonprofit's site should be able to browse your top menu, understand the basics of what your website contains, and find the specific page they're looking for.
As we mentioned in the previous section, that top menu that's attached to every page of your site is called your "primary navigation." If your primary navigation contains a series of dropdown sub-menus, those are called your "secondary navigation."
It helps to think of your website structure in terms of those two menus. Use your primary navigation to break down the basic categories of info different kinds of visitors might want to find, then use your secondary navigation to break those categories down into specific topics.
Feeling a little overwhelmed and don't know where to begin? Here are four categories to get you started.
About Us: This section is pretty straightforward. Examples of different pages you could add here include pages on your mission, history, board, staff, financial statements, and impact reports.
Our Work: How you structure this section will depend on the type of work your nonprofit does, but every major program or offering should receive its own item in the secondary navigation.
Get Involved: There are two primary ways that people can get involved: Donating and volunteering. But this section can also educate supporters on how they can advocate for your organization. And this section should never replace the "Donate" button.
New & Updates: This is a great place to store press releases and official announcements.
Of all the elements you include in your navigation, the most important thing will probably be your nonprofit's blog. Keep reading for more!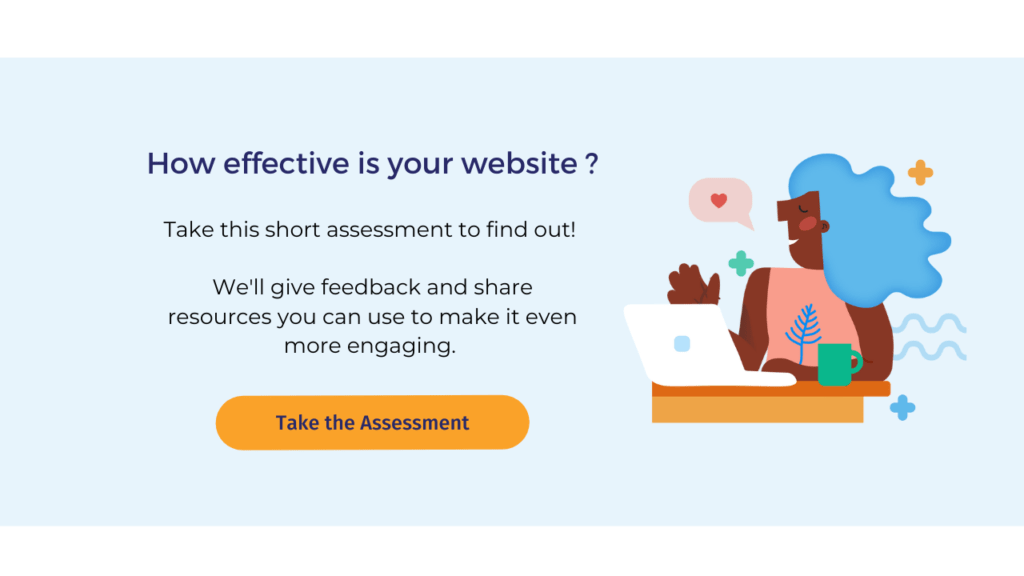 3. Blog
If you want to keep supporters updated about what your nonprofit has going on—and what organization doesn't want to do that?—you should maintain a blog on your website. Not only will a blog help you keep your supporters up to date, but it can also help your site perform better in organic search.
One of the factors that Google uses to rate websites is how often they're being updated with new information. By regularly adding new pages to your site via the blog section, you'll be indicating to search engines that your site's content is fresh, which will help your website rank in peoples' search results.
While blogs are useful for all nonprofits, they're especially handy for small nonprofits. While larger organizations usually have a full-fledged "News & Updates" section, smaller organizations generally don't have the resources to do so. And that's okay! Adding a blog to your primary navigation will let supporters know where they can go for the latest updates.
We wrote at length about SEO and blog strategy in our Nonprofit Websites Guide. If you want to do a deep dive into this subject, just click here. You can check out the entire resource by following the link below.
4. Email Sign-Up
In many cases, getting a person to join your email list is a great first step to making them a future donor. Email allows you to send newsletters, event invitations, and segmented fundraising appeals all with a few clicks.
But if a person is on your website and they have to search (and search and search) to find your email list signup form, the odds are good that their initial impulse to sign up is going to evaporate quickly in a cloud of mild annoyance.
Don't let that happen! Include an email sign-up widget that lets them enter their email address, press "join list," and move on with their day.
Adding a widget to your homepage is a great place to start, but ideally you will have that email sign-up available on every page. The best, simplest way to do this is to include that widget uniform footer that appears at the bottom of all your website's pages—like the example below: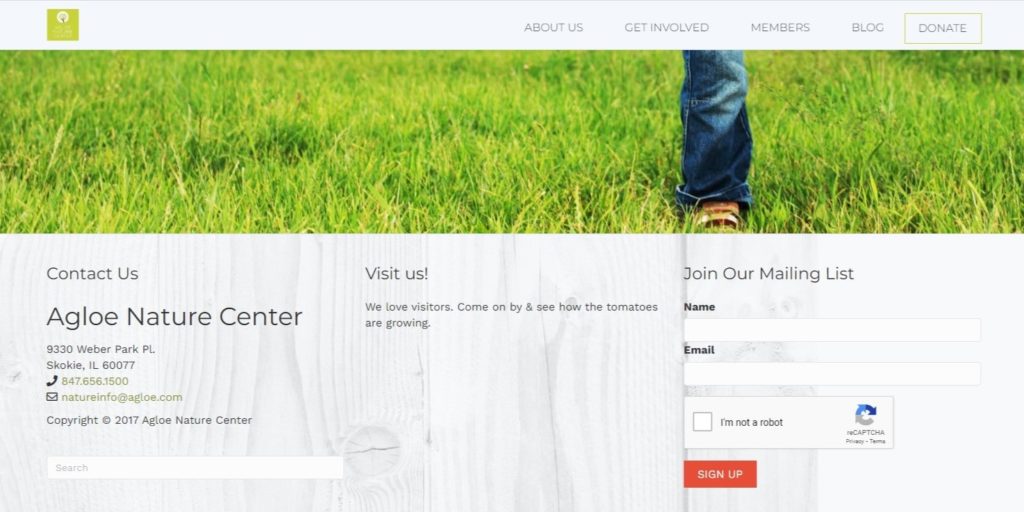 5. CTAs
If someone is visiting your website, that means they have taken an interest in your nonprofit. And a good nonprofit website will be designed to convert that interest into action through clear, simple calls-to-action (CTAs).
If you're not familiar with CTAs, they usually come at the end of a page or article or blog post. They're the part where the reader is invited to take further action. With a nonprofit, the action will usually be supporting your organization in some way.
Be specific in your CTAs and use active verbiage. Invite users to "learn more" and "volunteer" and "donate." Each page of your website should contain some kind of clear CTA. If you can't figure out what CTA a page should include, then ask yourself, "is this page necessary?"
To ensure your CTAs are easily usable on mobile devices, turn them into buttons instead of hyperlinked text. If you've ever tried to click a link on your iPhone or Android, you'll know how easily you can get frustrated with the small text and finicky user experience.
6. Events Calendar
An events calendar is another feature that can help both new visitors and returning supporters. Someone interested in learning more about your nonprofit might be interested in checking out an event, while current supporters can use your website to easily check if you have anything coming up.
Ideally, each event will have its own page on your website laying out the what, where, and when, plus details about how people can sign up. But the ideal events calendar also includes a widget on the homepage that pulls the information from those listings and lets every visitor to your homepage know about what you've got coming up.
An events calendar can be annoying to maintain if you have to manually update information on your site separate from your event management platform. If you can, choose a website-CRM combo or platform integration that allows updates to flow seamlessly from your event management system to your website.
7. Accessibility
It's important that your nonprofit's website be accessible to people with disabilities. This means following the best practices laid out in the Web Content Accessibility Guidelines (WCAG) created by the World Wide Web Consortium (WC3).
These guidelines cover a whole host of topics, including website structure, HTML and title tags, keyboard accessibility, video captioning, and more. While this topic is way too expansive to cover here (don't worry, we wrote an article that covers it in-depth), the good news is that most website builders have basic accessibility features built in.
One area we will draw your attention to here is color contrast. If you have colored text on a colored background—say, on a feature like your "Donate" button—you have to maintain a 4.5:1 color contrast ratio for the text to be readable by people with impaired vision. You can check that your colors pass this bar using this free color contrast checker from the ADA.
For a full rundown on nonprofit website accessibility, head on over to our post, How to Create an Accessible Donor Experience Online.
8. Compelling Imagery
The most important image on your website is going to be the "hero" image that is splashed across the front of your homepage. While there are other ways to design a website, a prominent hero image has become commonplace, and it's likely that your nonprofit's website will use one.
When determining your hero image, think of it like this: If you could sum up your nonprofit's mission and/or brand in a single image, what would it be?
Branding is important when deciding on what images to use on your website. Your brand will determine questions like color photos vs black-and-white, whether your photos are people-centric, and your overall aesthetic. Are you classical and composed or do you like a rougher, rawer (and probably cheaper) look?
Want to learn more about branding for your nonprofit's website? Check out our eBook, Better Branding for Nonprofits, by following the link below.
9. Mobile-Responsive Design
60% of search traffic happens on mobile devices. If your website isn't optimized for mobile devices, you're going to be missing out on a ton of visitors due to slow load times, hard-to-read pages, and an overall poor user experience. And a poor mobile experience will also lead to your site performing worse in search results, too.
Most website builders these days optimize for mobile, but your team should still be testing your site frequently from mobile devices to ensure that none of your design choices are causing issues. We already mentioned using buttons for your CTAs in #5, but you should also consider testing different potential fonts to see which one read best on mobile devices.
As for load times, use Google's Mobile-Friendly Test to see how your site performs!
10. Analytics Dashboard
If you don't have a way of measuring what happens on your website, it's going to be hard to tell what content and design decisions are working and which need to be re-thought. That's why your website should have an analytics dashboard that your team can use to record and analyze visitor data.
Your website platform will have some kind of analytics built in. Here are some of the data points that are automatically tracked in Neon Websites:
Page visits
Pageviews
Visitor Device
Traffic Sources
Visitor Browsers
Geolocation
In addition to your website's own analytics, your nonprofit should also create a Google Analytics account for your site. This will give you a lot more data to work with as you analyze how visitors interact with your website and your content—and where you can improve!
Neon Websites: Nonprofit Web Design Made Simple
There are some features that all nonprofit websites should include. By creating a mobile-responsive website with a clear structure, a prominent donate button, a thriving blog, and a compelling hero image, your nonprofit can help raise your online profile and improve your new donor outreach.
Neon Websites is a nonprofits-specific website builder that has many of these best practices built in. Our easy to use drag-and-drop platform and mission-specific nonprofit templates can get your new website up and running in a matter of hours. And with our web personalization features, you can create a unique experience for visitors that they'll be certain to remember.
If you'd like to learn more about how Neon Websites can partner with your organization to rebuild, refresh, and relaunch your nonprofit's site, schedule a demo today!
Join the discussion in our Slack channel on connected fundraising