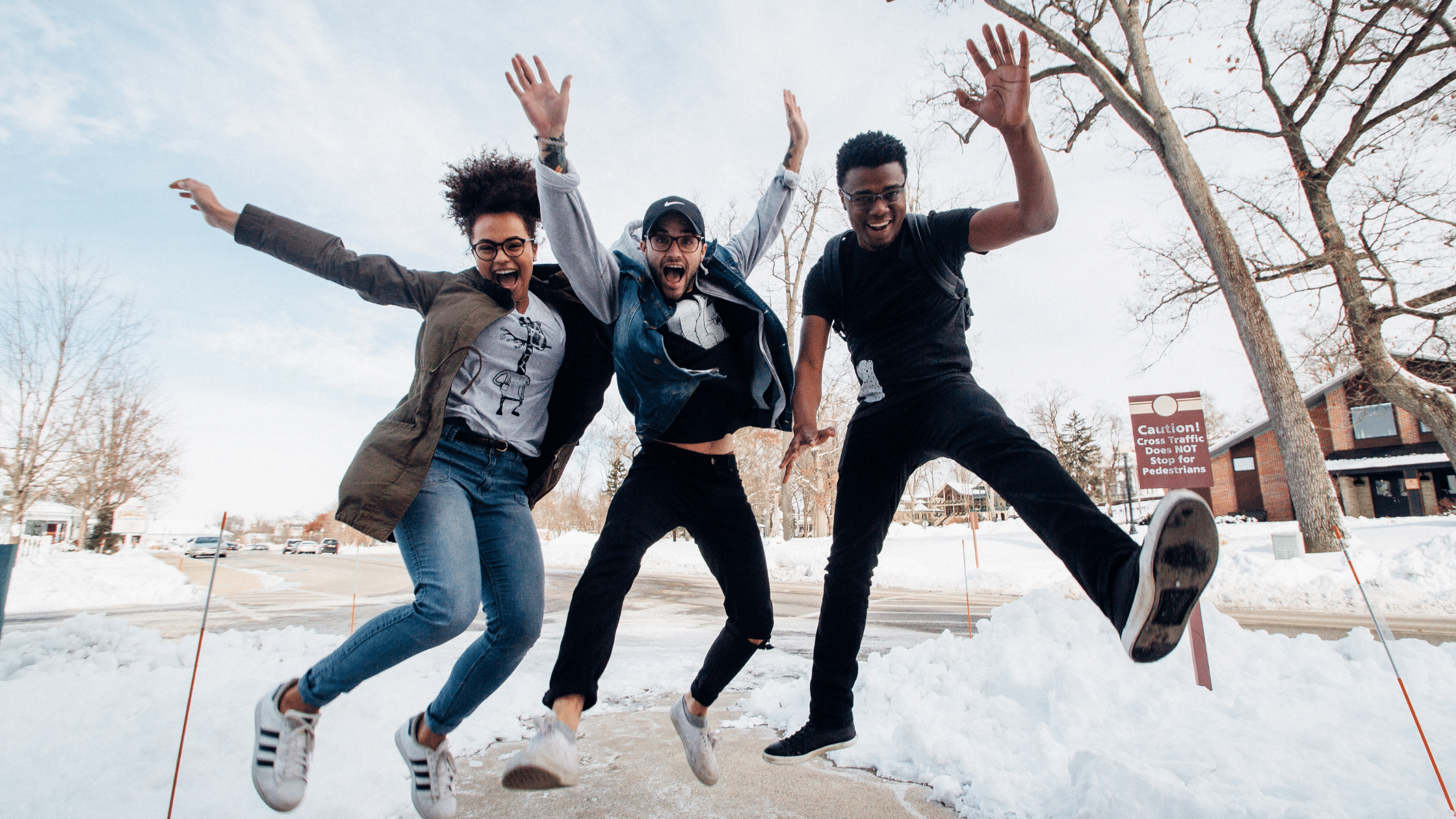 If you've never leveraged these peer-to-peer fundraising tips as part of your online fundraising efforts, it might seem like a daunting task to start.
What are the benefits of this burgeoning fundraising strategy? Who should you ask to fundraise? And how do you support them? We've taken the guesswork out of peer-to-peer by creating a cheat sheet to explain the benefits of this opportunity and how to make it relevant for your organization.
Let's dig into it!
Why Choose Peer-to-Peer Fundraising?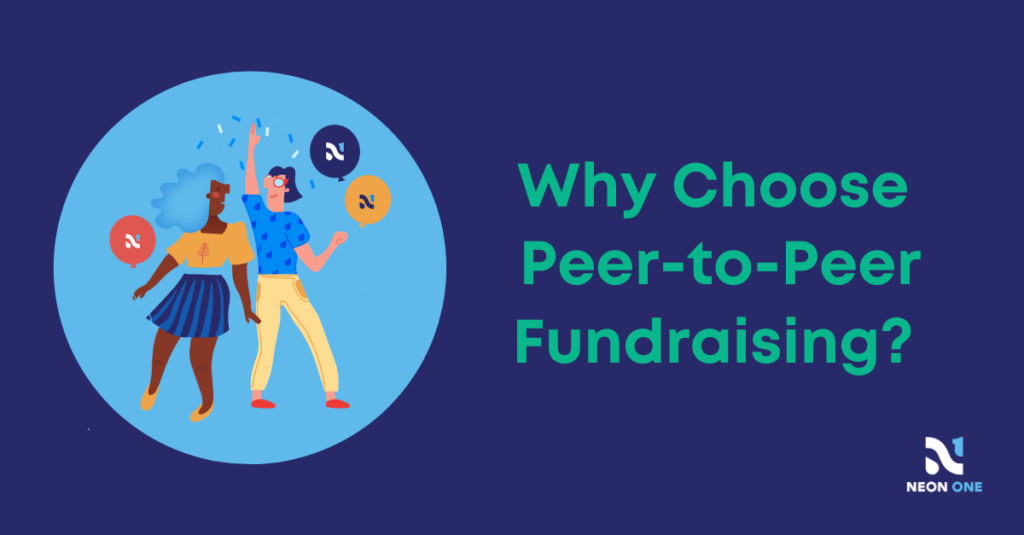 Peer-to-peer fundraising uses your network of existing donors and supporters to fundraise for your nonprofit organization. This is different than crowdfunding. If you are interested in exploring the major differences between peer-to-peer fundraising and crowdfunding, you can find that information here.
1. Amplify your reach by tapping into the 'Network Effect'
The 'Network Effect,' although used in the B2B world, can also be optimized for the nonprofit sector. If you directly ask five people to donate, you've only reached five people. But if you have five people that create a fundraising page and each of them asks 20 friends to donate, you've now reached 100 people.
Peer-to-peer fundraising is an opportunity to increase awareness and exposure for your organization exponentially.
People are four times more likely to donate when asked by someone they know.
2. Target new donors
Donors tend to donate to support their personal connection with the person who created the campaign and may or may not be familiar with your organization. As a result, you could see an uptick in new (first-time) donors because these are people you otherwise wouldn't have been able to reach.
Once these new donors are on your radar, you'll have the opportunity to convert them into repeat supporters over time.
3. Create new opportunities for your supporters to engage with your organization
Peer-to-peer fundraising is a kind of online volunteering done on someone's own schedule instead of on a specific date and time.
Since not everyone has time to volunteer in person, this is a way to encourage volunteering online to help move the needle towards your goals in fun new ways. Offering an entirely online way to get involved and be an ambassador for your organization is a win-win for everyone.
4. Diversify your fundraising strategy
Peer-to-peer fundraising is a great way to beef up online and network-based fundraising strategies that work in tandem or parallel with more traditional fundraising channels like Foundation and Corporate grantmaking.
Don't put all of your eggs in one basket. Things like changes to the tax code and other decisions out of your control can adversely affect charitable giving.
Just like when you invest your own money, it's prudent to have diversified fundraising strategies in place to help counter or offset unexpected changes.
Further Reading: A step-by-step guide to planning a peer-to-peer fundraising campaign
Peer-to-Peer Fundraising Tips for Recruiting Ambassadors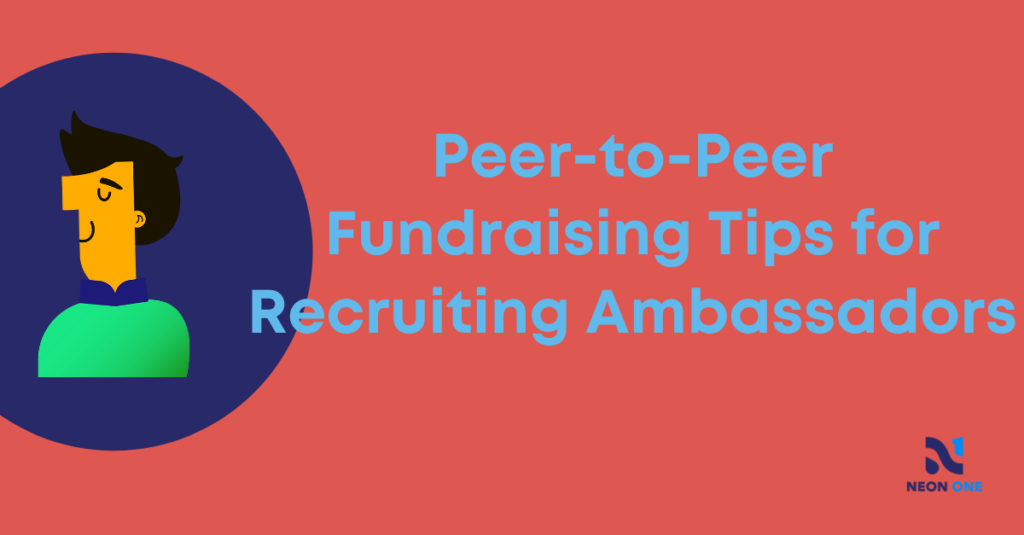 1. Start with your staff!
You already know they are personally connected to your mission. They know your cause inside and out and can speak passionately about it.
Each staff member could set up their own page, or you could identify team captains that create a page on behalf of a specific program, department, or school grade, for example, to make it into a team competition.
Fuel the competition by offering a fun incentive for the winner(s), such as a free vacation day or lunch for the department. Make sure it's always optional.
2. Next up, get your board members involved in Peer-to-Peer Fundraising
Board members are also highly engaged with your mission and have committed to being involved in your organization's growth and success. So why aren't your board members fundraising? Here are a few things you can do to engage your board.
First, assist in the creation of their peer-to-peer fundraising pages. You could set aside a portion of your next board meeting to create the pages together as a group or tap an intern or staff member with setting up the campaigns on behalf of your board members.
Second, provide resources and make a contact person available for questions.
Third, consider making it a friendly competition with a creative incentive!
3. Ask your most enthusiastic supporters and volunteers
The ability to create a fundraising page meets the top three criteria that drive volunteer satisfaction: autonomy, the ability to show mastery, and being a part of something larger.
Get our best tips on turning your top supporters into power fundraisers.
Also, consider if you have corporate partners or local businesses that repeatedly support you, ask them to put a team together to create a peer-to-peer fundraising page.
4. Create a campaign for your own organization to fund a critical need
A campaign page is a great way to advertise and call attention to a specific unmet need of your organization, perhaps an unexpected expense that wasn't accounted for in your annual budget. "Help us raise $1,000 to fix our van!"
Donors are more likely to contribute to a specific ask and something that is real and attainable in their eyes and got ask of which they can understand the value and necessity.
This allows you to segment your marketing around the promotion of your general profile page and your campaign page to better target certain audiences.
Further reading: 7 ideas for a virtual peer-to-peer fundraising campaign
Peer-to-Peer Fundraising Tips for Supporting Your Fundraisers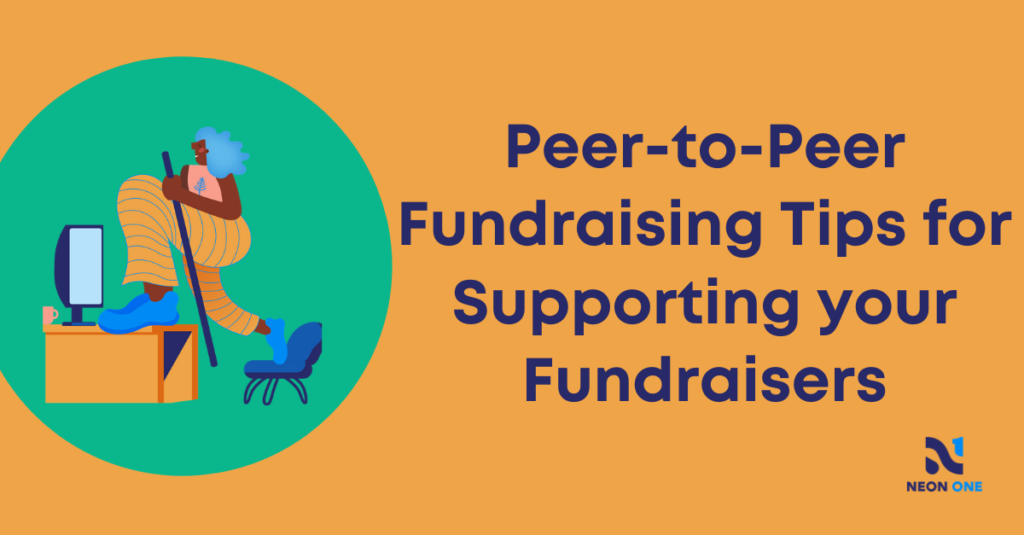 1. Establish a personal connection
You will be notified via email when someone submits a campaign for your review. Reach out to the person who created a campaign to thank them for participating, establish who their contact person is at your organization, and provide them with some tips to help get them started.
2. Check in periodically with your fundraisers to offer encouragement and support
Put reminders on your calendar! Some ideal times to touch base with your fundraisers are:
As soon as you approve the campaign.
When scheduled donations open.
The day before the event.
The morning of the event. It's game time!
The afternoon or evening of the event. Last call!
3. Cross-promote fundraising pages to help to share their stories
Help spread the word. Highlighting someone's campaign on social media, in a blog, or newsletter increases their enthusiasm. Leveraging this kind of pre-made content also saves you time!
Keep your finger on the pulse of how your fundraisers are doing and put a spotlight on significant progress.
Rather than posting another generic social media post about the event, check the campaigns to see if anyone is close to their goal and ask for support in getting them across the finish line. Donors like to have a clear, compelling ask. "If five people donate just $10 by midnight, we can send Jim's campaign over the top!"
Be sure to include the campaign's unique URL link. That makes it easy for people to click a link and jump directly to that fundraising page.
4. Support everyone at their own level
Just because someone creates a fundraising campaign doesn't mean that it will be successful. Gauge how engaged each person is, and tailor your support efforts accordingly.
Give your superstars a push! It can be easier to get a successful fundraiser to raise hundreds more than to get a zero-dollar fundraiser to raise their first $10.
While it's important to support everyone, don't feel obligated to devote the same amount of time to the folks who aren't reciprocating your excitement or receptive to your help.
Peer-to-Peer Fundraising Tips for Thanking Your Donors & Supporters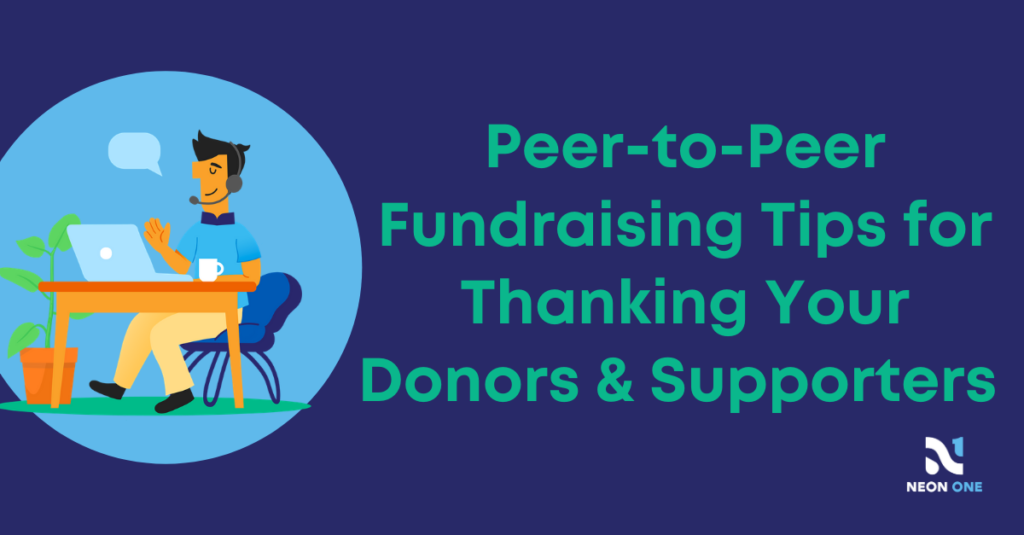 1. Share your gratitude via the same channels you made the asks
Email: Close the loop by writing personal emails to both your campaign creators and the donors that supported them. The thank you is a critical part of fundraising best practices, and people you thank will be more likely to support you again in the future.
Social media: This is shareworthy, feel-good news! Pay it forward by giving your fundraisers and supporters a public round of applause for their fantastic work.
Don't forget to thank people who helped in ways other than financial support – those people who cross-promoted, provided in-kind donations, or verbally offered their support and encouragement throughout the process. It really does take a village.
2. Consider hosting a 'Thank You' celebration at your office, a local place of business, or virtually
A great way to further personalize your thank you is to do it in person. Host an after-work happy hour in your office, coordinate an off-site space for your fundraisers and supporters to celebrate together after the event or schedule a virtual party, so you can say "Thank You!" over video or in-person.
Gatherings like this are also an excellent place for people to tell their story – you could ask your top fundraisers to share their story and insight into what they did that made their campaign successful. It's a tremendous specific peer-to-peer learning opportunity as well!
Be sure to make available any other upcoming volunteer opportunities. People will be in the giving spirit, and getting people involved in something again soon will help cultivate that donor's loyalty and support over the longer term.
For more peer-to-peer fundraising tips, check out our blog on starting a peer-to-peer fundraising campaign.
---
Neon Fundraise sets the standard for innovative peer-to-peer fundraising software.
Join the discussion in our Slack channel on connected fundraising