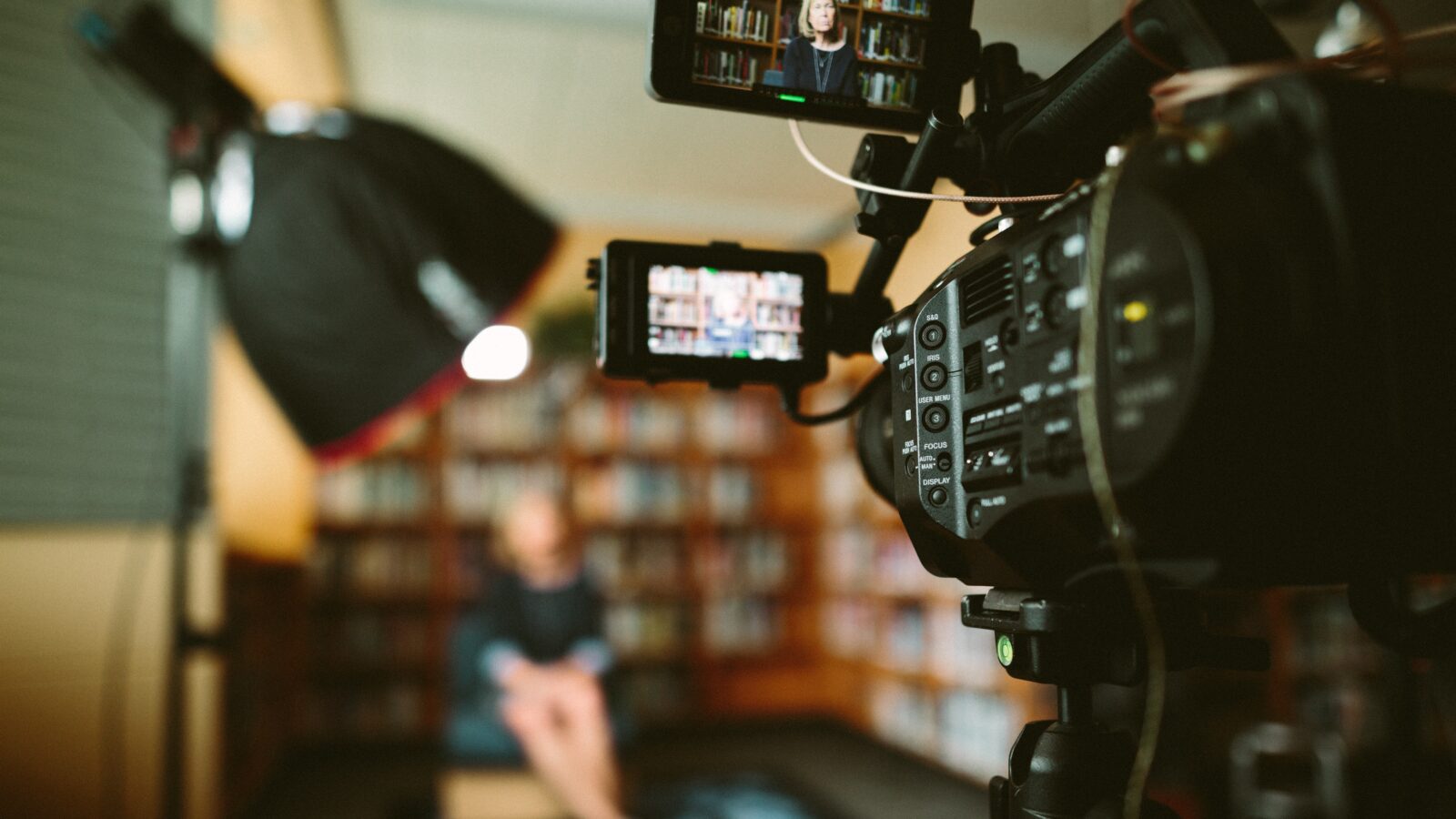 Stories are powerful. It's incredibly important for nonprofits to tell stories about their organization and the people they serve. Storytelling for nonprofits is an avenue to connect with donors and help them relate to your work.
Telling a good story can also give your donors confidence that your nonprofit is making an impact and that their donations are used effectively. However, it's critical for that organizations don't just tell stories effectively—they have to tell them ethically, too. Ethical storytelling for nonprofits produces stories that not only help nonprofits share their work and inspire donors but also honor the dignity of those the story is about.
What is Nonprofit Storytelling?
Nonprofit storytelling refers to narratives an organization shares (often called "impact stories") as a way to illustrate its mission and connect with supporters on a personal, emotional level.
Storytelling for nonprofits can come in a variety of forms, from case studies in your annual report to personal stories or testimonials from people your organization has served. Videos, interviews, client stories, audio, emails, podcasts, social media posts—there are so many types of storytelling opportunities available to nonprofits of all missions and sizes.
Ethical Storytelling for Nonprofits
We'll cover how to craft engaging stories and where to share them, but let's start with Storytelling Ethics 101. When telling the stories behind your nonprofit's work, it's important to think through ethical concerns—especially if your work involves sensitive topics.
In Neon One's storyteller's panel, Gerald Tan, Host and Correspondent at CGTN America, shared an interesting insight into how to tell a person's story ethically. He emphasized the value of sticking to the truth of the matter when telling a story, then letting the reader arrive at their own feelings about the circumstance described.
Tan urged nonprofit storytellers to avoid adding their own commentary on the people in the story. If a subject sees that you've described their story as sad, lucky, heartbreaking, or helpless, you may end up hurting that person's feelings and damaging that relationship with your client. This is especially true when your subject has opened up to you about a traumatic moment in their life.
The best thing you can do is create a safe storytelling platform for your clients in which you honor and respect both their stories and their boundaries. To that aim, there are two important terms to know.
Tokenism: According to Merriam-Webster, tokenism is "The policy or practice of making only a symbolic effort." It occurs when there is only the appearance of diversity, representation, or inclusion, and no effort is made to create substantial, systemic change. In nonprofit storytelling, this could look like adding someone from a marginalized community to a written story or video to give the impression of diversity when the organization hasn't created a connection with or made an impact in that marginalized community.
Saviorism: This term is often referred to as the "savior complex" and is unfortunately common in philanthropy and volunteer work. Saviorism is when a person from a privileged background believes they are the saviors and people from other, more disadvantaged communities need to be "saved" by them. Saviorism is an issue because it—often unintentionally—produces negative outcomes, such as reinforcing stereotypes and keeping unequal power dynamics alive.
The best thing you can do is create a safe storytelling platform for your clients in which you honor and respect both their stories and their boundaries.
14 Tips for Nonprofit Storytelling
In a study by researchers Dan and Chip Heath, only 5% of people could recall statistics from a presentation they'd just heard. But 63% of people could remember a story the presenter told. This is just one example of how storytelling impacts engagement and why it's so crucial to build storytelling into your nonprofit's strategy.
These tips will help you do it! With the nonprofit storytelling best practices included below, you can tell stories that not only engage the reader but do so ethically, respecting the dignity and privacy of the people featured.
1. Define Goals and Objectives
In storytelling for nonprofits, one of the most important questions you can ask is "why?"
By establishing your goals and objectives for telling a story before pen hits paper (or fingertips hit the keyboard or video camera turns on…you get it), you outline a clear purpose for what you're doing and ensure that it aligns with your mission, goals, and desired outcomes.
Create goals that are specific and measurable to ensure that the stories you tell are purposeful ("specific" and "measurable" just so happen to be the first two letters in the S.M.A.R.T. goals acronym). For example, let's say you're planning a storytelling campaign. One goal you could attach to it is to attract a certain number of new donors.
But don't only attach your goals and objectives to numerical outputs—what impact do you hope to make? This relates to our next point.
2. Share Human Stories, Not Data
While impact numbers and other data can be a powerful representation of your organization's successes, your storytelling should show the impact you've had on people and not just which numbers you've hit.
Effective nonprofit storytelling not only illustrates the tangible impact of your work but also highlights the people your work has benefited and how you're making a difference in their lives and communities.
Make sure the stories you tell aren't full of data with the people impacted as a footnote—let humanity be the center of your stories.
3. Show the Transformations
Storytelling is an opportunity to take the reader or viewer from Point A to Point B. From problem to solution. From goal to result. Use your nonprofit's stories to show donors the change they can help create.
Explain the issue you recognized and why it matters. Walk people through how a solution came to be. Perhaps you presented a goal to your supporters, such as distributing 5,000 meals —you can use storytelling to connect accomplishing this goal (the "after") to the "before" problem at hand (thousands of hungry families in your community).
Show the difference. Show what donations to your nonprofit can help accomplish.
4. Consider Safety Implications
What may be a heartwarming story to some could be a safety risk for others. One critical element of storytelling for nonprofits is protecting the privacy and confidentiality of the people in the stories—especially if they're from vulnerable groups in society.
Double-check that the story doesn't share personal information or other details that could put the story subject in danger.
5. Uplift the Story Owners
Even when a nonprofit helps facilitate change in someone's life, their story is still their story. Whenever possible, let their voice be heard.
Rather than using your story simply to give your organization a platform, amplify the voice of the story subject. Consider allowing them to tell their own story on camera. Include multiple quotes from them. And—perhaps most importantly—don't make the nonprofit the hero. Use storytelling to share how a person took advantage of resources and empowered themselves.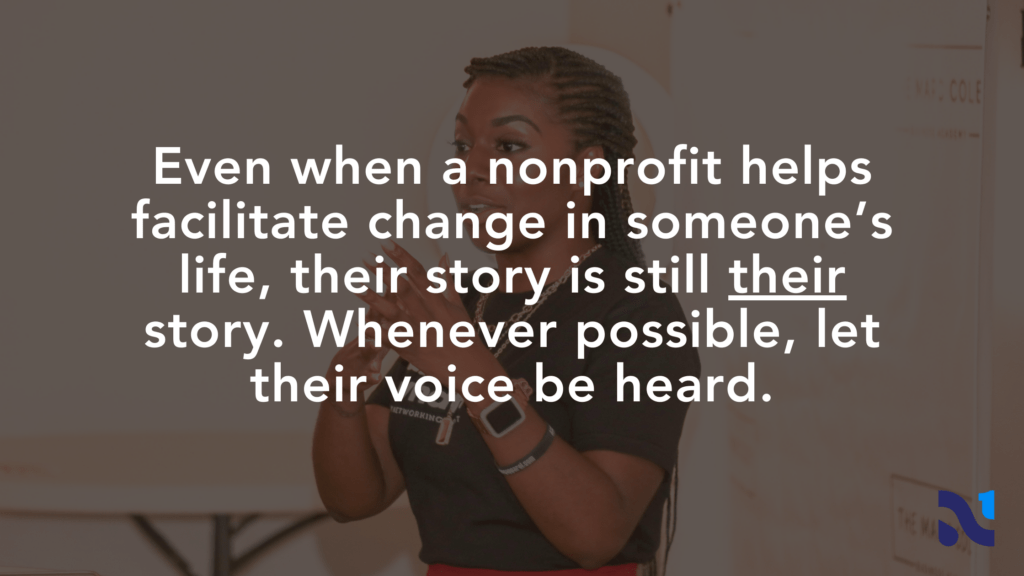 6. Utilize Visuals
Humanize your nonprofit's stories by adding visuals like photos and videos to engage your audience.
Why? Visuals put a face to the story. Share stories of real people with the real people who support your mission. Visuals can also help build a connection from human to human, making your mission and work more relatable.
When supporters can visualize who their donations can impact, your stories hold more power.
7. Evoke (But Don't Exploit) Emotions
Let's face it: The best stories get a reaction, and sometimes that's by appealing to emotions. Storytelling for nonprofits is a way to evoke emotion and empathy among donors and potential supporters.
You want to appeal to people's emotions without being heavy-handed and exploitative. This can make supporters believe you're trying to influence their actions (or wallets) by breaking them down emotionally.
Telling stories that evoke emotions doesn't mean that nonprofits should only tell sad, tear-jerking stories. Humor, inspiration, and feel-good stories spark feelings in people, too!
8. Be Honest and Transparent
Being honest about your story's subjects means that you don't embellish details or misrepresent who your story is about. If you're telling a story using a fictional, composite person and situation as an example, make that clear.
If supporters find out that a story you featured in a campaign wasn't actually about a real person the organization served, this could quickly erode trust.
It's also helpful to be transparent about the methods you use to gather stories and your goals in doing so. For example, sharing that the story subject was excited to tell their story to one of their counselors in hopes that it would inspire others.
This provides a behind-the-scenes of your storytelling process and ensures your audience that people are telling their stories willingly.
9. Avoid Complex Language and Narratives
While all the nitty-gritty details behind a story might be interesting, too much jargon can be distracting. Keep the focus on the "meat" of your story by crafting a simple narrative designed to engage your audience from the beginning to the end.
The basic story arc that many of us learned in elementary school works just fine here. Give your story a beginning, middle, and end. Another classic story arc includes exposition (introduction to the story), rising action (the ramp-up or "inciting incident"), climax (point of tension), falling action (the big thing happens), and resolution (the conclusion).
10. Prioritize Informed Consent
Even if the story you're telling doesn't show faces or share many details, obtaining informed, explicit consent is a nonprofit storytelling best practice. Individuals may be sensitive about certain aspects of their story that may at first seem insignificant.
In order to maintain positive relationships with those your nonprofit has worked with, prioritize respecting their privacy and asking permission to feature them in your stories. Explain where the story will appear and, if you can, get their consent in writing.
11. Share Everywhere (At First)
Once you've crafted a story, you don't have to relegate it to one platform or one medium. You can share it far and wide—in your newsletter, on your blog, as a video on social media … the possibilities are almost endless!
Maybe the first version of the story is a long-form written narrative. But it can get a second life with a short version condensed to fit into a series of photos or a 60-second Instagram Reel.
Share the story on all of your platforms at first, and then start testing. Experiment with different mediums and take note of how stories perform on each platform. These results can shape your communications strategy in amazing ways.
12. Be Mindful of Stereotypes and Stigma
In nonprofit storytelling, sharing diverse perspectives in your stories means keeping your eyes open for racial or social stereotypes and stigmatizing language.
As you do a final proofread, look for anything that may perpetuate stereotypes or biases. If possible, share the story with a sensitivity reader beforehand. This doesn't always have to be a professional editor; it can be a person from your staff or volunteer team who is a member of the same racial group or community as the individual featured in the story, for example.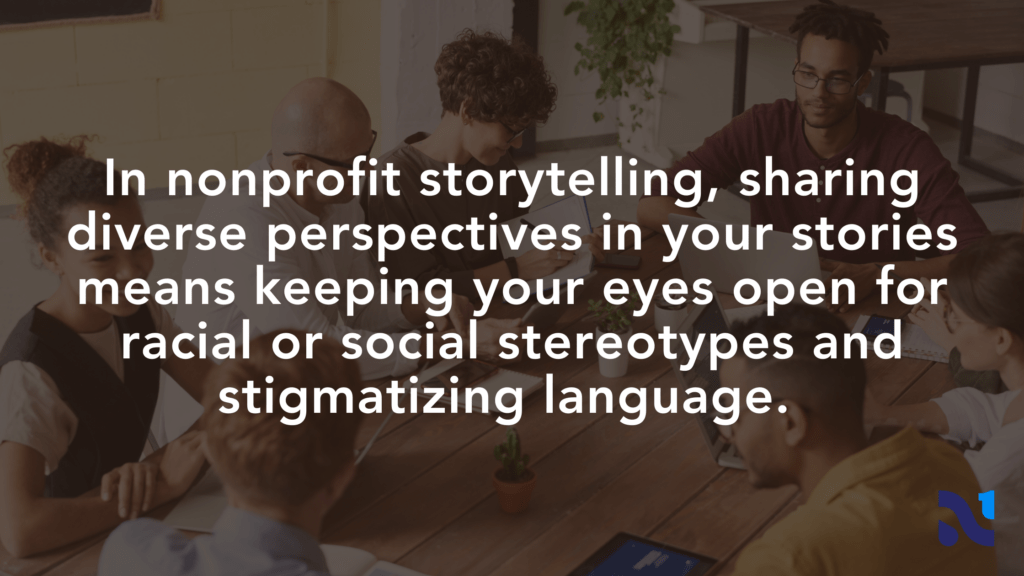 13. Conclude With a Clear Call to Action
Stories can be very effective in driving people to action. Use storytelling to make the most of this opportunity: Add a compelling call to action (CTA) at the end!
You can even tie the story topic to the CTA. For example, at the end of a story about an animal that was rescued, you could write: "Did you know that $50 keeps one of our furry friends fed and cozy for an entire month? Donate to [Organization Name] to create a brighter future for others like [Animal's Name]."
14. Regularly Evaluate Your Practices
Keep your storytelling both excellent and ethical by continuously seeking feedback from the people you serve, assessing impact, and addressing concerns. Take this input seriously and use it to adapt and improve your storytelling practices as necessary.
To ensure your storytelling efforts are working, analyze performance data from all of the platforms you use. How do the stories perform in emails or on social media? Does your audience resonate more with photos or videos? Which types of stories do people engage with the most?
Where to Share Stories
Now that you know how to craft engaging and ethical stories, let's get into where to share these stories. With all the hard work you've put into telling this story, you'll want to do more than simply plop it into one solitary email where it scores a handful of views and then never gets seen again.
Storytelling for nonprofits can span across many channels—here are a few ideas for sharing stories on multiple platforms.
Social media: From TikTok to Instagram and beyond, social media is a great avenue for nonprofit storytelling. You can use multi-image carousel posts or include one photo and tell the story in the caption. Videos are increasingly popular (and preferred) on social media, and they're perfect for storytelling.
Newsletter: Does your organization send an email newsletter? Use it to link to a story you've published elsewhere (such as YouTube) or embed a video. For text, you can dedicate a section to a story—just make sure it's not too long! If the story is on the long side, it's best to link to its place on a blog or elsewhere.
Blog: If you have a blog section on your nonprofit's website, publish stories as blog posts. You can include the same photos or graphics you would use on social media to add visual interest.
Fundraising campaigns: Whether you're running an email campaign or sending direct mail, storytelling is invaluable in fundraising. Add a story (or a quote from a story) to your email copy or mailed materials.
Appeal presentations: When you present an appeal to a special donor, including an impact story can make a powerful impact. Utilize a few slides to share a story.
Videos: One great aspect of videos is how they can be used in so many different ways. Once you've recorded one story video, it can get traction on your website, in emails, on social media, and more.
Think about how you can adapt, modify, and share your stories in a variety of ways.
Write different versions of the story in varying lengths—this will help the story play better across different channels. Whenever possible, gather or create other materials—like, photography, video, or designed graphics—to support the story. These supporting materials will help your story catch people's eye in a crowded social media feed or email inbox. They'll also help audiences connect emotionally with the story once they engage with it.
Only a small portion of your audience will see each of your posts or emails, so it's a good idea to periodically re-share your messaging to get your audience's eyes on the story. You can mix up post formats, tweak some language, and swap out supporting materials to keep it fresh.
Learn more about tailoring your messaging for each social media platform by checking out this resource:
Learn More About Storytelling for Nonprofits
Storytelling is an important tool for nonprofits, and we hope these tips help you out. Focus on creating ethical stories that share your clients' stories, and make sure the people whose stories you share are a part of the process. Then, get the most mileage out of your story by sharing and re-sharing it on different channels, like email and social media.
If you want to further deep dive into this topic, check out our webinar, Next-Level Storytelling For Nonprofits!
Join the discussion in our Slack channel on connected fundraising