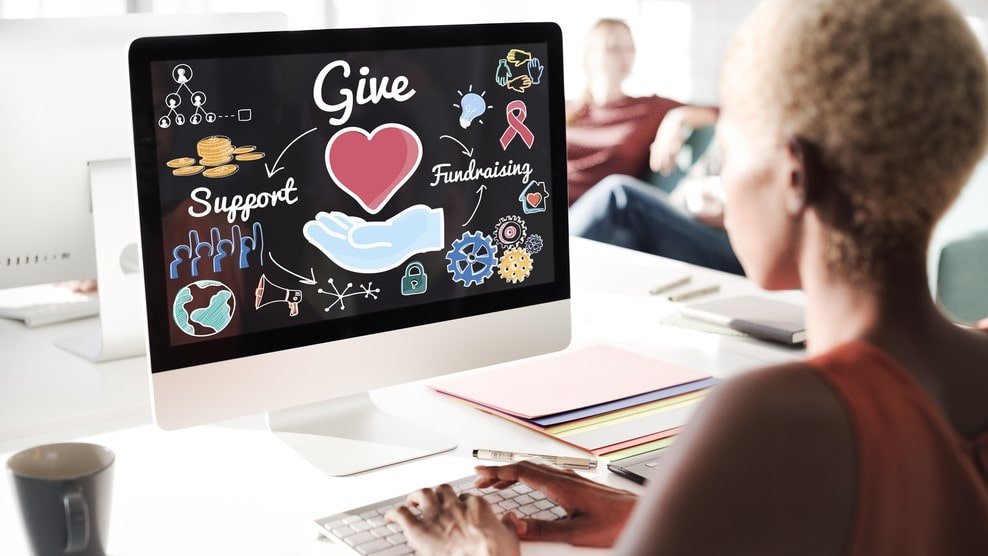 The internet isn't just a part of our daily lives anymore. It's the environment that many of us work, play, and even give in. In fact, more than 50% of worldwide donors prefer to give online. Meanwhile, online giving has increased by more than 42% over the past three years. Any organization that's dependent on fundraising needs to have a digital campaign strategy to reap the benefits of online fundraising.
Five Benefits of Online Fundraising for Nonprofits
Most nonprofits have moved to the online space in some way for their fundraising efforts, so they are already familiar with the most common benefits. However, by revisiting these benefits, you may discover some ways to improve your online campaigns even more. These five major benefits include:
1. Cost Savings
One of the biggest benefits of online fundraising is all the free and low-cost resources available to help nonprofits. Here are some options that nonprofits can benefit from when they source donors, manage emails and social media, and run online ad campaigns.
Aside from free and low costs options, which are plentiful, you also have to consider time savings. It takes far longer to organize a real-world event than it does a digital one. It's also much more difficult to gain insights into what works in person.
2. Data-Driven Insights
It's very simple to gain insight on most online platforms into who is viewing your content and campaigns and what actions they're taking. For example, if you're running a Facebook page for your nonprofit, you see many insights about your followers, including:
Gender
Age
Country
City
Language
That information can help you pinpoint greater trends in your online interactions. As an example, an organization may notice a sudden surge in female followers aged 29 to 35 in a specific metro area. When investigating this grouping, the organization discovers that all these individuals are connected to a donor who frequently comments on content. This tells the organization that there is an opportunity for a partnership and possibly even a peer-to-peer campaign with this person, who is very influential in certain circles.
On a simpler note, likes and comments are also an easy gauge of how your campaign is resonating with viewers. High-performing content can act as a guide for future messages, while mistakes made on underperforming posts can be avoided. This information will also help elevate donor relations.
3. Elevated Donor Relations
Do you know what your donor journey looks like? Most often, when we map this journey, we focus on the easy-to-pinpoint items like donations made or requests for information. But every interaction a donor has with your organization is an opportunity to learn more about them and enhance their experience.
With online fundraisers, it's much easier to follow that journey. Nonprofits can watch potential donors interact on a Facebook page and then click on a link to go to their webpage. Once on their site, they may spend a few minutes browsing pages before they enter a donation. All that information is trackable, and it gives you insight into what is important to them so you can customize future interactions.
If they spend a lot of time reviewing blog posts about people your organization has helped, it may help to attach a personal story to future communications. If they look at hard numbers and impact reports, it may be wiser to offer more data-focused messages. Online fundraising allows you to follow that flow, understand your donors, and build better, more personalized experiences.
4. Expanded Reach
There is no single medium, platform, or area that can beat the reach of the internet. One of the biggest benefits of online fundraising is that it gives small, local grassroots organizations the ability to connect with people around the world.
This is especially true on social media where nonprofits can connect with the right people to help reach their goals. They can focus on specific communities that would be most interested in causes like theirs. They can even work with influencers on peer-to-peer campaigns. The opportunities to expand your reach in online fundraising are near endless, as they're fast, cost-effective, and simple.
Another great option for improving your online profile is GivingTuesday. This decade-old, annual giving event goes from the Tuesday after Thanksgiving and continues for five days. According to the GivingTuesday Data Commons, GivingTuesday 2022 brought in an estimated $3.1 billion in the U.S. alone—and that doesn't account for all the volunteer hours, acts of kindness, and advocacy that were also encouraged.
Organizations can use branded emails, templates, and social media posts around the #GivingTuesday event. There's no one "right" way to participate, but you may find Neon One's GivingTuesday toolkit helpful in establishing your own campaign.
5. Simplified Giving
Digital channels have allowed organizations to expand their donation options, making it easier for donors to give. Ensuring a variety of easy giving tools, from PayPal and Venmo to simple one-click solutions or UPC codes, can help eliminate frustrations. This is all part of building a donor experience that is streamlined, intuitive, and impactful.
At the center of your donor experience is the donation form, so follow these best practices when building your own:
Visually short: Visually short means that while all the pertinent information is available, it's condensed enough to not appear overwhelming to the person filling it out. Breaking text up into user-friendly blocks and fields will make it more visually appealing and seem less cumbersome.
Designed for impact: The donation form should make it clear how the person's donation will impact the cause discussed in that specific campaign. If the donor is donating to a campaign specifically to build wells in Sub-Saharan Africa, for example, the donation form could say "donations like yours helped us build X number of wells this year, providing clean water access to X people."
Intuitive and personalized: Would you ask a donor who had previously given $500 to give $5, or vice versa? Probably not. The $5 giver is very unlikely to suddenly give $500, and they may even be intimidated out of donating at all. Meanwhile, the $500 giver may have been willing to make a much higher donation. By specifying the donation amounts based on that giver's history, you can minimize missed opportunities and customize your donation amounts for your donors.
When you simplify your giving experience through a streamlined donation form, you can inspire greater giving and help reinforce your organization's impact. It is your last chance to make a strong impression before the individual decides to donate, so you should highlight the most important details.
Enhancing Your Online Fundraising Initiatives With Neon One
Organizations can really boost donations through a strategic, well-executed online fundraising program. However, it's a lot to manage as you juggle various social media platforms, websites, payment channels, and more. To help, you may want to invest in a nonprofit CRM that will manage your fundraising in a single place. An intuitive solution will allow you to keep track of your interactions, integrate all your tools, and follow your donor's journey.
Neon CRM can help you harness the incredible benefits of online fundraising as you turn your campaign data into detailed donor stories that help guide future giving. To learn more, request a demo today!
Join the discussion in our Slack channel on connected fundraising