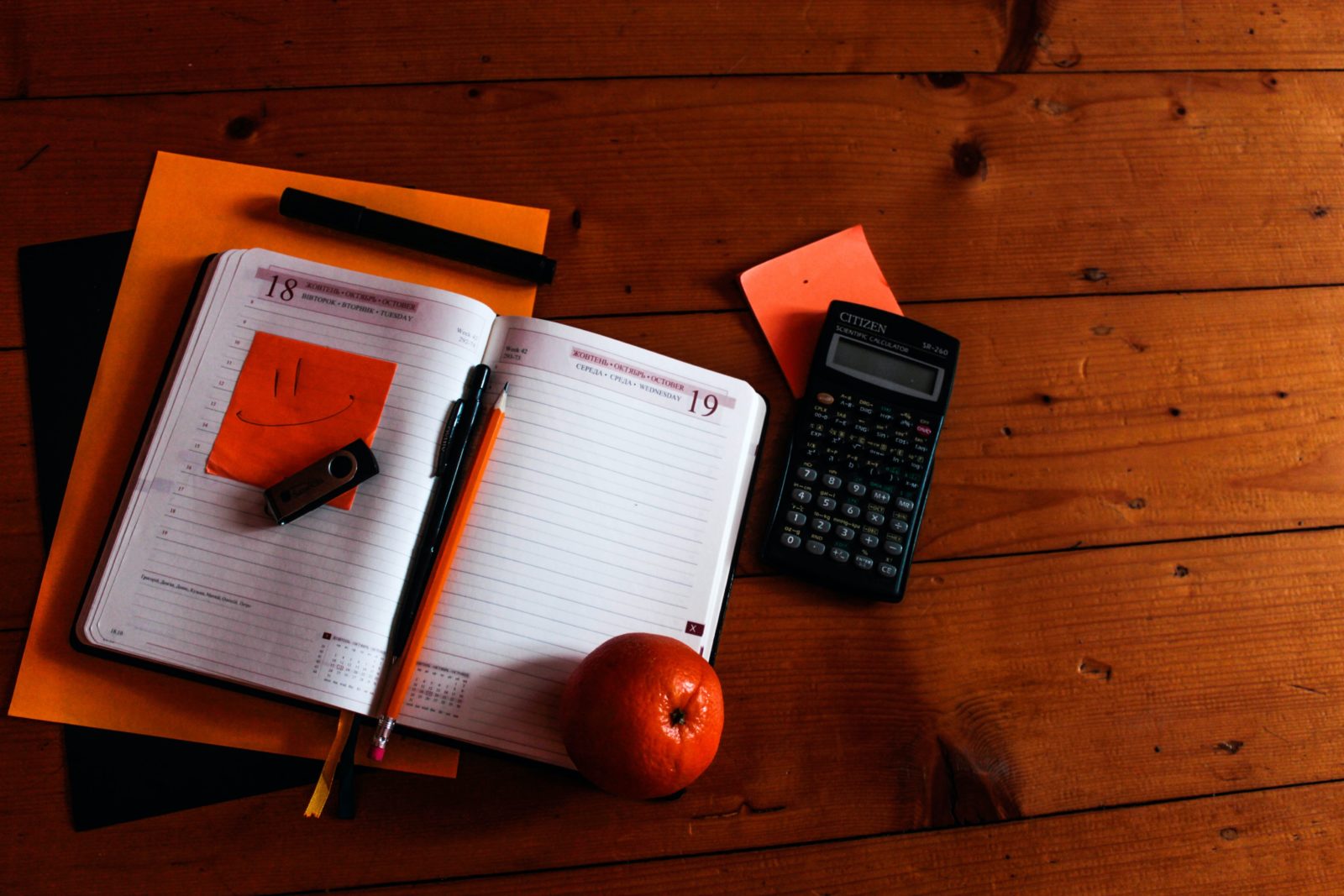 Most nonprofits tackle complex, long-term goals. With goals that big, how can you possibly measure performance? Simple. With a few nonprofit KPIs.
Key performance indicators are crucial to the success of any organization, in both the for and non-profit world. That being said, most online resources are geared toward for-profit businesses. Still, that doesn't mean nonprofits can't take advantage of these valuable metrics.
KPIs can change the way you work by helping you narrow in on what's working and what's not. In this article, we'll be sharing our favorite KPIs to track, as well as some practical tips for picking what matters to your nonprofit.
Let's get into it.
What are Nonprofit KPIs?
Nonprofit key performance indicators (also known as "KPIs") help organizations measure their performance toward both short and long-term goals. Essentially, they help you assess the overall health of your giving program over time.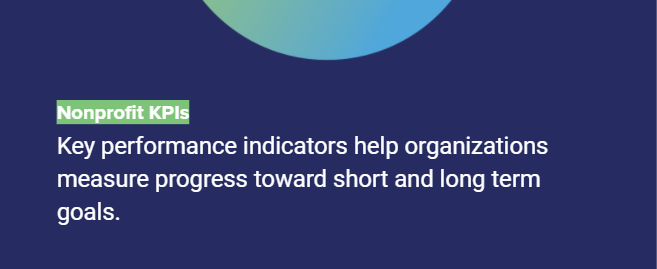 Understanding these fact-based metrics is a crucial step in becoming a more data-driven organization. Referencing real-time KPIs can help you remove "hoping for the best", allowing you to make better, smarter strategic decisions.
There are KPIs for every functional area of your nonprofit's operations: fundraising, membership, marketing and more.
Choosing what to measure should be a collaborative effort across your organization's departments. Want to have a more informed discussion? Keep on reading. We have some tips.
Leading vs Lagging Key Performance Indicators
When choosing your focus KPIs, it's good to find a mix between leading and lagging performance indicators.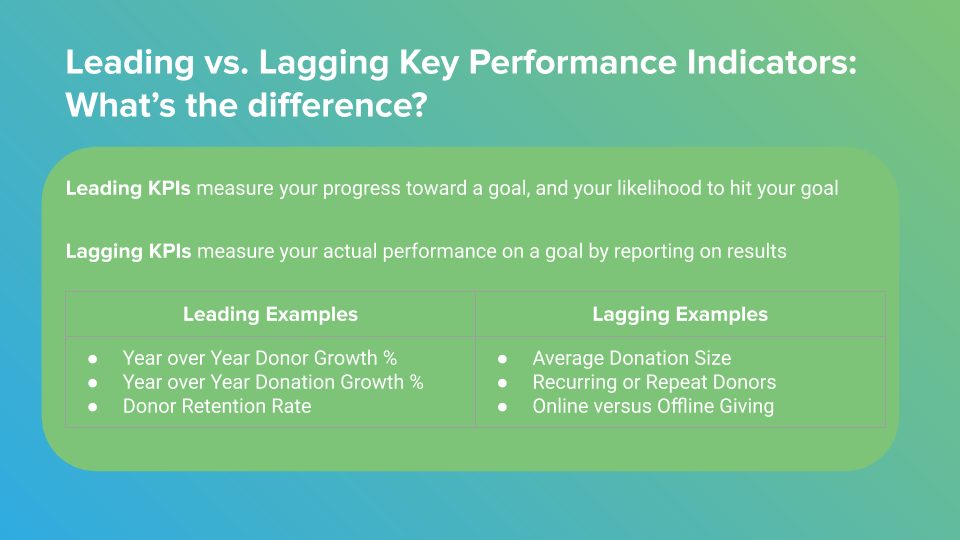 Leading indicators help you measure your progress toward a goal, and your likelihood to hit your goal. In simple terms, they help you understand whether or not you're on the right path. A few examples include your year-over-year donation or donor growth rate, or your donor retention rate.
Lagging indicators measure your actual performance on a goal by reporting on results. This gives you the proper building blocks to plan new strategies or diagnose potential issues.
Common lagging key performance indicators include average donation size, amount of recurring or repeat donors, or total amount raised during a campaign.
A balance of both types of KPI allows you to look toward the future, while keeping tabs on what is happening today.
Now that we know what nonprofit KPIs are, and how they work, we're ready to get into the list. Here are some of the top key performance indicators we rely on to measure the success of our nonprofits.
Nonprofit Fundraising KPIs
Donor Retention Rate: Total number of donors who gave both this year and last year, divided by the number of donors who gave last year.
#NeonNonprofitTip: Your donor retention rate is the best way to speak to the health of your program because it measures how many people are sticking with your organization year after year.
Average Donation Size: Total amount of gifts divided by the total number of gifts.
Recurring or Repeat Donors: Number of donors who make more than one gift in a fiscal year.
Online vs. Offline Giving: Percentage of donors who make gifts online vs. offline
New Donor Acquisition Rate: Number of new donors in a year divided by total number of donors from the previous year.
KPIs for Membership Organizations
Member Retention Rate: Total number of active members this year and last year, divided by the number of active members last year.
New Member Acquisition Rate: Number of new members in a year divided by total number of members from the previous year.
Member Churn Rate: The rate at which you're losing members.
Members Renewed This Year: The percentage of members that have signed up for renewal.
Ratio of Membership Dues Income to Non-dues Income: The amount of revenue generated by membership dues compared to the amount of revenue generated by fees beyond dues.
Nonprofit Marketing KPIs:
Donation Page Conversion Rate: The number of unique visits to an online donation page divided by total donations processed by that page.
Appeal Conversion Rate: The number of appeals sent divided by the number of donations that can be attributed to that appeal.
Fundraising ROI: The amount of money spent annually on fundraising divided by the amount raised.
Email Subscribers: The number of people who subscribe to your mailing list.
Social Media Traffic: Website or blog traffic driven by social media platforms.
Which key performance indicators do you track at your organization?
We want to hear from you. Is your top KPI on the list? If not, what is it? Let us know in the comments below.
Join the discussion in our Slack channel on connected fundraising