Now is the time to update and optimize your online donation forms and donation pages!
As online giving has become the norm, donation page best practices have evolved. What you thought worked yesterday, might be holding you back today!
If you haven't revamped your donation pages or forms recently, now's a good time to do so. The earlier you make these changes, the sooner you'll start seeing more donations!
In this essential guide, we'll be covering donation page basics, from why you need a donation page to a checklist on how to optimize your donation forms.
For easy access, we've linked all of the sections below, so you can find exactly what you're looking for:
---
Section 1
What Are Donation Pages?
You want a donation page and a donation form that converts well, leading to more donations and larger donations. That's a no-brainer.
But, before we delve into the best ways to optimize your donation page and donation forms, let's start with the basics.
How are donation pages different from donation forms? Read on to find out!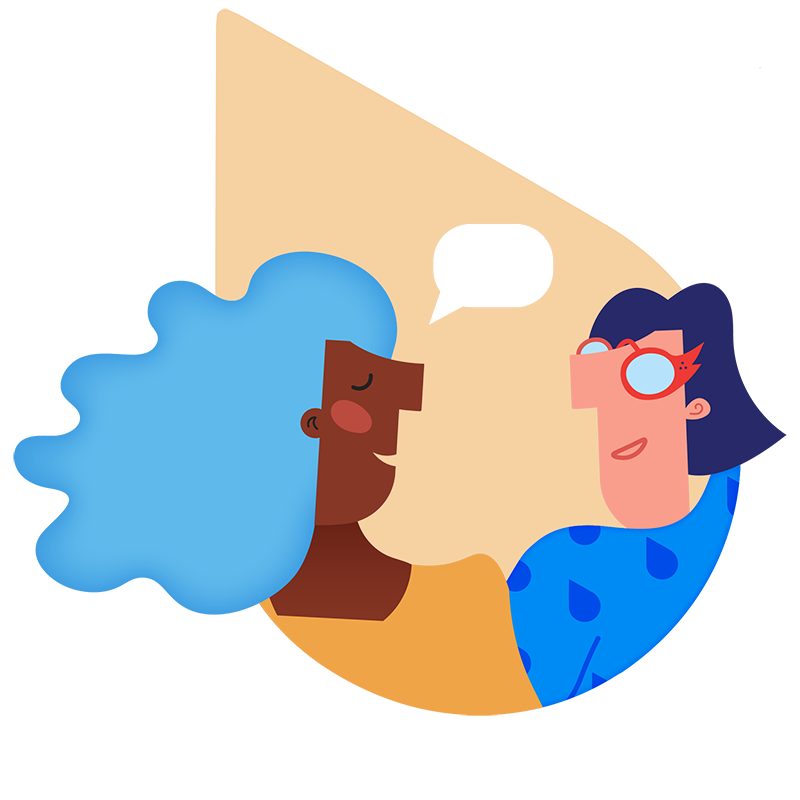 Donation Pages
Donation pages are the website landing pages that include your actual donation forms. This is where the majority of the messaging for the page lives. In just a few short sentences, you want to persuade your website visitor to start filling out the donation form.
Donation Forms
Donation forms are the tools your nonprofit uses to collect money and donor information online. When completing their gift to your nonprofit, donors simply fill out basic information, including their name, email address, and payment information.
Donation forms are embedded in the donation page that's hosted on your website (or other virtual platform). Think of the difference between the two as the difference between "where" and "how." Your donation page is where your donors go to make their gift, and the donation form is how they complete the transaction.
What's Included on a Donation Page?
While no two nonprofits are exactly the same, there are a number of best practices that come into play when building a donation page for your organization.
Here's a quick list of must-have elements for any nonprofit donation page:
A single high-impact hero image related to your mission or brand with a few lines of copy reiterates someone's decision to give (Note: If you are creating a donation page that's specific to a certain campaign, choose a hero image that relates to that campaign)
A form that collects a donor's name, email address, mailing address, communication preferences, and payment type and information (credit card or online payment field)
Donation amount suggestions with the option for donors to choose their own custom amount
Recurring and/or monthly donation options
Impact statements for your various donation amount and frequency options explaining what a gift of this size would allow your nonprofit to do
A user-friendly experience for the platform they are on (mobile, tablet, or desktop)
Social media share buttons attached to the donation confirmation page, plus copy encouraging your donor to spread the word
Beyond these basic components, you should use data from past giving campaigns to learn what kind of elements your nonprofit's donors might respond to in a donation page. Spend some time combing through your organization's donor database to see what kind of trends emerge.
As you're updating your page, you can also conduct A/B tests to learn which new elements work and which don't. An A/B test means creating two different versions of your page, sending a version of each form to different donor groups, and seeing which version of the page performs best.
In order to conduct an A/B test, you'll need to find your donation pages' conversion rates. You can calculate this by taking the number of unique visits to an online donation page divided by total donations processed by that page. You'll do this for each version of your donation page.
If you conduct an A/B test and find that one version of your new donation page has a much higher conversion rate, then that's the version you should use!
---
Section 2
Why Do You Need Great Donation Pages?
For many nonprofits, donations make up the majority of their funding. Even with other revenue coming in from channels like grants and major gifts, online donations are still an essential part of the success of your mission.
With the right donation page and form setup, anyone can give to your nonprofit instantly. The immediacy of online giving makes it extremely easy to give whenever and wherever your donor may want.
But just because someone navigates to your website—or even to your donation page—doesn't mean they will always take those last steps to donate.
With the wrong donation page, you risk losing out on donors and long-time supporters. In fact, the average nonprofit donation page sees a 50-70% abandonment rate.
If your donation page is confusing or loads slowly, or your form is too long, you may risk losing a potential donor.
---
The rest of this guide will give you the tips you need to improve, optimize, and track your donation pages to attract new donors and increase your fundraising.
---
Section 3
How to Optimize Your Online Donation Pages
What are the components of a good donation page?
Think of this section as an online donation optimization checklist that you can use to help your nonprofit create the best possible platform for giving.
Let's dig into it!
1. Branding
You have a logo, so now what? Make sure you keep your logo style consistent and include it on all of your marketing materials. That means your online donation page, too.
Fact: Branded online donation forms attract 7x more donors than non-branded forms.
What does it mean to brand your donation form?
Branding your donation form is a great way to instill trust in your donors. If your donation form looks and feels like the rest of your nonprofit's website and digital communications, donors will be more likely to complete their transaction.
This process starts with adding a high resolution, size-proportional version of your nonprofit's logo–ideally, a resolution of 72ppi or better. The next step is to make sure that the form's overall style is in line with the organization's web and print design.
For example, do you have a specific font or text color that represents your nonprofit? Your form should follow the same style guidelines you've established for other materials.
If you decide to include an engaging hero image, be sure that that image also matches the style guidelines of your website and your brand.
If you haven't established a style guide for your nonprofit, we highly recommend you take some time to do so. 
Style guides are a valuable resource in building a solid aligned brand identity. They help educate staff, volunteers, donors, and online visitors on visually communicating the nonprofit's mission.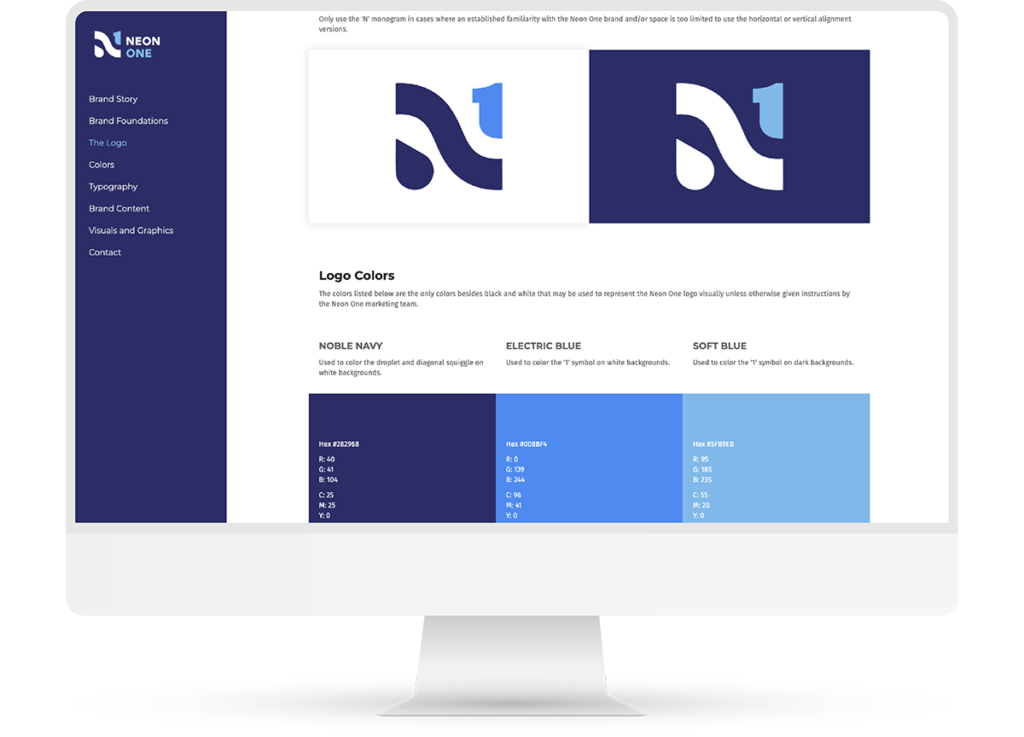 Want to see a style guide in action? Check out Neon One's style guide.
Need a little help with design? Neon Websites is here to lend you a hand. It's a website builder and CMS designed specifically for the needs of nonprofit organizations. That means it's easy to build a website—including a donation page—that encourages visitors to support your cause.
From mission-specific templates to personalization options to a seamless integration with Neon CRM, Neon Websites has everything your nonprofit needs to boost your digital presence.
2. User Experience
When we talk about user experience, we're talking about how intuitive and easy your website is to navigate. This includes any interactive elements on the site—including your donation page.
In this case, we're assessing the user experience of your donation process as a whole. The primary focus here is your donation form.
Fact: According to the most recent Nielsen Norman Group report surveying nonprofit website usability, 13% of users said difficult-to-use sites deterred them from donating.
Breaking your donation process into multiple shorter forms will create a better user experience.
The next time you are finishing a transaction online—like ordering a new pair of pants or buying movie tickets or getting a pizza for delivery—pay attention to your checkout experience.
In all likelihood, your transaction will be broken down into multiple pages. There's one page for confirming your order, one for your delivery address, one for your payment info, and one to complete the transaction.
This multi-page format is no accident. By breaking the process down into several discrete steps, the company is capitalizing on the phenomenon known as "cognitive momentum."
In other words, once you've completed the first step of your multi-page transaction, you feel like you've already committed to making the purchase. The rest is just details.
The same logic holds true for donation forms! By breaking down the process into multiple different pages, your form makes the whole transaction seem easier to complete.
The same amount of information posed to donors as a single form might overwhelm them, but embed a multi-page form on your donation page and you will likely see conversion rates rise.
Check out the image below to see how Neon CRM uses multi-page donation forms to help our clients raise more.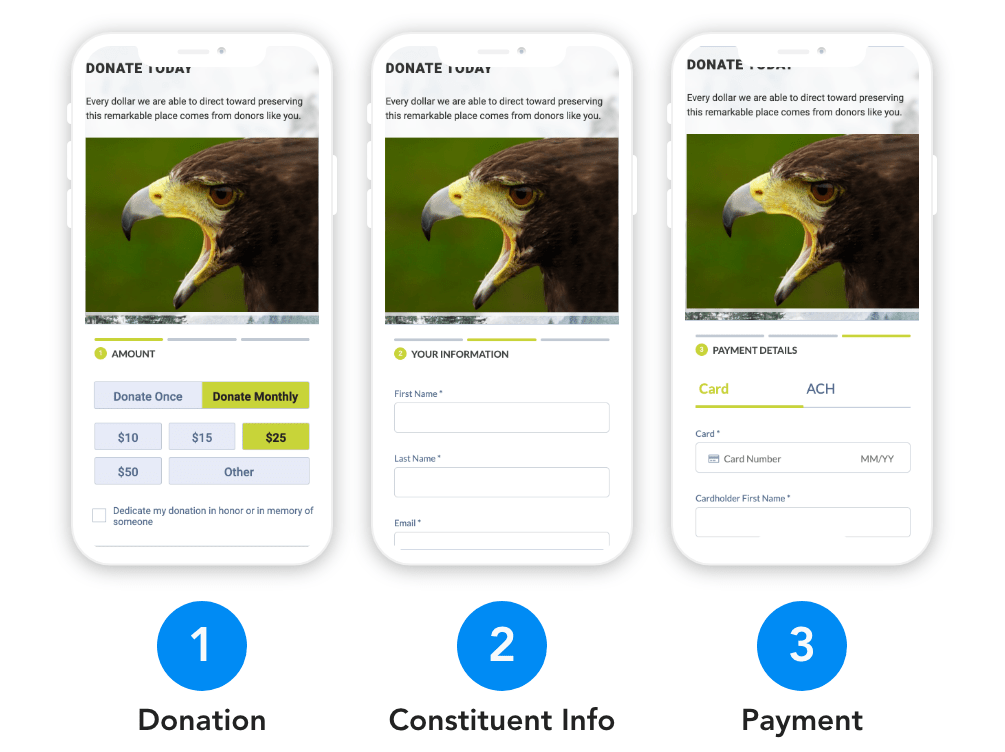 Only ask for the information you need to process their donation—then send a survey to learn more!
In the modern digital landscape, data is king. The more data you have on your donors—like their age, income, interests, address, and career information—the better you can tailor communications to specifically address their needs.
But how can you get that data? Well, while it might be tempting to add a ton of different fields to your donation form in order to learn everything there possibly is to know about your new donor, that is a temptation you should resist.
If you ask for too much information during your donation process, you increase the likelihood that the visitor fails to complete their transaction. All of a sudden, that brand new donor is just another one that got away.
But never fear! There's an easy solution. Keep the fields to a minimum on your donation form, then send your new donor a get-to-know-you donor survey soon after they've completed the transaction.
Make sure you send that survey soon, though! A donor is more likely to respond right after they've given when they are still filled with warm and fuzzy feelings towards your organization. Wait too long, and those feelings will fade.
Learn more about what questions to include in your donor survey in the article below:
When you ask for information, let them know why it's necessary
When you are asking your donor for information that goes beyond the bare minimum required to complete their transaction, let them know why you need that info.
For instance, if you're asking for their phone number, make sure that you specify that you will only contact them in case something goes wrong with their donation process.
With phone numbers, specifically, always provide context. Requesting a phone number on your donation form is a great way to kill your conversion rate.
Asking for an email address, on the other hand, is fairly standard. But be sure to let your donor know exactly what they are signing up for when they send you your email address.
Even better, include a check box that allows them to opt into a newsletter or other marketing communications. Otherwise, make clear that you are asking for their email strictly to confirm and follow up regarding their transaction.
Add security indicators to let your donors know that their information is safe
If a potential donor feels unsure about giving your organization their credit or debit card information, then they're almost surely not going to complete their donation online.
One way to help put worried minds at ease is to include a security indicator (also called a "trust" indicator) on your donation form.
What's a trust indicator? It could be something as simple as a little padlock icon or the words "secure payment" on the bottom corner of your form. Or both, like the example below: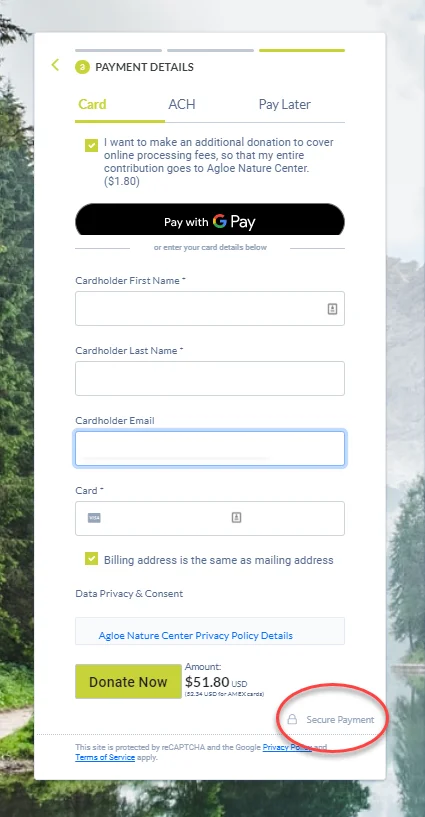 Don't believe that this will improve your conversion rates? An experiment by NextAfter found that the simple action of adding a box indicating that a form was secure resulted in a 126% increase in donations!
Create a mobile responsive online donation form
If you have a website, you want it to be usable on mobile devices. The same is true of your donation form. You want to cater to your donors, no matter which device they choose to use when visiting your site.
Your donation form should have a mobile specific format that it displays to visitors using mobile devices. If it's simply showing them the desktop version of your form, they're pretty much guaranteed to have a bad experience.
The best way to check your donation form's user experience on mobile? By testing it yourself! Have staff and volunteers at your organization try and use the donation form via their Apple and Android devices and flag any issues they encounter.
4. Social
By now, you've probably created a Facebook page and Twitter account. Maybe you've taken things to the next level with Instagram. If you're really brave, you're even on TikTok.
Now it's time to make social tools a part of your donation process.
Does social media really impact fundraising?
Social media is about building legitimacy and credibility. To do it right, you need a healthy balance of self-promotion, and helpful content sharing organizations need to meet.
A good approach is to embrace the 80/20 rule. 80% of your content should be about being helpful and informative (sharing others' content), and the remaining 20% is about all-out self-promotion.
We know it can be challenging to gauge the effectiveness of social marketing. However, adding a social share button on your donation form and page puts the power to become social advocates for your nonprofit in your donors' hands.
Every share helps expand your reach to a new network of people that weren't on your radar before.
One last quick tip that's really more about social etiquette: Thank users for their donation! Some forms forget to confirm the transaction in a friendly way. This step makes users feel comfortable about your donation process.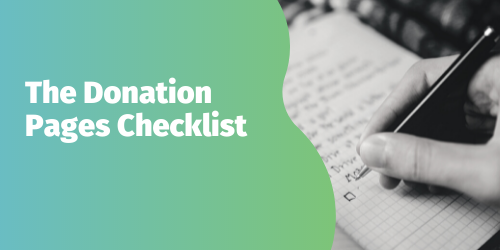 Donation Pages Checklist
Download this checklist for more ideas on how to make your donation page
more donor-friendly.
---
Section 4
What Tools Do You Need To Create Donation Pages?
As you conduct your search for the perfect donation tool, consider what specific needs your organization has right now and where you see yourself going in the future!
While many phenomenal online donation tools are out there, they're not all designed with the same purpose in mind. Each type has strengths and limitations that may or may not be compatible with your organization.
With the right software in tow, you'll be able to reach new fundraising heights and engage with your donors in a reinvigorated way.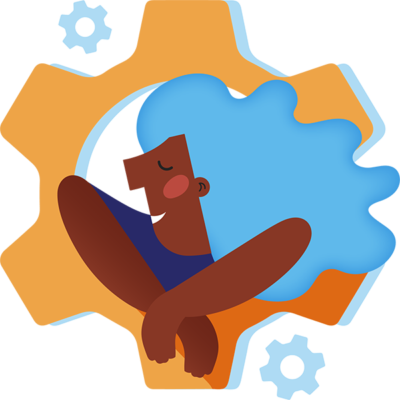 Before You Buy, Ask Yourself…
Can this software grow with our organization?
Does this product fit into our budget?
How will we manage the data we collect?
What kind of support and training comes with this software?
Does this software fit in well with our current platform(s) and tools?
Online Donation Tools & Donation Form Features You Need
1. Mobile Giving
Mobile giving encompasses any donation that's made on a mobile device—usually, smartphones and tablets.
Donors may make mobile donations through any of the following methods:
Through mobile giving, you can access your donors wherever they are. It's convenient, engaging, and widely accessible for a number of on-the-go supporters.
2. Recurring Giving
Data shows that recurring giving (sometimes referred to as sustainable or monthly giving) programs have proven to be one of the most effective and important investments a nonprofit organization can make, according to a recent Giving Study with Neon One and Searing and Duell.
With online donations, you can make recurring giving easy for your donors and increase your donor retention rates.
It's simple: All you have to do is include an option for recurring or monthly donations right under the donation amount field. If you take this approach, consider creating different suggested giving amounts (with corresponding impact statements) for this type of gift. If, for example, your suggested giving amounts on your donation form range from $30 to $300, that might be outside the range people are comfortable donating every month. Instead, set amounts that range from $15 to $100. Make sure you include the option to give a custom amount!
Try to add some different billing options, too. You can give donors the option to have their contribution automatically deducted every:
Monthly or annually are the most popular contribution types, especially if you have implemented a monthly donor program or an annual fund campaign.
Including recurring donation options on your form is an easy way for your nonprofit to build a reliable stream of income. It also allows your donors to give to your nonprofit regularly without the hassle of mailing a check each month!
3. CRM Integration
One of the significant benefits of online donations is the ability to capture information. Depending on how your online donation page is set up, you can gather donor data such as:
Name
Email address
Phone number
Mailing address
Communication preferences
Payment information
When your online donation forms are integrated with your CRM, you won't have to enter any of this information manually. Instead, accurate, instant data will be available in your database as soon as your donor clicks "submit."
How Does Neon CRM Help?
Neon CRM provides unlimited custom donation forms that are perfect for nonprofits regardless of size.
Neon CRM's software enables you to fully personalize your donation pages, including various options for branding and content.
With Neon CRM, you can create a donation form that's right for your organization.
Best of all? All of your data automatically synced up to your CRM, which eliminates the need for manual data entry.
You'll be able to access all the information you collect on your donation pages immediately, meaning less room for error and more time to focus on fundraising.
---