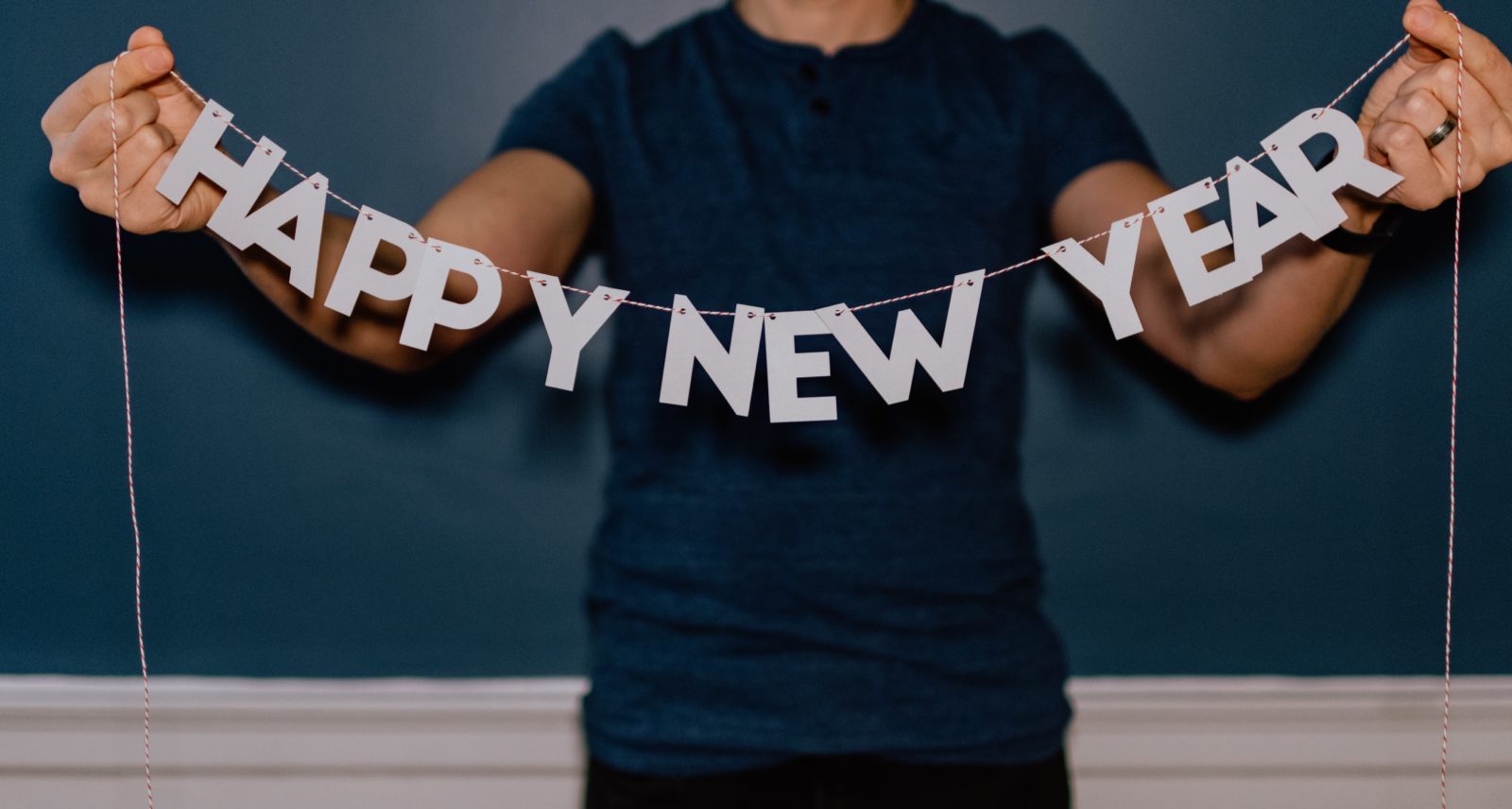 Let's just say it; we are all looking forward to a new year. 2020 was the year of quick transitions and pivots throughout the nonprofit sector (and the world). But now that we are ramping up for 2021.
With the fresh start that a new year brings, it is the perfect time to step back and reevaluate your big picture. We've included six resolutions we think every nonprofit should make for 2021: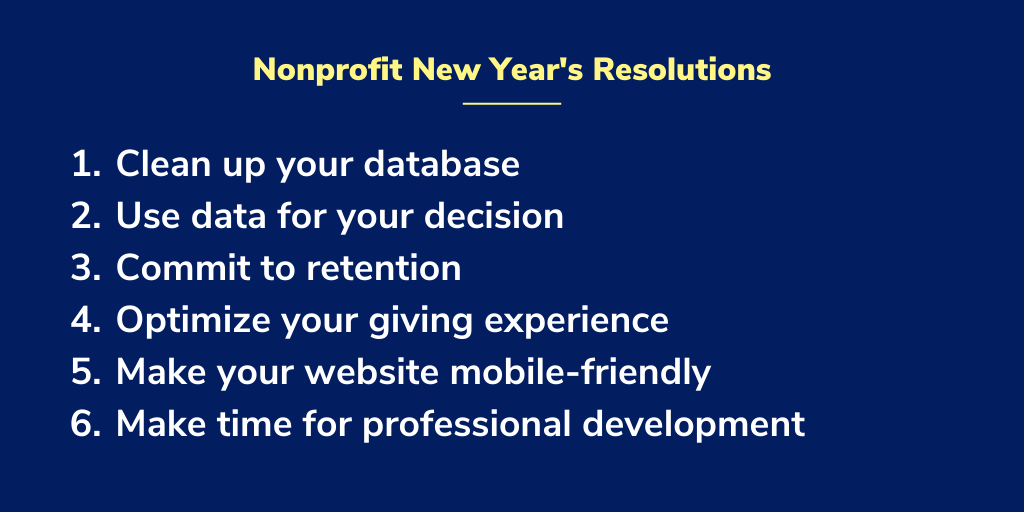 Resolution #1: Clean up your database
You deserve to take some time to wrap-up everything after year-end giving season and all the chaotic twists and turns of 2020. It's time to get organized and tie up all the loose ends in your database — so you can start 2021 with a clean slate.
We all know that better data means better fundraising, so the beginning of the year is a great time to make sure everything in your system is accurate. You want to turn your database into a fundraising machine, and doing the work up front will make your job easier.
In addition to processing and following-up on any miscellaneous transactions that have yet to be entered into your system, here are a few other things you might consider doing to start your year off right:
Make sure all records are complete. Fill in any missing info, including salutations and any other fields that could be considered "optional."
Scan gifts to ensure that everything has been recorded properly. This will help in your reporting and visualizing your performance for the past year.
Start the year off fresh with an NCOA update, if you haven't done one recently.
Consider other options that can enhance your data, like matching gift info or prospect research.
Your technology should work with you, not against you. Clean data gives your organization actionable information to develop deeper relationships with donors, increase ROI, and further your mission.
Takeaway: A clean database will provide the best foundation for lasting success throughout the year. A few hours spent cleaning everything up in January can save you a lot of stress throughout Q1.
Resolution #2: Put your data to good use
After cleaning up all that data, you'll want to make sure you put it to good use — all year long!
There's a wealth of information available to you in your nonprofit's database: donors, donations, events, communications, and much more. Use the data you already have to help inform your decisions throughout the entire year.
Go beyond just scanning donation history before reaching out to a donor. You can use the data in your system for a wide variety of uses. For example, before you send an email campaign, take a close look at your past statistics. What subject lines saw the best open rates? Was there one call-to-action that performed better than expected? Use this data from the past to help you craft your message and improve your present performance.
Think outside of the box about how you can use data to make a greater impact — your ideas might surprise you!
Takeaway: Look over past statistics to see where you can experiment with your data. Take note of all positive trends, and see where you can implement them in your 2021 strategy.
Resolution #3: Commit To Retention
As we all know, the nonprofit sector is experiencing a donor retention crisis. More than half of all donors will not go on to donate again.
We have to do better.
This year, the sector needs to commit to improving retention in whatever ways it can. Essentially, this means a greater dedication to donors and treating each donor with the respect and appreciation they deserve.
Many nonprofit experts have different ideas on how to achieve this. Choose a plan that works for your nonprofit — and if you're unsure, at least do something. A small step in the right direction can make a big difference.
One suggestion that could be applied to almost any nonprofit is to revamp your annual fund campaign (or start developing one if you haven't done so yet!). Because it's an extended effort that focuses primarily on donor stewardship and relationship-building, it's the perfect opportunity for your organization to grow your donor retention rates.
If you're looking to take a smaller step, here are some suggestions and ideas that might work for your nonprofit:
Automate confirmation and thank you emails for prompt responses
Include stats and stories that illustrate the impact of a donation in all of your thank you materials
Segment communication lists to encourage more personalized messaging
When you thank donors, ask them why they donated and where their interests lie
Don't make every interaction an appeal — reach out to donors just to say hi or thanks
There are several steps you can take to encourage retention. Pick some options that are realistic and fit well with your nonprofit's communications strategy.
And remember that retention isn't only about donors — volunteer retention is an important strategy for any nonprofit. And with volunteering at its lowest point in 10 years, it's something that your nonprofit will have to work at in 2021.
Takeaway: Your donor retention strategy can't be an afterthought. Stewardship should be an intentional, planned part of your fundraising strategy in 2021.
Resolution #4: Optimize Your Giving Experience
There's no time like the present to optimize your donation page. Put yourself in the shoes of a donor and donate to your own nonprofit. See what it's like to go through the entire donation process, noting any takeaways that surprised you.
It may also be helpful to enlist a friend, family member, or new employee who has not donated to your organization. Depending on their familiarity with your organization, they may bring a more objective perspective to the table. A fresh set of eyes can help you determine what's resonating with donors and what may be going over their heads.
Some things to keep in mind:
Is it easy to find the donation form on your website?
How long is your donation form? Are there any fields you can take out?
Do you include matching gift prompts on your form?
How long did it take to get a confirmation message or a thank you message?
Did anything about the messages stick out to you?
Do you think you would give again? Why?
Once you've completed the process, share your insights with others, and make adjustments to improve the giving experience. And when in doubt, listen to your donors — ask them what they like and dislike about the giving experience.
Takeaway: In 2021, nothing matters more than donor experience. Go beyond putting yourself in your donor's shoes by asking for direct feedback from your supporters.
Resolution #5: Make Your Website Mobile-friendly
There are thousands of statistics we could list to illustrate the importance of a mobile-friendly website. Study after study has shown that mobile-friendly websites are more effective, impactful, and trustworthy than other websites.

Don't believe us? Check out these statistics:
More than half of all internet traffic is on mobile devices
Google now shows mobile-friendly sites above mobile-unfriendly sites in search results
Nearly 10 percent of online donations are lost due to poorly designed nonprofit websites
So yes, having a mobile-friendly website is essential. And, if anything, it will get more and more important in 2021.
That's why we started Neon Web Studio, a full-service web design agency for nonprofits. All the websites we design are responsive, meaning they adjust to all screen sizes. Whether someone is viewing your website on a phone, tablet, or desktop, they'll be able to engage with your website.
If you aren't looking for a custom design, many services provide affordable template-based designs that are mobile-friendly. Look specifically for a responsive design, or your donations, search results, and credibility may suffer.
And if you need a little guidance, make sure to check out our list of top nonprofit web design tips, which will help you ensure that your website is as impactful as possible!
Takeaway: If your website isn't mobile-friendly, that should be your top priority in 2021.
Resolution #6: Make Time For Professional Development
And last but not least, take some time for your (professional) self! There are an overwhelming amount of conferences, workshops, consulting, e-books, and other resources available for nonprofit employees. Make an effort to put aside some time and funds to improve your skills in a certain area this year.
We recommend identifying at least one area or skill that you'd like to focus on. Then do your research to identify resources available. It may be something you can learn from reading an ebook, or it may be a topic you'd like to attend at a conference or workshop. If it's a system-specific skill, check with your service provider or a certified consultant for any training they offer.
Takeaway: When you invest in professional development, you also invest in your organization.
Best wishes from all of us at Neon for a happy and healthy 2021! What's on your resolution list for your nonprofit?
---