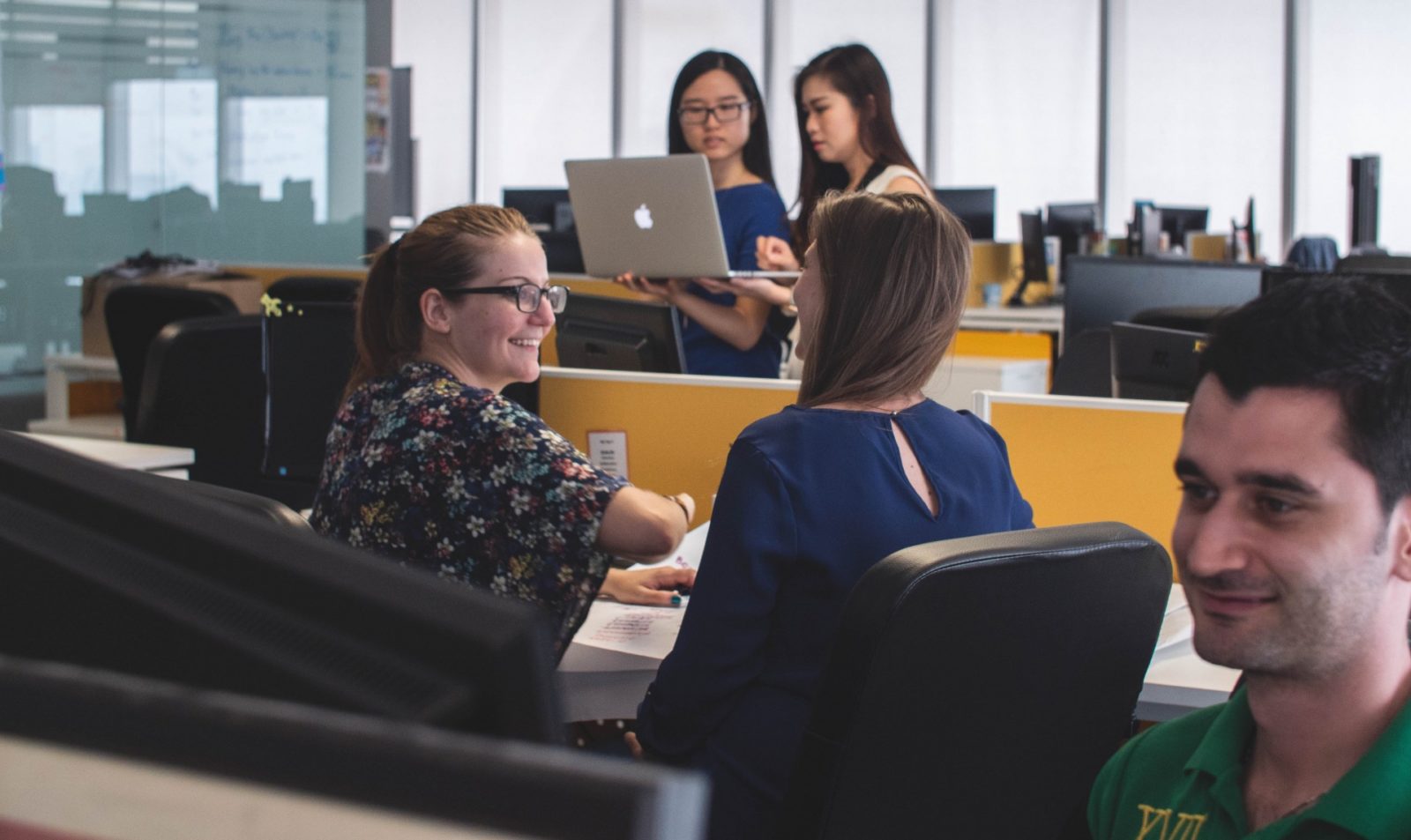 Another big announcement for Neon! We are so excited to announce our seamless software integration with Double the Donation's 360MatchPro. 360MatchPro is a matching gifts super-platform that can be used to exponentially increase your organization's matching gift revenue by automating outreach to all of your donors. As donations roll in, make sure you're making the most of matching gifts using 360MatchPro.
Matching Gifts Are Revolutionary
It's important to state the importance of matching gifts immediately because many people have never heard of them. Matching gifts provide a huge opportunity to nonprofits. It's basically a two-for-one special, and who doesn't love a special? That's why we have added matching gifts to our extensive suite of NeonCRM features. But what exactly are matching gifts?
The short version: matching gifts are donations made by a company to a nonprofit that an employee of that company has already donated to.
The long version: there's much more to it.
It's important for any person or organization trying to get a grip on matching gifts to familiarize themselves with the elements of all matching gift guidelines. Although all guidelines are unique to the company, the elements are always the same.
We're going to break down these elements so that you will be able to recognize them as you continue your fundraising efforts.
Elements Of Matching Gifts Guidelines
The amount that a company will give in relation to the employee's initial donation is known as the match ratio. The most common match ratio is 1:1, which indicates an exact match. The match ratio can change based on a few factors.
Sometimes the match ratio changes based on the level of employment. Sometimes the ratio can change based on the amount that the employee has donated. For example, some employees at American Express qualify to have the first $1,000 matched at a 2:1 ratio, essentially tripling those donations.
Employment status can also have a big impact on what kind of match the donor qualifies for. The most common change you'll see between employees at different levels is the match ratio. At Soros Fund Management LLC, employees are eligible for a 3:1 match ratio, while partners are eligible for a 2:1 match.
Additionally, the amount that a company is willing to match might change. Every matching gift program defines the minimum and maximum amounts that will be matched. These amounts can change based on employment level as well.
Another element that is always defined in matching gift guidelines is the eligibility of the nonprofit. When a company is defining their guidelines, they sometimes specify a more narrow group of nonprofits that they will support through their corporate philanthropy programs. An odd example of this: we've found that a lot airlines deliberately focus their philanthropy on educational nonprofits.
The last element you are sure to find in every set of matching gift guidelines is a deadline. Now this deadline can either be a set date, most often December 31 or April 15, or it could be a certain time-frame after the initial donation is made, like 90 days.
If you are using the 360MatchPro and NeonCRM integration, 360MatchPro utilizes Double the Donation's extensive database to make sure that all of your donors are provided with the unique specifications that their employer has defined for matching gifts.
This database that Double the Donation has compiled is the best in the game, which is why we're so excited to add them to our Neon One family. The database includes over 20,000 entries, including parent companies, subsidiaries, and even spelling variations so that not a single matching gift opportunity slips through the cracks.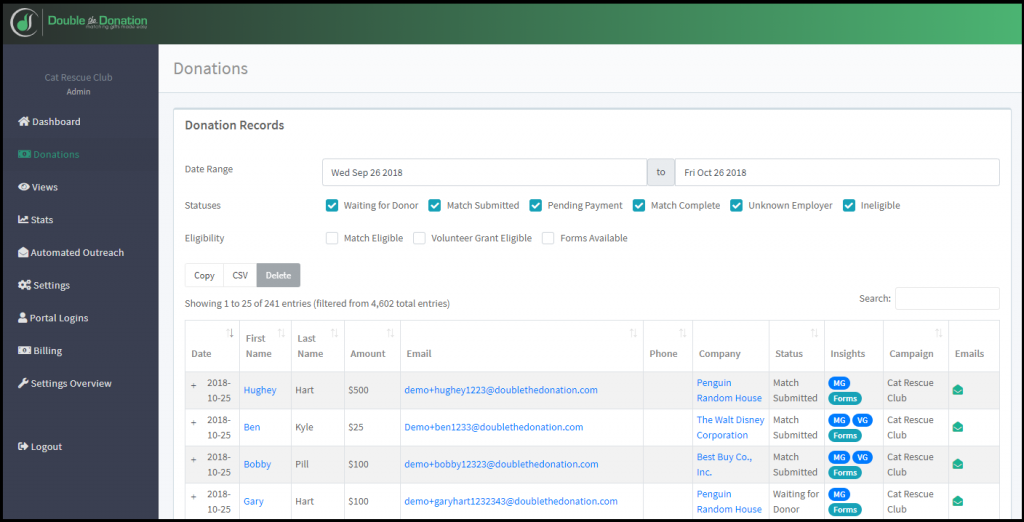 The Process of Collecting Matching Gifts
Unlike the highly customized and widely differing program guidelines, the process for collecting matching gifts is always the same.
As with all things, first thing's first. The matching gifts process is spurred by the initial donation made by an employee at a company with a matching gift program.
The second step seems simple, but is actually the trickiest step of the whole process. It is crucial that a donor submit a matching gift request to their employer. Submitting a matching gift request is fast and simple, but most donors don't know what matching gifts are, whether they are eligible, or how to submit that request.
Because of this lack of awareness, step two is where we see the most breakdown in this process, by far. That is why it is so important for organizations to let their donors know about matching gifts and offer them a way to search for their employer's matching gift program guidelines.
The third step falls on the company itself. The company will look over the request and confirm that the donor, the donation amount, and the nonprofit all qualify for a matching gift. If all of those things are in line with the company's specific guidelines, we move to the fourth and most exciting step: the nonprofit receives a check from the company!
It's so important that organizations understand their role in the matching gift process. Basically, organizations have no part in the process, but realistically, the organizations are responsible for spreading the word about matching gifts. An organization has to make sure that a donor gets past step one and has the knowledge that they need to follow through on step two.
Marketing Matching Gifts
If an organization is really committed to spreading the word about matching gifts, then marketing should be a top priority. Fortunately, we've already done the leg-work and figured out the most effective ways to inform donors about matching gifts. Let's break down the top three ways to spread the word!
Donation Form
One of the strongest and most direct ways of getting matching gift information in front of donors is by placing it directly into the donation form. We highly recommend placing a matching gift search tool in a prominent place on your donation form, like right beneath fields for the donor's name and email address, or immediately before the billing information fields.
By placing a matching gift search tool so prominently on your donation form, you are, at the very least, making donors think about how their employers might be relevant to this donation process.
Did you know that just mentioning matching gifts in fundraising appeals leads to a 71% increase in response rate and a 51% increase in the average donation amount. So what better time to inform donors about matching gifts than right on the page where a donor can still change their donation amount?
For more matching gift statistics, check out Double the Donation's website!
Confirmation Page
Another great place to incorporate matching gifts is the confirmation page that a donor is automatically directed to after a donation is made. This confirmation page is actually still a part of the donation process, which means that you can appeal to the donor while they are still feeling whatever compelled them to donate in the first place.
Use this positive intention to encourage a donor to check to see if their employer will match their donation. These donors are exactly who you want to appeal to about matching gifts because they've already proven that they want to support your organization. All you have to do is tell them how they can make their impact even greater.
Dedicated Matching Gift Page
Perhaps the most important of all our suggested marketing strategies is the creation of a dedicated matching gift page. This page can be used to inform donors about the ins and outs of matching gifts while also providing a way for them to search for their own employer's matching gift guidelines without leaving the page. Plus, this page can convert casual visitors to your website into donors actively working to get their donations matched.
You can link back to this page in every email or on any other webpages that you'd like, and we encourage you to do so! In fact, we recommend linking to this page in your email signature so that all of your communications include an opportunity to learn about matching gifts. You never know which one of these links will reach that next match-eligible donor.
Mastering Matching Gifts
Though much of fundraising is out of the organization's control, there are a few things that you can do to make sure that your fundraising is effective.
Strategic Timing
It is always important to remember the old adage, "timing is everything." Not only do you have the individual deadlines to consider, but also the way that the time of year affects giving.
Did you know that one-third of annual giving happens in December? Plus, 12% of all giving happens in the last three days of the year. It stands to reason that increase in donations should mean an increase in matching gifts, but as we've learned, that is up to the organization.
When planning year-end fundraising appeals and continuing communications, organizations should be mentioning matching gifts at every turn!
Additionally, tax season is a great time to ramp up the matching gift marketing. As people are considering their tax deductions, why not offer them another opportunity to contribute? And as we've discussed, if they're contributing, why not take a few extra moments to double the impact of that contribution?
When faced with such simple ways of making a positive impact, most donors will jump at the chance to at least check their match-eligibility. Donors want to help, and all you have to do is show them how.
Matching Gift Tools
The next step on your journey to boosting matching gift revenue involves getting familiar with matching gift software and how it works. Fortunately, the 360MatchPro and NeonCRM integration offers you plenty of access to all of these tools.
By incorporating Double the Donation's search tools on your website, your donors will have access to the world's best matching gift database. Did you know that visitors to your site are 84% more likely to donate if they know that their donation will be matched? This is why it is so important to make sure that donors have a way of confirming their own match-eligibility.
The most robust of all of Double the Donation's product offerings, 360MatchPro is so thorough that it can basically take the place of a matching gifts agent in your organization. The most revolutionary feature of 360MatchPro is its automated functionality, which removes human error from the matching gifts equation.
When a donation flows from your Neon account into 360MatchPro, a follow-up email is automatically triggered out to the donor encouraging them to check their match-eligibility. That same email then encourages the donor to submit their matching gift request and report that submission back to you.
With the new 360MatchPro and NeonCRM integration, automating your matching gift process has never been easier. Simply input a couple items from your NeonCRM account into your 360MatchPro portal, and your data from NeonCRM will automatically flow in. Once donation information begins to flow in, email automation begins as well. You will be raking in the matching gifts in no time!
Takeaway: Matching gifts are a huge source of untapped income for nonprofit organizations, so why not start claiming some of that revenue? $4-7 billion in matching gift revenue goes unclaimed every year, which gives your organization 4-7 billion reasons to start focusing on matching gifts!
Learn More on How to Set Up the 360MatchPro and NeonCRM integration
Join the discussion in our Slack channel on connected fundraising