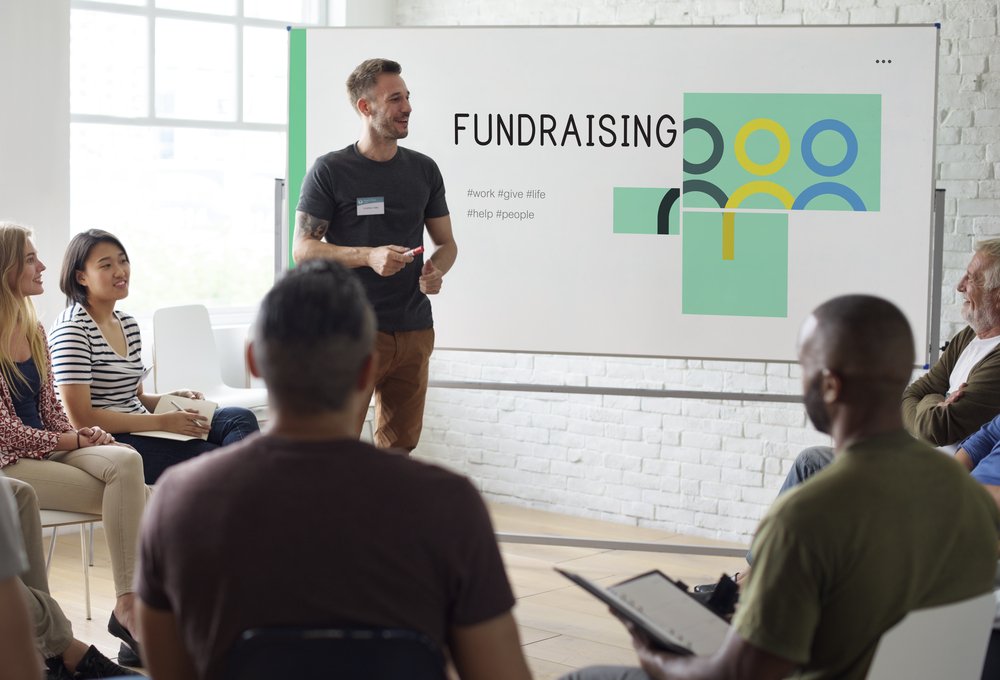 Sending emails, creating and scheduling content, following up with donors, managing payments, and handling the bookkeeping are all time-consuming tasks that can get out of hand if your nonprofit is dependent on manual processes. Luckily there are a lot of integrated fundraising tools for nonprofits that eliminate these inefficiencies so each step in your donor's journey can flow into the next.
What Is an Integrated Fundraising Tool?
While it's easy to break down the donor life cycle into three stages—acquisition, retention, and advocacy—it's much harder to track all of the small tasks, apps, and strategies that move donors through those stages during a fundraising campaign. Let's look at a common scenario—a donation from an online fundraiser—to break down all the tools involved.
A woman scrolling Facebook sees a post in her recommended feed for an organization that runs food banks in her area. The post is for a fundraiser requesting both direct donations of money through their online platform as well as physical donations of baby formula, diapers, and personal hygiene items. The woman decides to donate $50 on the nonprofit's website. Afterwards, she is emailed a receipt for her donation; a few days later, she also receives a separate email thanking her for her donation. A week later she receives a third email letting her know of a critical shortage of baby formula and asking for her help. She chooses to donate a case of baby formula to one of the food banks near her. She receives a receipt for the value of her donation and another personalized thank-you email.
That entire process requires several different tools. Here are just a few:
Donor database
Website and donation pages
Content Management System (CMS)
Content calendar app
Email w/ templates
Receipting software
Payment portals
Social media
Bookkeeping software
Workflow planners
Mobile app for in-person donations
Spreadsheets for donation tracking
Encryption tool for safe payments
Now imagine what would happen if none of these tools spoke to each other. The nonprofit would send the thank-you email, manually use her payment information to create a record, and then separately enter the financial information into their bookkeeping software. They would have to do it all again the second time when she made the physical donation, and they could easily create a duplicate record by accident.
With integrated fundraising tools that can speak to each other, all this information flows from one step into the next.
The donor's payment information is collected and used to populate a record in the donor database.
Information on how that donor came to the page and specific actions they took is also collected and added to the record.
It's used to personalize an email template that sends a detailed donation receipt and a thank-you letter referencing the specific amount given.
When the donor returns to make her physical donation, her record is immediately pulled and the information from that connection is collected as well.
It's only possible to do this through integrated tools because those steps are so closely interconnected. Luckily, integrated fundraising tools are widely available. Most of the common ones you use every day will have some out-of-the-box connections to other programs. You just have to make sure to double-check which integrations a product can support before you buy it.
Choosing the Right Integrated Fundraising Tools for Nonprofits
It's hard to recommend any specific integrated fundraising tools because every nonprofit has a different tech ecosystem. That's why the best way to find the right tools for your nonprofit to add is to look at what you already have. You shouldn't have to reinvent your entire ecosystem just to add a new feature.
You can handle this by doing a bit of an audit on your existing software and how you use it. Break it down into three categories:
Regular use: These are software programs that are crucial for every fundraiser, like your email platform, donor database, bookkeeping software, and payment portals.
Occasional but critical use: These may be software programs that you only use occasionally, but their purpose is crucial. Wealth screening tools are a great example. You're probably not prospecting for major donors every fundraiser, but it's still an important task you'll regularly complete.
Replaceable: Replaceable software is something that offers a function that you could easily replicate. The thing that's really important in them is the data. A good example is an Excel spreadsheet. While many nonprofits have created some incredibly impressive donor databases in Excel, just about any nonprofit database software can easily recreate all those functions.
When you're ready to buy a new tool, you'll now have the information you need to make sure it can be integrated into your tech ecosystem. When you're researching the tool, look for a page that lists its integrations or partners. That means that they work together to create programs that connect. Ideally, their integrations will match all your regular and crucial use tools.
For your replaceable tools, you may need some help with data migration, or moving your data to a new system from an old one. Some companies will also have implementation teams in place to help you transfer your information out of old, outdated, or siloed systems.
Supporting Your Tools With an Integrated CRM
A CRM can act as the software hub for a nonprofit: The system where all their fundraising tools connect. With it, you can build new workflows and trigger tasks from all your platforms in a single space. That allows you to take advantage of automation and personalization in a way that manual siloed systems can't.
Most modern fundraising tools for nonprofits are integrated in some way. But your organization has its own unique technology ecosystem. Look for tools that integrate with your existing processes to make the transition easier.
Neon CRM works with over 50 trusted partners to offer the best fundraising tools for nonprofits. With Neon CRM integrations, you'll have everything you need to manage your campaigns, connect with donors, and reach more supporters. To see how it works, request a demo.
Join the discussion in our Slack channel on connected fundraising