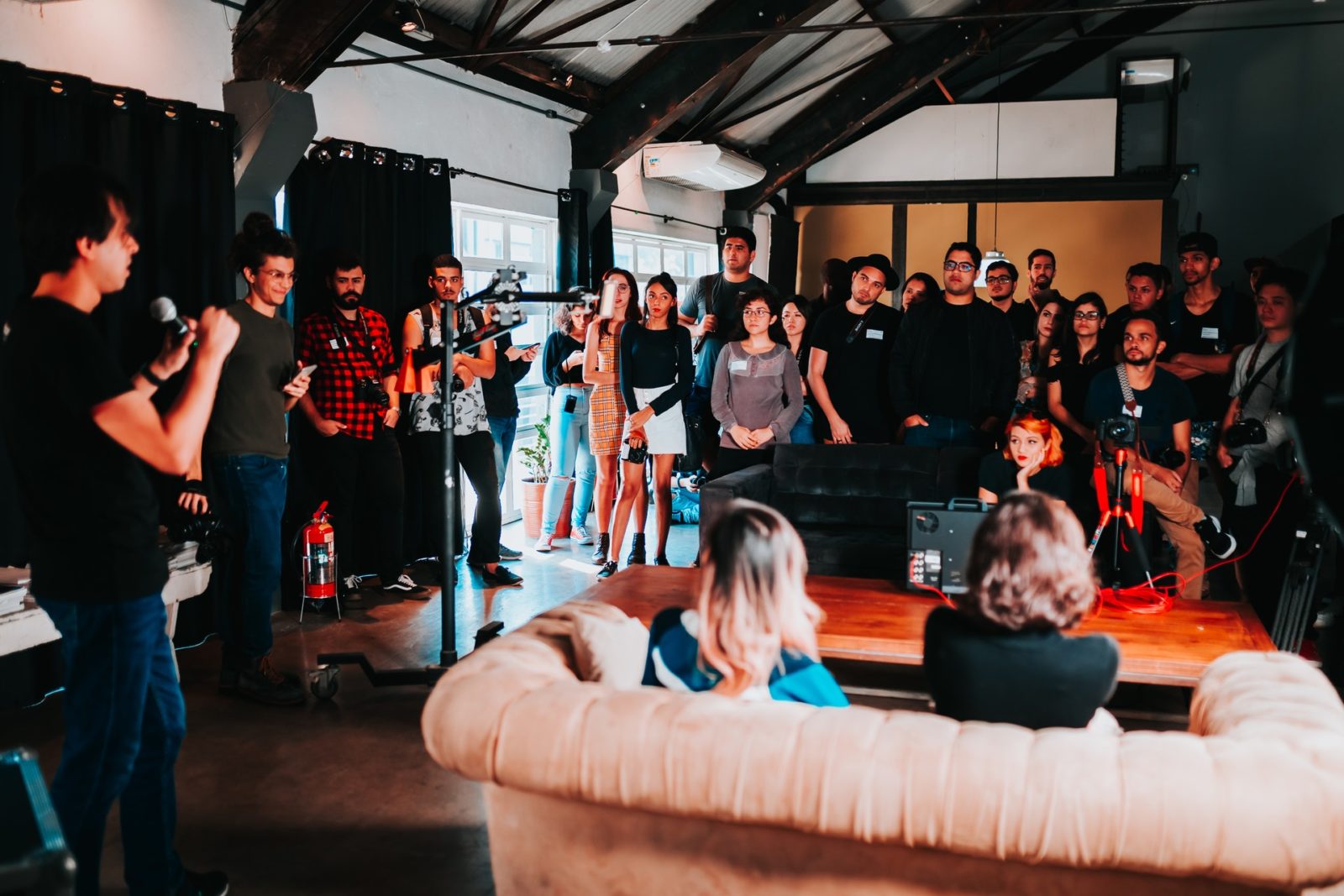 Events Management Software Features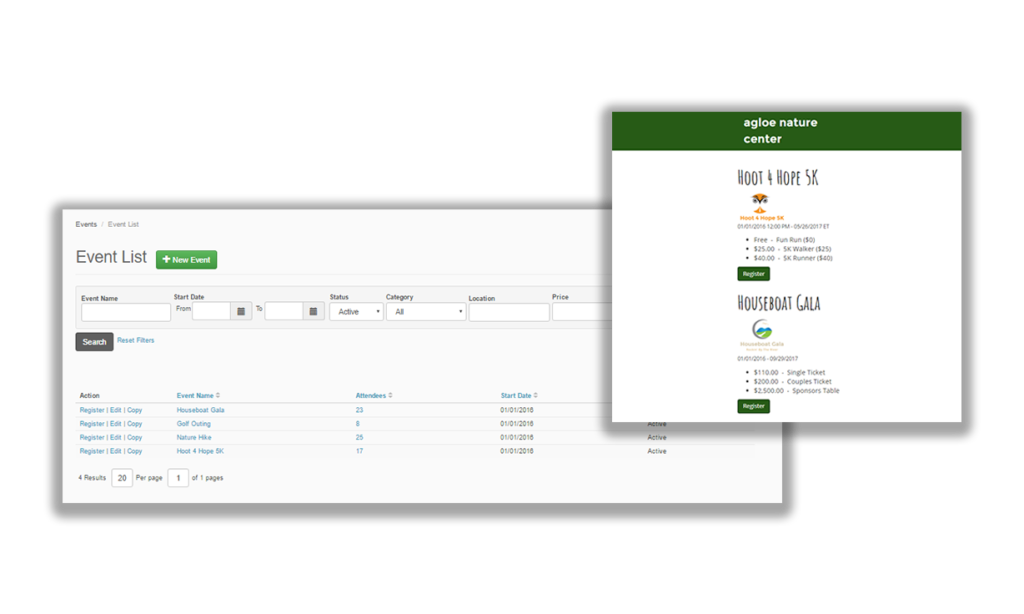 Dynamic Event Listings
Plan ahead with an automatically updated event listing on your website.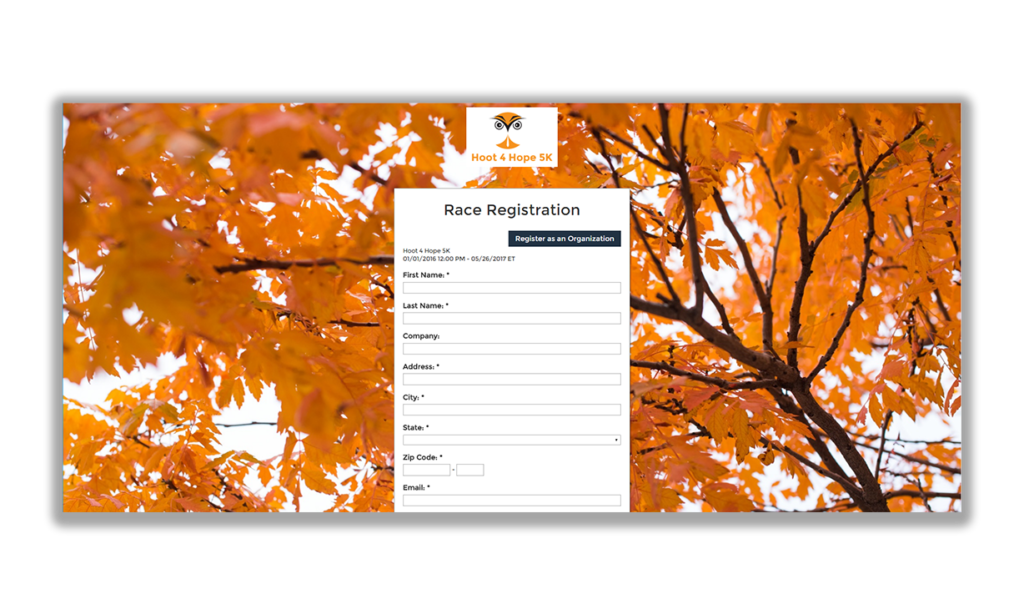 Online Event Registration
Manage registration for multiple events at once — and save time.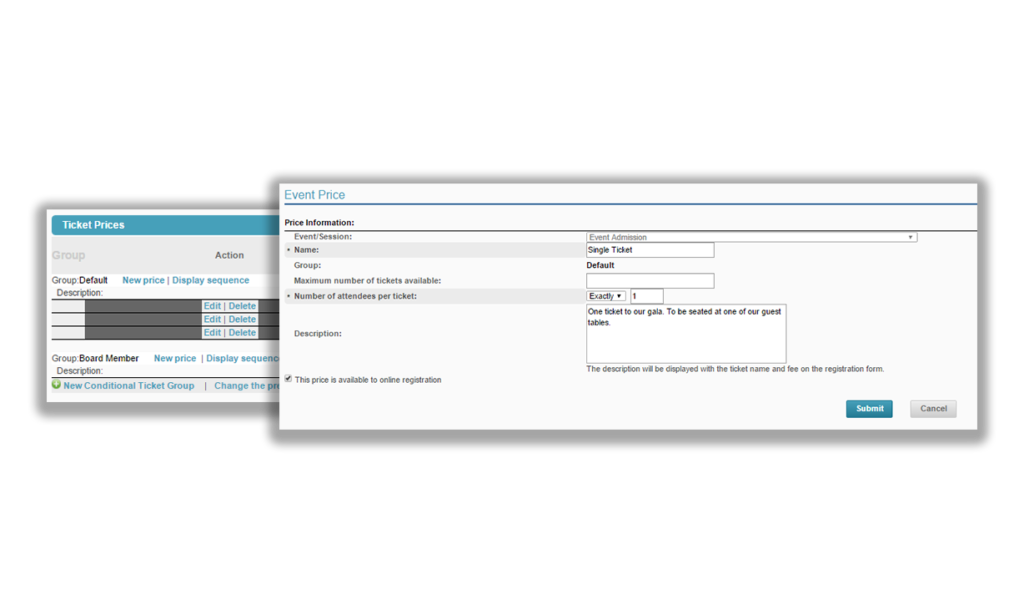 Smart Event Ticketing
Manage event ticketing with customized pricing, multiple ticket types, and more.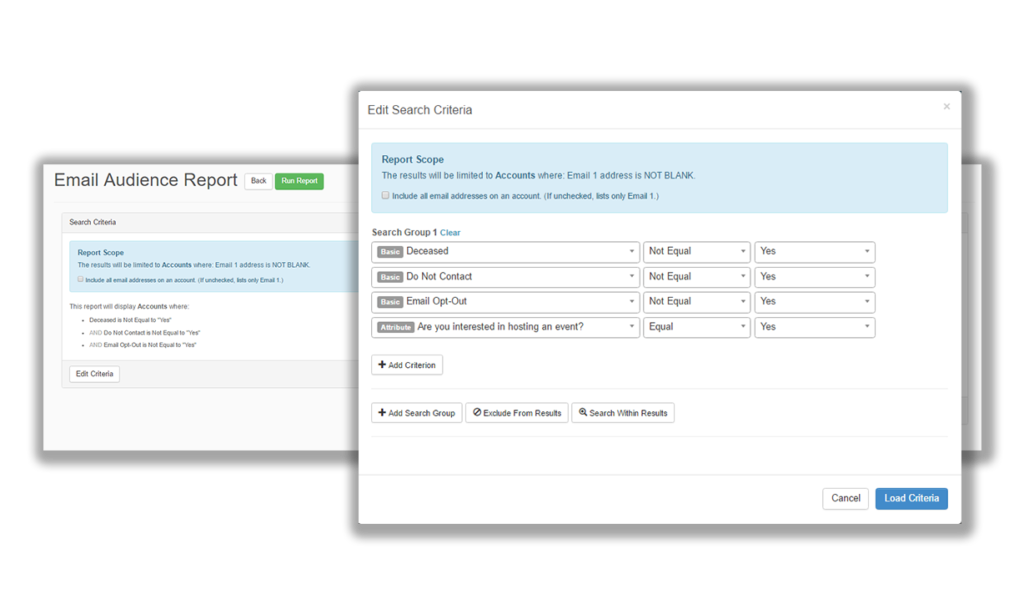 Event Reporting & Analytics
Leverage event data with custom reports & performance tracking.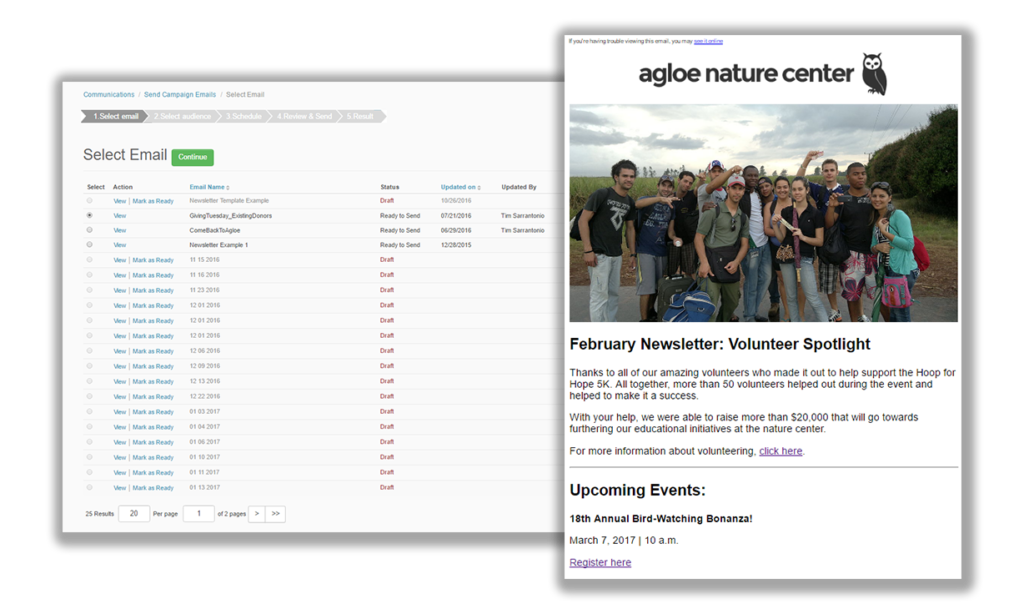 Event Communications Suite
Reach your event attendees — and keep them engaged after.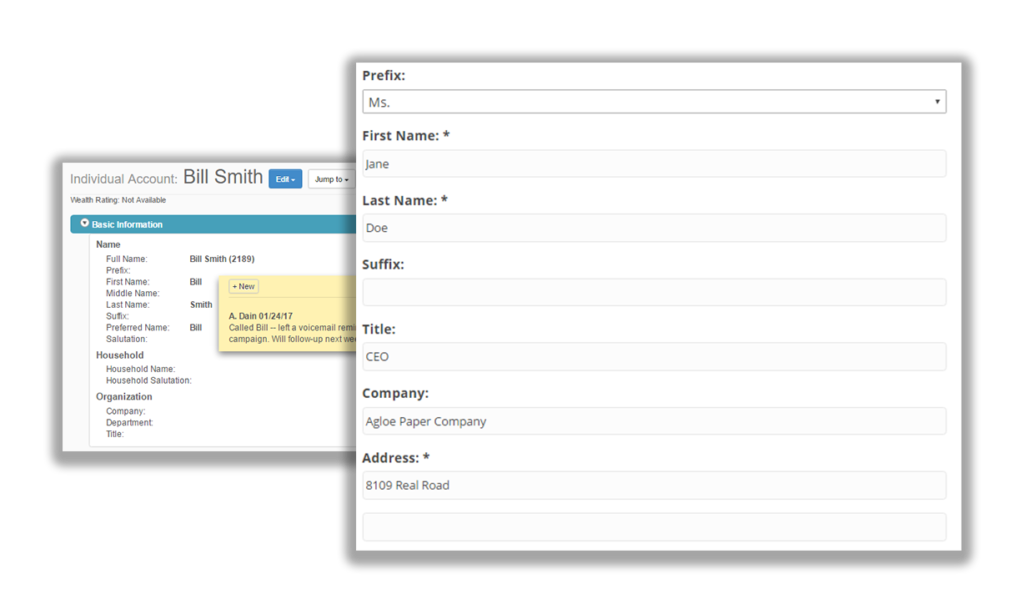 Better Attendee Tracking
Track registration, attendance, and follow-ups for event attendees.
Planning the Fundraising Event
Choose the type of event | Set a budget
Find a target audience | Pick a time and date
Determine the type of fundraising event you want to host
Decide On Your Purpose for Hosting the Event
Are you planning a fundraising event solely in order to raise money for a specific project? Perhaps you're throwing a fundraiser in the hopes of increasing your membership count. Alternatively, you could be looking to steward existing donors with an event. Before you commit to a type of fundraising event, you must first decide why you're throwing it in the first place.

Set a Goal for Your Fundraising Event
If you're throwing an event in the hopes of funding a project, set a concrete goal, such as $10,000. Likewise, if the event's purpose is to increase membership, you'll want to decide a quantifiable goal, like 15 new members. If you're hosting an event in the name of stewardship, your goals may not be as definable, but you should still have an idea of what success looks like.

Find an Event That Meets Both Needs
The perfect event will meet at the intersection of purpose and scope. If your purpose is to raise money for a specific project, and your goal is to raise $5,000, you probably won't want to host a gala. The size and expense of a gala just wouldn't mesh well with your ultimate goal. The point is: your fundraising event planning should satisfy your purpose and fit in with your goals.
Set a budget for your fundraiser.
STEP 1: CREATE A LIST OF ITEMS YOU'LL NEED
Estimate what you think you're going to require. These items might already be a part of your event checklist!
Once you've nailed down a rough idea of items you'll need, you're going to want to open up a spreadsheet. Make columns with titles along the lines of: "Item," "Description," "Amount needed," "Estimated cost," and "Actual cost."
You don't have to fill these columns in just yet!
STEP 2: ENTER DESCRIPTIONS INTO YOUR SPREADSHEET
To keep all of your specifications straight, it may be helpful to enter particular descriptions into your spreadsheet. They don't have to be extensive, but they should give some hint as to the needs of your organization.
STEP 3: RESEARCH ITEMS IN YOUR BUDGET
Do some research on each of the items in your proposed budget. You may need to call your prospective venue or chat with a couple of different caterers to get an idea of those larger, less standardized costs.
Fill in the "Estimated Cost" column with your best (educated) guesses. You can use eCommerce websites like Amazon to get a general idea of what things may cost, though if possible it is great to use local vendors!
STEP 4: ADD UP THE "ESTIMATED COST" COLUMN
With all of the educated guesses filled in, you can then add up the "Estimated Cost" column.
That total should give you a good idea of your overall budget.
STEP 5: PAD BUDGET FOR UNEXPECTED EXPENSES
Of course, we all know that extenuating circumstances arise. In order to prepare for the worst case scenario, it's important to add in a little cushioning to your initial estimated budget.
There will probably be hidden costs around every corner. Don't forget to account for easy-to-forget realities, like taxes.
STEP 6: FILL IN ACTUAL COST (ONCE THE EVENT IS OVER)
The final step in crafting your budget will actually come once you've finalized every detail, and that most likely won't be until after your event has ended.
The "Actual Cost" column is an important column to keep for future reference.

Find your target audience for your charity event.

What action do you want your audience to take?
Are you hosting an event where the primary action is donating a large sum of money by the end of the evening? Or is the focus of the event volunteering? Depending on the action that you want the audience to take, you'll be targeting different individuals. The donor who looks forward to your elegant annual campaign gala probably wouldn't be interested in digging up a garden.

What demographics are most likely to take action?
Age group, location, occupation, and family status will all have a bearing on whether or not certain donors will be interested in your event. Let's say, for instance, that you're hosting a fundraising carnival. You'll want to be sure to invite children (age group) who are nearby (location) with parents (family status) who can afford to take their kids to a carnival (occupation).

What are your target audience's interests and habits?
When trying to figure out your ideal audience, you'll also want to take into consideration your donors' interests, hobbies, values, past charitable giving, and volunteering habits. In examining your donor database, you may find that you have a number of donors who really enjoy being active. In that case, those donors would be perfect for your next 5K fundraiser.
Pick a time and date for your event.

Allow 2 Months for Every 100 Guests
If you've got a guest list of 300 people, your fundraising event planning should start at least 6 months in advance. This will give your organization ample time to raise money and receive all RSVPs.

Make Sure You Don't Conflict with Major Events
Few things would be worse than realizing that you arranged your entire fundraiser around a date and time that coincide with a major event, like an awards show or the Super Bowl.

Pay Attention to Venue Cost
Weekdays are notoriously less expensive than weekends for booking most venues. Make sure you're willing to pay extra if you're planning your event on a Saturday or Sunday.

Keep to Annual Event Traditions
Now is not the time to break traditions. Your donors will be expecting your annual event to be the same time each year; don't disappoint them by changing your timeline last minute.
Prepping the Event
Event paperwork | Concrete arrangements
Incorporate marketing | Sell tickets
See if you need to fill out any event paperwork.

Health Code Compliance
If you're serving or selling food at your fundraising event, you may need to check with the health department to make sure you're in compliance with any and all regulations.

Gaming Authority
If you're hosting a raffle or some other type of gambling fundraiser, you might have to fill out paperwork with the local or state gaming authority.
Make concrete arrangements.

Find a Venue
Finding a proper venue should coincide with picking a date and time. In order to finalize all three, your nonprofit should negotiate, look into various options, and ultimately choose the event space that will be most conducive to the type of fundraising event you're throwing.

Book Caterers
By this point, you will probably have spoken to at least one catering company to gauge prices for your budget. During your fundraising event planning, find the time to settle on your favorite (or the one most willing to work with your budget) and book them for your event date–well in advance, of course!

Purchase Promotional Items
It's time to purchase any materials or tools you might need to promote your event. Consider which channels you'd like to market your event through, and make sure you have everything you need to get the word out!

Buy Necessary Supplies
Some venues will provide you with all of the supplies you'll need (sound equipment, tables, chairs). But many won't. In any case, it's crucial to set time and money aside to purchase any necessary items you may be lacking before the event.
Incorporate marketing into your fundraising event planning.
Offline Marketing

Direct Mail
Direct mail marketing involves sending out information about your upcoming event through the mail. Because recipients can tack your direct mail up on their fridges, they're unlikely to forget about your fundraiser.

Print Ads
Print advertisements include media like newspaper ads, magazine ads, bus stop ads, and billboards. People walking down the street or perusing a newspaper might stumble upon an ad for your event and be interested in attending.

Word-of-Mouth
Word-of-mouth marketing refers to actively encouraging conversations throughout a given network of supporters. It's a seemingly more natural, organic way of spreading the news about your upcoming fundraising event.

Flyers
Flyers are promotional materials in the form of posters that are tacked up around town or pamphlets that are passed around. Because they're so easy to disseminate, you can post up and pass around flyers all over town in no time.
Online Marketing

Crowdfunding Pages
Crowdfunding pages allow your supporters to raise money and awareness for your event with a webpage. Your supporters are spreading the word, so there's more trust involved and a wider network to be reached.

Websites
Event websites are created specifically to sell tickets, raise awareness, and provide information about a fundraiser. If an attendee has a question, they can just refer to the page.

Facebook and Twitter
Social media sites like Facebook and Twitter allow nonprofits to create events and unique hashtags to advertise them. They're easy to use, and the majority of your constituents are likely to be on at least one of these platforms.

Instagram
Instagram is an image-focused social media site that highlights the visual aspects of your fundraising event. People process images 60,000 times faster than they do words; therefore, posting a picture will get a greater response than writing a status.
Sell tickets for your charity event.

Start Selling Early
Many nonprofits believe they have to wait until their invitations are sent out in order to start selling tickets. The truth is: you should absolutely start selling tickets well before you mail out invitations. The earlier you get the bulk of your tickets sold, the better!

Use Supporters' Networks
In the same vein as peer-to-peer fundraising, making the most of your supporters' networks means having active members reach out to their connections. Your fundraising event planning should include having supporters sell tickets to their friends, families, coworkers, and more.

Send Out Save-the-Dates
Preceding or following your invitations, send out save-the-dates in order to remind people of your upcoming event. Save-the-dates are simple but effective reminders that can be put up on the fridge or tacked on to a memo board.

Sell to Groups
Selling discounted tickets for bulk purchasing is great for your organization as well as for your donors. They'll feel like they're getting a steal by booking a large group, but really, they're helping you sell all of your tickets more quickly.
Launching the Event
Set up venue | Practice a run-through
Monitor engagement | Have fun!
Set up the venue on the day of the fundraiser.
Organizing People

Entertainment
If you're having musicians, DJs, or speakers as your entertainment, call them ahead of time to make sure they know where to go, where to park, and what time everything starts.

Volunteers
Your fundraising event planning will have likely led to multiple levels of volunteers for the day of the event. Be sure that everyone on your team knows the drill, and have a roster to keep track of them, if need be.

Photographers
Set up your event photographers right where the action is going to be. Give them the hottest spot in the house, so they can snap the best shots.

Clean-Up Crew
Though you won't need to enlist their help until after the event, it's important to coordinate your ending time with your clean-up crew, whether they're professional or just volunteers.
Putting Things in Place

Registration Tables
If you're hosting a 5K fun run, then you'll definitely want to set up your last-minute registration tables early. In any case, it's a good idea to have a few extra tickets available at the door.

Name Tags
Be sure you have enough name tags, name plates, and bidding paddles (if you're running a charity auction) to accommodate all of your guests–plus a few more who may show up!

Refreshments
Be sure you have enough name tags, name plates, and bidding paddles (if you're running a charity auction) to accommodate all of your guests–plus a few more who may show up!

Promotional Items
Ensure that all promotional items, like T-shirts or other apparel items, are fully stocked and ready to be passed out or sold at your fundraising event.
Practice a run-through of the event.

People
In order to have a truly successful fundraising event, you'll want to be sure that your volunteers, hosts, and any key speakers have had a chance to run through the script of the evening (or day) at least once. Leave enough time to work out any kinks, questions, or inconsistencies.

Technology
Just as you'll want to address any issues with your event staff and entertainment, you'll also want to set aside time to test and resolve any issues with your sound system, fundraising thermometer, and payment processing technology before the fundraiser starts.
Pay attention to engagement during your fundraising event.
Online

Use #Hashtags
During your fundraising event planning, plan to have an event-specific hashtag for your Twitter, Instagram, and Facebook is an easy, fool-proof way to track engagement before, during, and after the fundraiser.

Text Throughout
Encourage your fundraising event attendees to text your nonprofit's designated number with song requests, live suggestions, and any feedback they may have.
Offline

Talk to Attendees
The best way to gauge your donors' feelings about your event is to ask them! Strike up a casual conversation, and you'll likely learn more about both them and your event than you could otherwise.

Give People Programs
Just so that everyone is on the same page during your event, be sure to provide your guests with detailed programs to let them know what's coming next!
Have fun with it!

Have a Great Attitude!
It's really easy to get caught up in the stress of planning and pulling off a fundraising event. But you've made it to the proverbial finish line; it's okay to relax a little and switch from harried planning mode to easy-breezy party mode!

Enjoy the food and drink!
Just as it's easy to maintain a stressed-out attitude during your fundraiser, it's also easy to forget to feed yourself. Don't let that happen to you and your staff. Remember to take care of yourself and enjoy that food you paid for!

Dance and Let Loose!
Chances are, this is your one night per year to let loose. Don't miss the opportunity to dance, laugh, play, and have fun. After all, you've definitely earned it. There will be time to worry about planning your next event later!
Following Up
Close out | Thank you letters
Update attendees | Analyze event data
Close out the event the right way.

Input Data in Donor Database
It's highly likely that you'll have a large influx of new donor data in the wake of your fundraising event. Make sure that you file it away accordingly in your CRM.

Draft and Send Thank-You Letters
Sending a well-written thank-you letter is one of the best things you can do right after an event. Put them in the mail no more than 48 hours after the event ends.

Make Sure Vendors Receive Payment
In order to close your event out fully, you'll need to pay your vendors. That includes giving caterers, musicians, and cleaning crew their dues.
Write the best thank you letters.

Begin with the P.S. in mind
Decades of eye-motion studies have revealed that letter recipients read their names first and the P.S. line second. Add an extra "Thank you" to the end of your letter!

Write Conversationally
Your attendees don't want to read a thesis paper. Let them know how much you appreciate them as though you were speaking with them in person.

Make Formatting Easy to Read
Use a larger font than you think you'll need, keep it short and sweet, and don't employ any colors that are difficult to read, and you should be good to go!

Say "Thank You" More Than Once
It never hurts to say "thank you" more than once. Your donors have helped you pull off something spectacular; make sure they know you're grateful!
Update attendees on progress.

When should you follow up?
As we mentioned earlier, it's important to follow up with a thank you letter immediately after an event, no more than 48 hours later. It's just as crucial to follow up with your donors as soon as you have any updates to share regarding the progress made with their donations.

How should you follow up?
Depending on the size and scope of the fundraising event, you may choose to call each of your donors to update them on your progress, or you might find it more expedient to send out an email. Either way, try to make your communications as personal as possible.

Why should you follow up?
53% of donors surveyed cited that a lack of consistent communication was the reason for their leaving a nonprofit. In order to increase your overall donor retention rate, it's vital that you follow up with and update your fundraising event attendees in a timely manner.
Analyze fundraising event data.

Review Feedback from Event
Reviewing your feedback might include reading through online surveys, searching your event hashtag across different social media sites, or even sorting out useful suggestions from your suggestion box.

Run Appropriate Reports
With your newly updated CRM, you'll be able to run automated reports on your constituents. Because all of the pertinent information is consolidated in one place, you'll be able to get an accurate picture of your donors.

Finalize and Compare Budget
Now is the time to calculate your fundraising event's ROI: your return on investment, that is! Finalize your budget and fill in that last column in your spreadsheet. Compare that number with the money you raised to arrive at your ROI.
Ready to Get Started?
See how Neon CRM's event management software can help your organization raise more from events.
Join the discussion in our Slack channel on connected fundraising